24 July 2020
Edinburgh College Photography Student Can't Wait to Continue Her Studies Next Year
Thirty-five-year-old NC Photography student Katarzyna Sowinska from Poland is looking forward to continuing her studies by progressing onto the HNC Photography course at Edinburgh College next year. Katarzyna was awarded Student of the Year for Photography at the College's Prize Giving ceremony recently, and we caught up with her to find out about her College journey.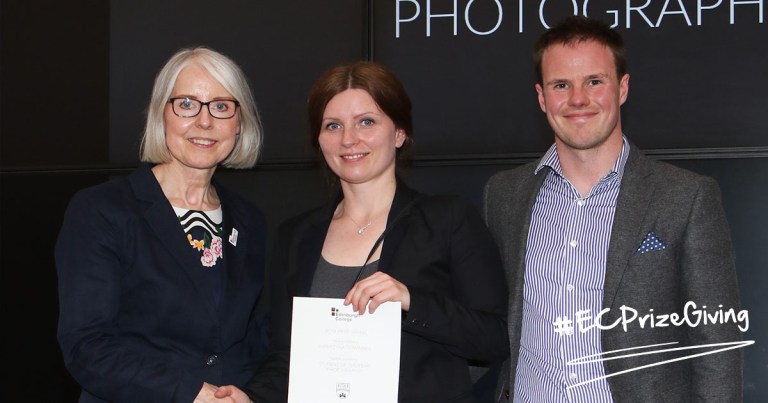 How do you feel about being recognised at Prize Giving?
It was a big surprise, I still can't believe it. Many of my classmates worked hard during this year and made a lot of progress, so I think there were others who deserved this too. I'm very thankful for this, it is a great feeling to be appreciated for the work you have put in.
What made you choose Edinburgh College for your studies?
A friend of mine convinced me it is worth it. I noticed how his work had benefited whilst being in College and how the quality of his photographs had improved, as well as his use of different techniques.
What were you doing before starting at the College?
I used to do many different jobs. From working in Fire Brigade, being employed in a printing house to bartending. I have also become a mum and worked for few months in a nursery. 
What has been the best thing so far about studying at Edinburgh College? Any highlights?
I really enjoyed meeting so many great people. It was also fantastic to have the opportunity to use the College's resources like studios and equipment etc.
Have you faced any challenges, either before starting or during your studies? How did you overcome them?
The biggest challenge I faced was juggling my personal life and looking after my son, with making the time to study. 
If you could give one piece of advice to a student starting at the College now, what would it be?
Take as much from College as you can as this is a great source of knowledge. Library, online resources – use them all, keep asking questions, and don't put off any work for later.
What are your plans for the future? Are you going on to further study after college or into employment? What is your end goal?
I have been accepted onto the HND Photography course at Edinburgh College and I'm looking forward to getting started.
Do you have any messages for the lecturers?
I would like to say a big thank you to my lecturers. They were all really patient when I was asking questions and were always there for us every time we needed them, guiding us and believing in our abilities.
What are you most proud of that you have achieved while studying at Edinburgh College?
Before coming to College, I was given Adobe Photoshop software as a present, but I was scared to touch it as I thought it would be too complicated. When I'm using it now, it's like second nature and I'm really proud of this improvement. My knowledge and the ability to use different photographic techniques has also improved and I have even been asked to do a few jobs outside the College as a photographer. 
Describe your Edinburgh College experience in three words. 
Best personal choice.