If you're still at school you can study part-time at college as one of your column choices, completing a SCP course or a Foundation Apprenticeship (FA). This will give you a different learning experience that can help set you apart.
Schools College Partnership
Our Schools College Partnership (SCP) offers a wide range of part-time college courses for S4-S6 pupils and provides greater choice in a variety of subjects which may not be available at school. SCP courses count as one of your column choices which can be added into your existing timetable. Pupils study their college course on two afternoons per week.
Doing a college course while at school will provide you with additional skills and qualifications to boost your employment prospects and enhance your CV or college/university application(s).
Dedicated Schools Liaison Officers are on campus to provide support for pupils and are the main point of contact for schools.
Foundation Apprenticeships 
Foundation Apprenticeships (FAs) are work-based qualifications for senior-phase secondary school pupils in industry sectors of key growth. It's a qualification that takes you out of the classroom and gives you a chance to try out a career while you are still at school. You can choose a Foundation Apprenticeship as one of your subjects in S5 and takes two years to complete, it's the same level of learning as a Higher (SCQF Level 6) and is accepted by college and all Scottish Universities as Higher equivalent.
There are currently eight courses available for application at Edinburgh College:
Accountancy
Business Skills (1-year option available for S6 pupils only)
Creative and Digital Media (with or without Graphic Design)
Engineering
Financial Services
IT: Software Development
Scientific Technologies (Laboratory Skills)
Social Services and Healthcare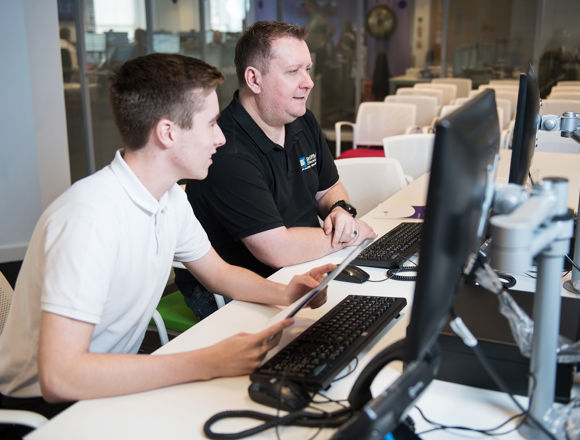 Frequently Asked Questions
Who can apply for these courses?
Schools College Partnership (SCP) courses are open to S4-S6 pupils. Places are limited and some courses will require you to participate in a selection process that includes assessment and/or attendance at transition/information events. Your guidance teacher will be able to assist you with the application process. You should:
Be prepared to participate fully in the course
Adhere to the College Student Agreement
Be interested in the course and have the appropriate entry requirements
When will I attend College?
You will attend college alongside school. Most SCP courses run on a Tuesday and Thursday afternoon from 1.30pm till 4pm. Please check the college website for confirmation of days and times. Regular attendance at college is vital to ensure you successfully complete your course and achieve your qualification. This information is shared with your school. You will be required to catch up with any work missed to due to absence.
What kind of support will I get when I'm at College?
The SCP team is here to help and support you during your time at college to make sure that you are happy with your chosen course choice and on track to achieve your study goals. There is a Schools Co-ordinator on each campus and this person is your main point of contact when you are at college. It's important to attend your classes regularly and keep in touch to let us know if you have any problems or concerns during your time in college as we are here to help and support you to succeed. If you receive support at school your Guidance Teacher will have given us information to help with your transition to college
How do I travel to College?
You will agree travel arrangements with your school, ensuring that you arrive on time for your college class. Please speak to your guidance teacher to discuss transport options.
How will I be assessed at College?
Assessments vary depending on the type of course you are studying. Most vocational training programmes are monitored by ongoing assessment of the subject areas covered by your course. Your Lecturer will identify key points throughout the year when assessment will take place. Subjects which have SQA final exams will follow the normal SQA exam timetable. Dates and arrangements will be notified by your course lecturer.
How will I know how I am doing on the course?
Your lecturer will provide the SCP team and your school with regular formal progress reports throughout the year. You will also be able to track and question your progress by speaking to your lecturer.
How will the course be certificated?
Qualifications gained through the SCP programme are structured and assessed in the same way as school qualifications and in most cases will appear on your SQA certificate in August, alongside your school subjects. Some courses are industry specific qualifications and will be certificated separately.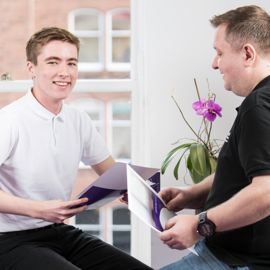 I decided to do the FA in IT Software Development as a way to further develop my skills in computing, become better connected with those in the industry and get a feel for computing in the working environment. I'm currently enrolled on the HND Software Development Course at the College's Sighthill Campus. Where I end up after that, whether it be university or work, I'll need to see closer to the time.
Michael Suttie, Software Development FA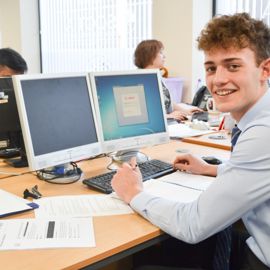 Choosing the apprenticeship in place of a subject offered me a chance to get an insight into the world of work which traditionally wouldn't have been possible through school. It was definitely a good decision – I've really broadened my knowledge of the financial industry.
Cameron Smith, Financial Services FA