Our courses have been designed to help you progress towards your goals. Whether you're looking to go straight into employment, enhance your career options, or move on to university or further training, we're here to support you every step of the way. We'll discuss your options, assist with further course applications, and help you get started with job searches.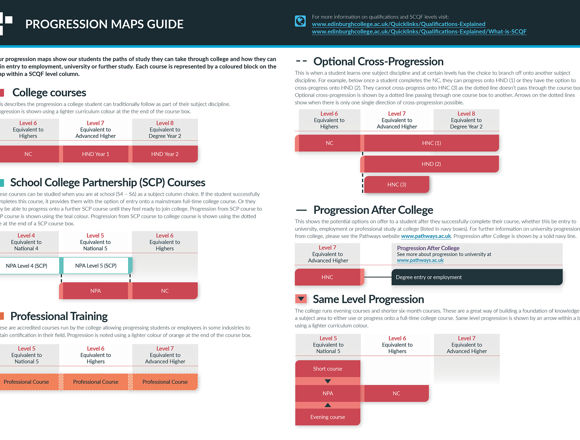 Progression Maps
Our progression maps show our students the paths of study they can take through college and how they can gain entry to employment, university or further study.
Progression Maps
You can find specific details of progression routes for all our courses on our course pages.
You can also talk to admissions advisors, your personal tutor or our careers advisor about how the skills, knowledge and experience gained at Edinburgh College will support you to achieve your goals.
Continuing at College
If you intend to continue at college, whether at Edinburgh College or elsewhere, we can offer advice on courses, financial support and applications. Funding can be very different depending on the level of your course and whether you study full-time or part-time. For example, funding for students on HNC or HND courses is very different from bursary/EMA funding. We are here to guide you through what is available to you - and how to apply.
Contact our advisors on courseinfo@edinburghcollege.ac.uk or 0131 669 4400.
Going to University
For many of our students, Edinburgh College is a stepping stone on the path to higher education. If you are thinking of going to university after college, it is important to plan ahead.
We have excellent links and relationships with universities allowing students to progress directly from the College to first, second or even third year of a degree programme.
Degree Courses
We offer a number of degree courses at the College in Creative Industries.
Associate Student Degrees
We're delighted to offer a number of Associate Student Degree courses to support your development. These exciting opportunities guarantee you a place at one of our partner universities through our links with Heriot-Watt University, Edinburgh Napier University and Queen Margaret University.
If you're selected for the Associate Student programme, you'll begin with HNC/HND level courses delivered at Edinburgh College, before progressing to the 3rd year of study at university to complete your degree.
What links will I have with university whilst at college?
During your first two years, you will be a student of Edinburgh College, however, you will still have strong links with your partner university. There will be a fixed contact time with your university including:
visits from university lecturers in college
guest lectures at the university
practical work using the university facilities
You can also apply to stay at your partner university's student accommodation for the first two years when you will be studying at college.
Will I automatically progress to university?
Your 3rd-year place at your partner university is guaranteed if you meet the requirements in your graded units at college. Please refer to your individual course information for more details.
Formal Articulation Routes
For many of our HNC/D courses, we have an agreement with universities that on completion of a specific HNC/D courses students can progress directly to an advanced entry on a specific degree programme, dependant on grades achieved.
Informal Articulation Routes
We also have many informal agreements that can give entry to an appropriate year of a degree programme at various universities.
Please note, guaranteed admission to a degree course and the year of entry is based on the merit of each individual and is at the discretion of the university, no matter what the articulation route.
Access to University Courses
We also offer a range of one-year university access courses which can lead directly into the first year of degree programmes. These courses often require no formal qualifications and are particularly useful if you are returning to education.
The Open University
Edinburgh College is working with The Open University in Scotland (OU) to create flexible opportunities for students who wish to progress from their Higher National study to a degree.
The OU's BA/BSc (Open) degree allows students to choose from a wide range of OU modules tailored to their personal and vocational needs. This allows students to either build on the subject areas studied in college or provides the flexibility to develop skills and knowledge in other subject areas.
Students with an HND can transfer up to 240 credits towards the OU's 360 credit BA/BSc (Open) with Honours. Similarly, a student with an HNC can normally transfer between 90 and 120 credits towards the 300 credit BA/BSc (Open) or the 360 credit BA/BSc (Open) with Honours. Honours degrees in named subjects are also available and further information on credit transfer is available on request.
Find out more information about OU study at openuniversity.co.uk/collegeroutes
Before choosing a course we recommend you talk to our advisors about your goals and the opportunities available to you. We will be able to provide you with all the latest information on universities, articulation routes and entry requirements as well as advising you on how to apply and what funding options are available.
Employment
With our focus on your employability, we provide all the support you need when looking for a job upon completion of your studies.
We work in partnership with Skills Development Scotland to help you at all stages with professional, impartial careers advice, whether you know what you want to do or want to discuss your options.
Our Careers Advisers can also help you to organise your job search and prepare your CV.
Whatever your next step will be, we are here to help you to make the right choices for you.