29 September 2022
Meet Alice Barker - our new Campus Cycling Officer
Hello! My name is Alice and I am Edinburgh College's Campus Cycling Officer for the next year. I love getting around by bike and I'm looking forward to meeting students and staff, encouraging more cycling to campus and tackling the challenges that put people off. I believe there's a bike and a route there for everyone and I'm excited to help you begin your cycling journey.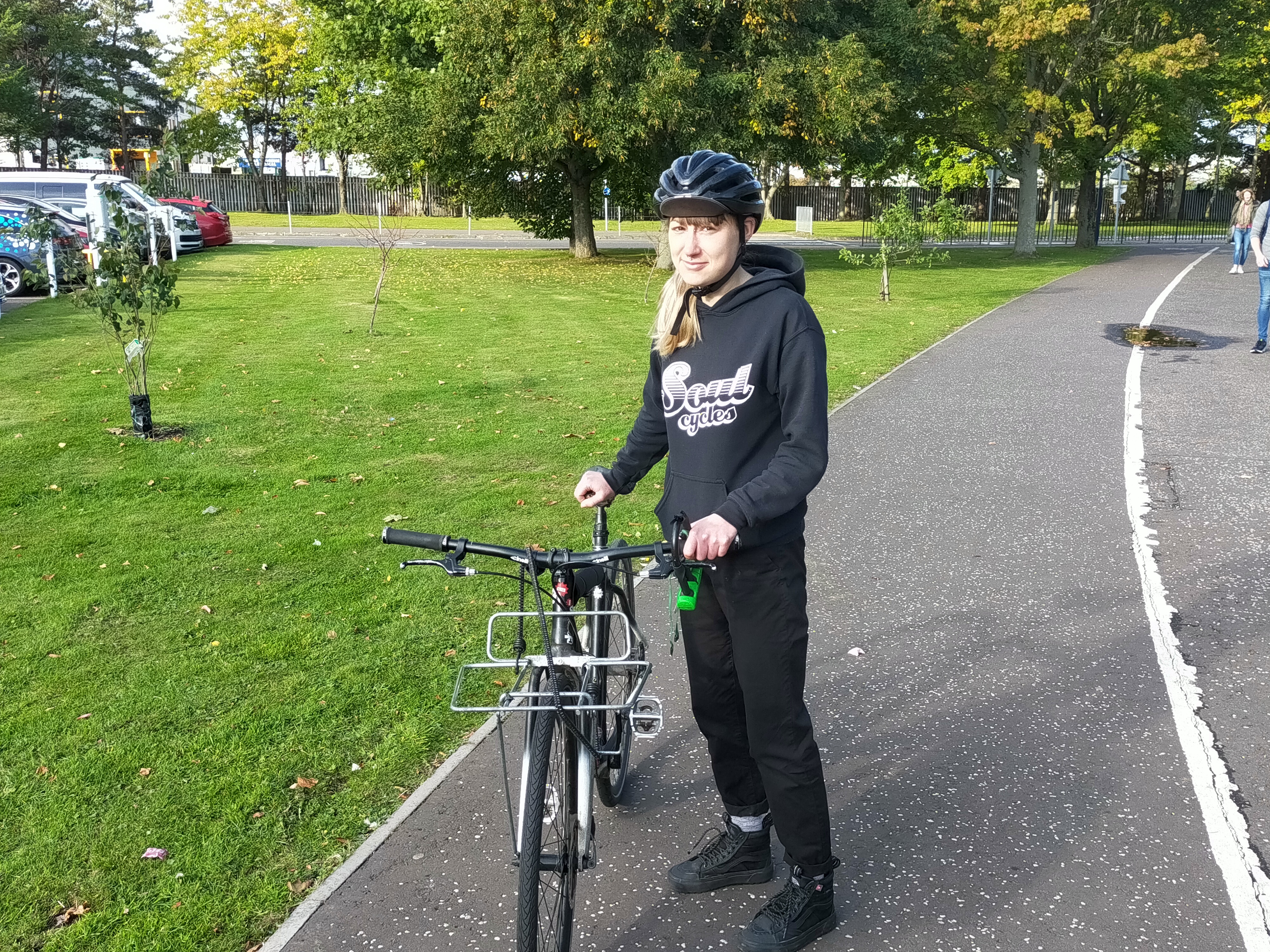 What is a Campus Cycling Officer?
Good question! This is a funded placement by Cycling Scotland and to keep it simple, my job is to help more students to cycle to College. This is a mix of encouraging people and working out what the challenges are that might put folk off. And to try and solve those. It doesn't matter how fast you are, if you aren't 'sporty' or have a fancy bike. I'm much more interested in seeing people out and trying.  
Why do I like cycling?
Cycling and other types of active travel provide an environmentally friendly and economic way of getting around. That's great for everyone, right? Personally, I love the sense of freedom and independence from being in control of my own mode of transport. I can leave when I want, no waiting for the bus or paying for petrol. It also gives me space to think about the day and get some fresh air before coming in to work.  
What is my cycling journey?
I haven't always been crazy about bikes – it's something I have gained experience and confidence in over the last few years. Growing up in the countryside in bonnie Fife, I used to cycle around smaller roads and while on holiday with my family. I moved to Edinburgh to study (I was at Telford College before it became the Granton Campus) and initially, I walked everywhere or took a bus – the roads were intimidating, and I didn't know where to get a cheap bike. It was only after being given a friend's old bike that I started to build my confidence in traffic and navigating around. Fast forward a year and I started doing bicycle courier work and haven't looked back. Over the last few years, I have also started cycling a lot more for fun and now regularly help organize and take part in group social rides and events. I'm part of several grassroots cycling clubs which have inclusion at their hearts, especially for women/trans/non-binary riders. I love the sense of community and shared experiences I get being part of these groups. 
What attracted me to the role?
Given my own experience getting into cycling again as an adult, I am keen to share my enthusiasm and knowledge with others, which I find very personally rewarding. 
Favourite route in Edinburgh? 
Tough question, there are lots of nice places to visit! And many are accessible via traffic-free cycle paths. I especially enjoy cycling along from Portobello to Cramond – the views of the coast are great, it's nice and flat and there are lots of dogs to spot along the way.  
What's next?
Just now, I am arranging some Dr Bike sessions at a few of the campuses (Granton and Milton Road) and the College will share one with Napier University at Sighthill. These are free and you don't have to book. A mechanic will look over your bike and make any small adjustments or repairs (for free!) and if they find something bigger, they will explain what to do. Think of it like a mini-MOT for your bike. Midlothian Campus will also hopefully have a session soon.  
Further ahead, I'm keen to take stock and update the cycling environment in the College since it's been a few years since someone has had this role. Look out for a new website and different events or activities, and maybe some workshops on route planning and a group ride. I'm also keen to hear from you - are there any ideas you have about cycling to College? Anything you would like to change or think I need to hear about? Please get in touch, I'd love to make this a collaboration. 
My email is alice.barker@edinburghcollege.ac.uk