29 March 2023
Spring into Cycling - Student Jamie Barton's experience of cycling in Edinburgh
Campus Cycling Officer Alice Barker spends some of her time out meeting different people from across the College. Speaking about cycling is a great way to make conversation and today's blog has been written by a student Alice met, while out and about on campus, who has passion for cycling.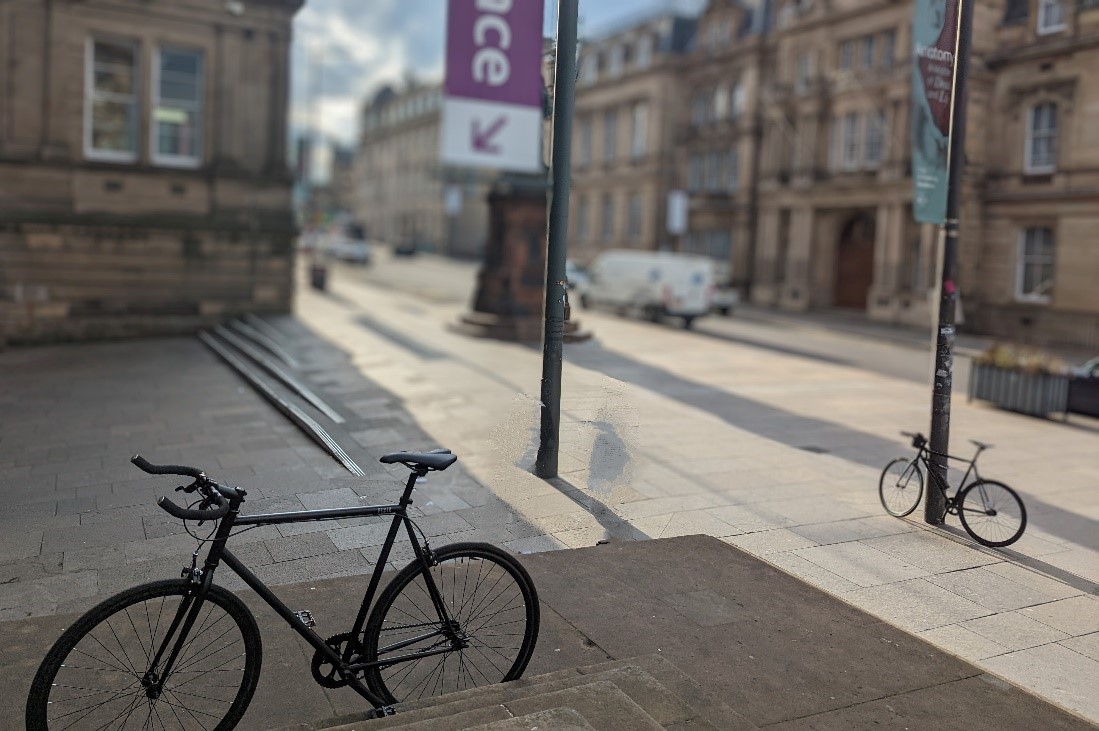 As a bike courier in Edinburgh, I have discovered the sheer enjoyment and health benefits of cycling. Riding a bike offers a sense of freedom and responsibility that is unmatched by any other mode of transport. Being out in the open in all weather is a great way to stay active and maintain a healthy lifestyle.
A sense of freedom is one of the greatest joys of cycling. As a courier, I can ride through the city, cutting through traffic and taking the most efficient routes to make my deliveries. I feel a sense of empowerment that comes with the ability to move quickly and efficiently through the city. With this freedom, however, comes responsibility.
As a bike courier, I must always be aware of my surroundings, alert for potential hazards such as cars, pedestrians, and other cyclists. The duty of care that comes with cycling as a courier has helped me become more alert and focused on the road, making me a safer and more conscientious cyclist. Cycling has also helped me maintain a healthy lifestyle.
Riding a bike is a low-impact exercise that is easy on the joints, making it ideal for people of all ages and fitness levels. Regular cycling has improved my cardiovascular health and helped me build stamina and endurance. Cycling also releases endorphins, which help reduce stress and anxiety, making it a great way to improve mental health.
I also enjoy experiencing the beauty of Edinburgh in all seasons. Whether it's the crisp autumn air or the sunshine on a summer's day, cycling through the city encourages me to appreciate the unique charm of Edinburgh in all seasons. It's also an eco-friendly mode of transport, reducing carbon emissions and promoting sustainability.
Whether you're cycling as a courier or just for leisure, I highly recommend it as a fun and healthy way to explore the city and improve your overall wellbeing.
Happy Spring Cycling!
Jamie Barton
HNC Working with Communities student
Edinburgh College