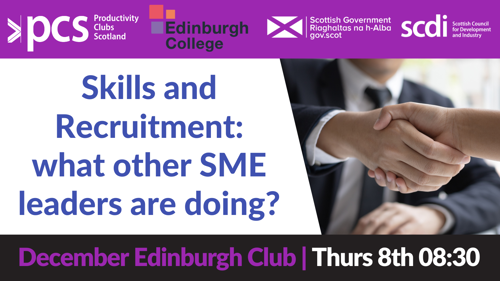 We are partnering with SCDI to host their Productivity Club event on Thursday 8 December at our Sighthill Campus.
Businesses and third sector organisations are invited to attend the event which will focus on skills and recruitment channels to highlight the skills shortages and recruitment challenges that businesses are facing and our College can help overcome these issues.
SCDI has spoken to many organisations which have highlighted skills shortages and recruitment challenges as their most pressing current issue for their businesses.
What if there were ways to diversify recruitment channels and to develop people skills?
What will happen on the day?
Kirsty Dallas, Learning and Development Manager at Parity Group PLC, will discuss how Parity has invested in 'growing their own talent' and hired based on fit rather than experience.
Rachel Connolly, Business Development Advisor at the College, will highlight the vast range of training opportunities for employers and the various funds available to help employers access training, including the Flexible Workforce Development Fund.
If you are interested in learning more, or if you want to share your experience and support others, this is the event for you.
The session is interactive with group discussion, Q&A and networking opportunity.
Book your place
Agenda
Registration and networking breakfast
Speakers presentations and Q&A session