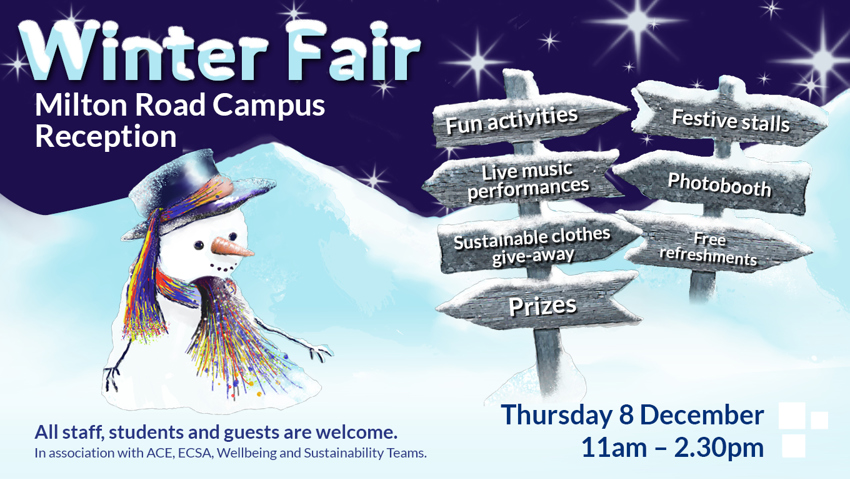 Staff and students will come together to show the festive spirit as part of a special sustainability-themed Winter Fair, which takes place at the College's Milton Road Campus on Thursday 8 December.
 
The fair will be in the reception area of the campus from 11am – 2.30pm and will consist of a number of stalls featuring re-gifted items for sale, hand-crafted festive goodies, free hand massages, Christmas tree decorations, a raffle with a number of different prizes, and more.
 
There will also be a College sing-along with the College Choir, who will be singing a number of Christmas classics, as well as acoustic sessions from a collection of our Music students.
 
In addition, there will be a recycled fashion show, where volunteers will model a number of second-hand clothes which have been donated to the SwapShop. You will also have the opportunity to swap items of clothing for any of the items that feature in the show.
 
There will be a number of other sustainability-themed activities taking place on the day, such as designing your own Christmas wreath that you will be able to take home and trading in your own unwanted books for any of the second-hand books available at the book stall.
 
The College's Wellbeing team will also be on hand to provide information and advice about improving your mental health and wellbeing, and ECSA (Edinburgh College Students' Association) will be there with a number of games and challenges for attendees to get involved in.
 
Finally, to help capture the moment and spread the festive cheer to beyond the College, there will be a photobooth where you can take photos and create a Christmas card that you are able to have printed out to take home and share with your family, friends and loved ones.   

Free refreshments including tea and coffee, mince pies and more will also be provided on the day.
Access and Continuing Education lecturer Polly Phillips said: "It's been a difficult few years for everyone and this Winter Fair aims to bring the festive cheer to our Milton Road Campus. There will be a variety of different fun events and activities that staff and students can get involved in and we're looking forward to welcoming everyone for the day.
"The emphasis this year is on sustainability and as part of the event we will be promoting the little things we can all do to help towards creating a more sustainable future, such as breathing new life into unwanted materials to make something new and recycling second-hand clothes to make a completely new outfit."
For more information on the event, contact Polly Phillips.