25 October 2021
Alistair determined to succeed after graduating from College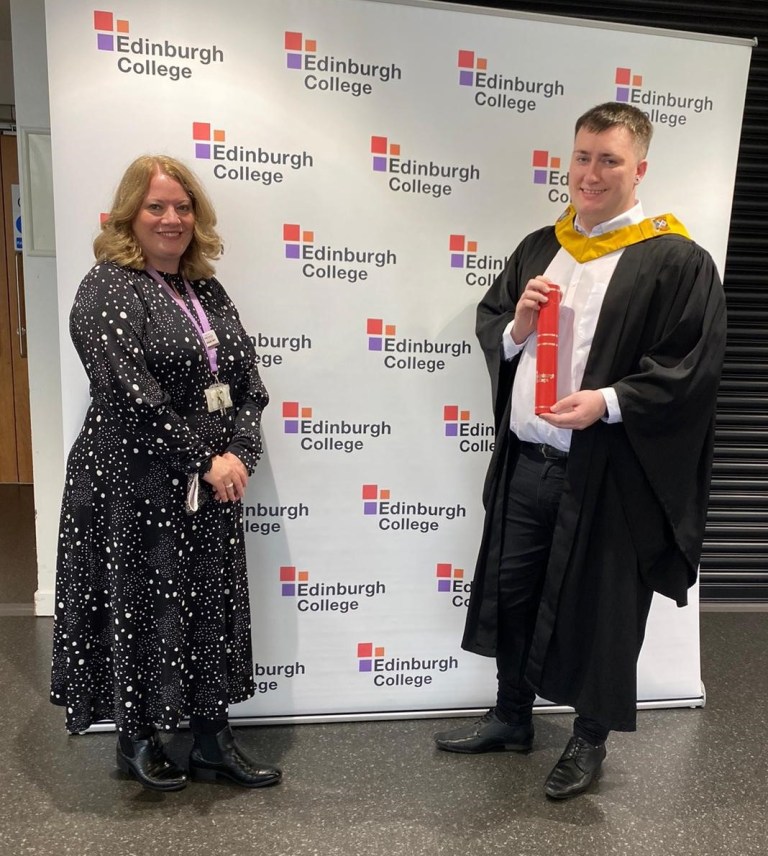 Twenty-eight-year-old Alistair Stewart is determined to succeed in life after battling back from struggles with his mental health to graduate from College earlier this month with a HND in Events Management
We spoke to Alistair, who is care experienced, to find out more about his time at College and plans for the future:
How do you feel about Graduating?
I'm honestly so shocked. I surprised myself this year by doing so well and achieving something I've never achieved before. I've exceeded my own expectations this year and to graduate is a dream come true.
What made you choose Edinburgh College for your studies?
Edinburgh College has always been like a second home to me. I've been backwards and forwards over the years studying various different courses to find myself and where I fit in. I don't think I would've managed to find myself at any other college. The support I received at Edinburgh College was amazing and helped me through a lot of dark moments in my life.
What were you doing before starting at the college?
Before I came back to college, I was unemployed and my mental health wasn't in a good place.
Have you faced any challenges, either before starting or during your studies? How did you overcome them?
A few months prior to returning to Edinburgh College, I had a bit of a breakdown and was really struggling with my confidence and understanding who I was. I pushed myself out of my comfort zone and came back to college and it was the best decision I made.
What was is it like learning online during the COVID-19 pandemic?
I actually liked it if I'm honest. I had moments where I was maybe shouting at the computer because Microsoft Teams wouldn't work (the usual) but all in all it was a positive experience to still be able to study from home and not miss out on anything.
If you could give one piece of advice to a student starting at the college now, what would it be?
If you decide that right now isn't the time for you that's okay. It took me 28 years to get here. Identity takes time to develop and you will find yourself when the time is right so enjoy the moment while it's happening and be true to yourself.
Do you have any messages for the lecturers?
I want to say thank you to all my lecturers, not only from the last two years but from the whole time I've been part of Edinburgh College, or any college for that matter. If it wasn't for them, I wouldn't be here today. With their support, encouragement and patience with me, it's helped me become the person I am today.
What are your plans for the future? Are you going on to further study after college or into employment? What is your end goal?
I've just started a degree at Edinburgh Napier University entering at Year 2 in International Festival and Event Management which I never thought would happen. My goal is to graduate with a degree and to make my friends and family proud.