20 September 2022
Annette hits the right note and earns Senior Fellowship of the Higher Education Academy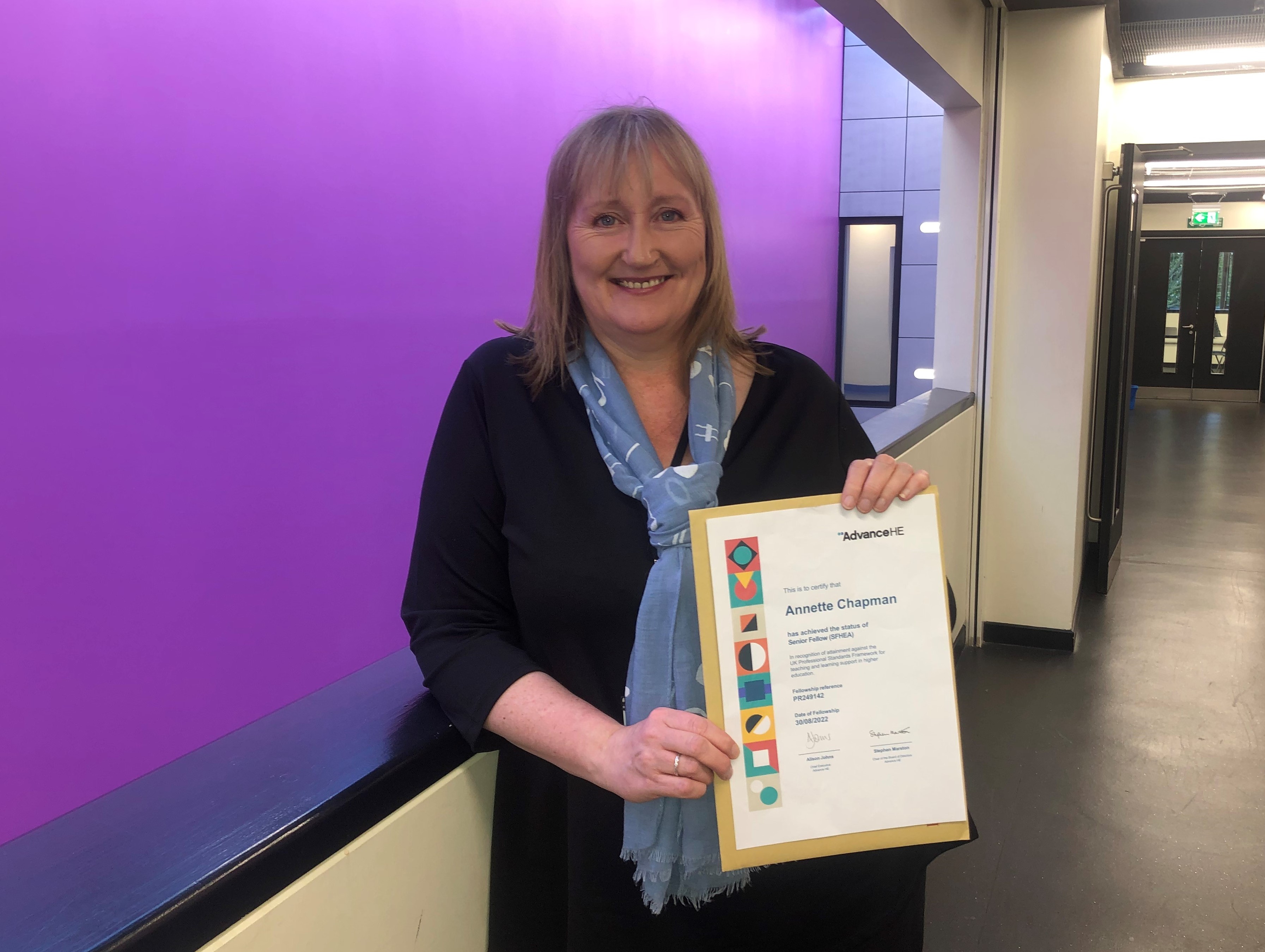 An Edinburgh College lecturer has become the first member of staff from over 30 partner organisations to achieve a prestigious professional accreditation through Kingston University in London.
Lead for the College's Creative Industries Degree Courses Annette Chapman was recently awarded the Senior Fellowship of the Higher Education Academy (HEA) through Kingston University's Academic Practice Standards Framework for her expertise and commitment to mentoring, teaching and learning in higher education.
Senior Fellowship of the Higher Education Academy (SFHEA) is an advanced level of professional standing that teaching staff at universities and colleges across the country can apply for to demonstrate their commitment to teaching, learning and the student experience.
As part of the accreditation process, Annette provided evidence of effective approaches to teaching and learning support as a key contribution to high quality student learning. Through the work she completed to support the validation of six top-up degrees with Kingston University, she was able to show understanding and commitment to the academy's professional values, and successful engagement in appropriate teaching, curriculum development and mentoring practices.
Annette said: "I am very proud to have achieved the Senior Fellowship of the Advanced Higher Education Academy through Kingston University London's Academic Standards Framework. Edinburgh College is the first of 34 partner institutions (both UK and international) to have a member of staff gain this status and I am very pleased to represent the College.
"We have a thriving and growing relationship with Kingston University which has led to a ground-breaking approach to top up Creative Industries honours degrees in Scotland's college sector. As the lead for these degree courses, I am lucky to be able to work with professional, talented and dedicated colleagues both here in the college and in Kingston University in London."
Head of School of Media, Music and Sound Production Jonathan Bennett said: "This is an outstanding achievement and we are all very proud of Annette. We've worked closely with Kingston University for a number of years to successfully validate and implement a range of degree pathways that are relevant to the current needs and demands of the Creative industries and our students.
"The recognition of Annette as a senior fellow of the HEA reflects the depth and importance of her work and the role of practice-based, innovative and condensed HE programmes delivered in colleges in Scotland."