14 October 2021
Bright Sparks join Electric Vehicle Revolution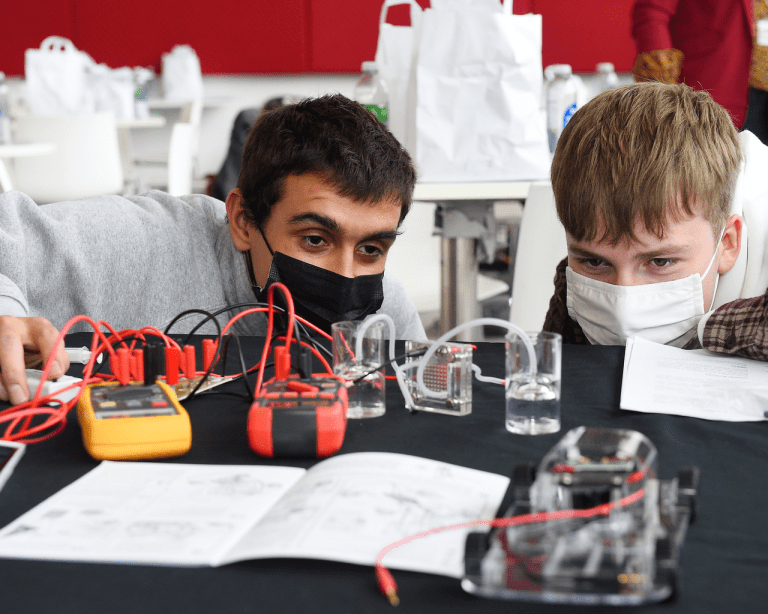 Edinburgh College Engineering lecturers and experts from Edinburgh Napier University have teamed up to give local secondary school pupils a glimpse into the future with a workshop entitled Accelerating the Electric Vehicle Revolution.
The event – organised by Edinburgh Napier and hosted at the College's Sighthill Campus – included an introduction to developments in the field, an exercise on fuel cell assembly and a training session on a simulator.
Thirty S6 pupils took part in the workshop, which was a pre-cursor to Edinburgh Napier's seventh annual electric vehicle conference this week.
The event for school pupils aimed to raise awareness of the importance of electric vehicles' role in fighting climate change, while also encouraging the young people to pursue a career in the sector.
Pupils were split into groups and visited the sessions – which ran in parallel – in rotation.
They learned about the general features, properties and key components of electric vehicles, and worked in pairs on assembling fuel cell kits which were later used to perform experiments.
Another exercise allowed students to explore the various factors that affect the quantity of energy used by an electric vehicle to make it from A to B. This task illustrated what can change the amount of energy that a car battery uses.
Pupils also considered motorists' differing lifestyles and personal requirements as they matched them to appropriate electric vehicles, and the simulator session allowed them to explore both mechanical operation and electrical power flow.
Prior to the workshop, each pupil designed an A3 poster in line with the topic "Envisioning the future of EVs as a means to fight socio-economic inequality".
Find out more about Edinburgh Napier University's annual electric vehicle conference here: https://www.napier.ac.uk/about-us/news/electric-vehicle-conference-2021