06 February 2023
Capital College brings construction training to East Lothian's newest school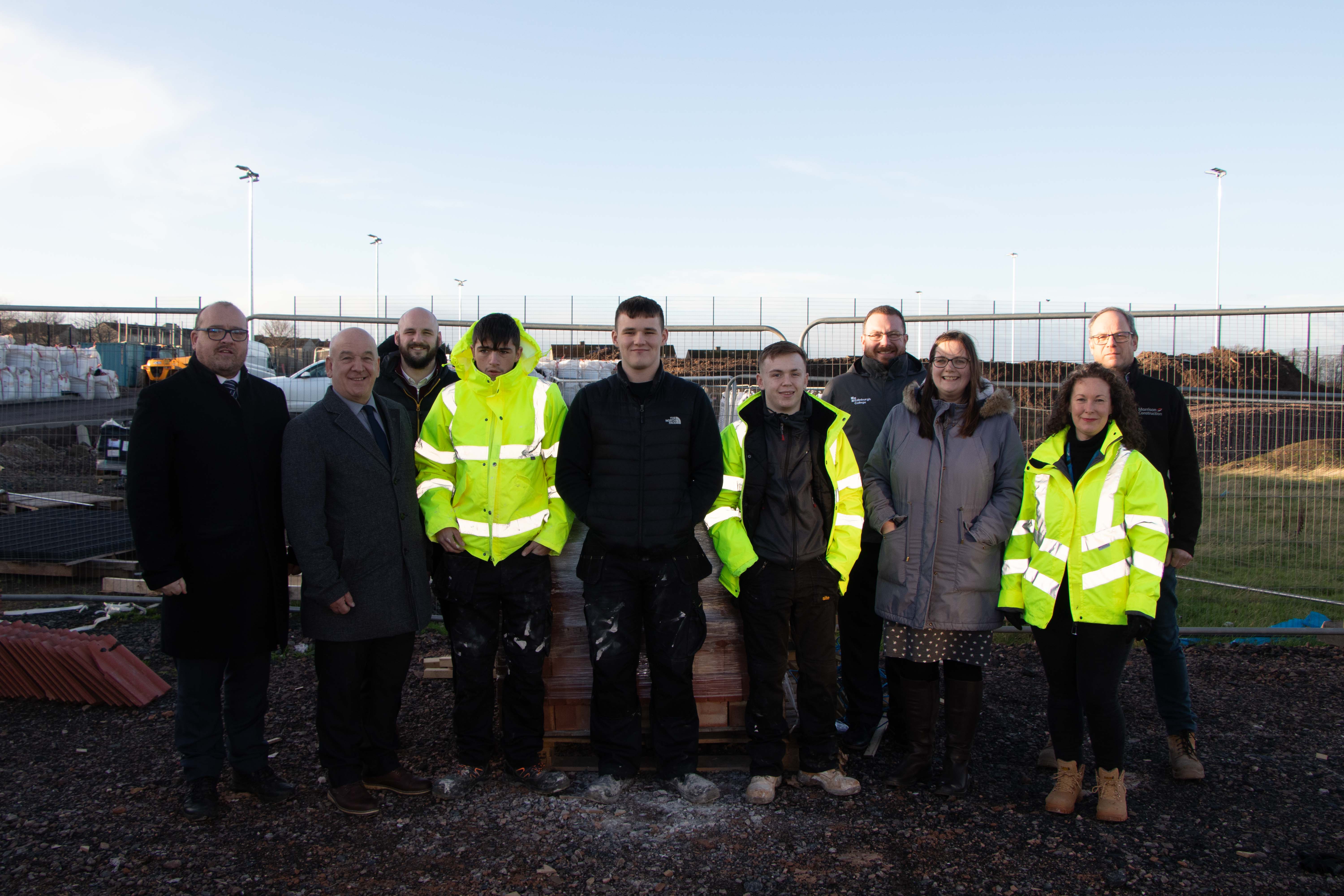 Edinburgh College is delivering teaching at East Lothian's newest school – eight months before the building is due to open as part of a new partnership with East Lothian Council and Morrison Construction.
The Regional Construction Skills Academy is part of the new £47.2m Wallyford Learning Campus, which is currently under construction. While the building won't open to learners until August 2023, the Academy is already up and running in the campus' grounds with students benefitting from the opportunities access to a live construction site offers. As soon as the building is completed, the Academy will move into a purpose-designed space as an integral part of the Campus.
The Regional Construction Skills Academy will support the progression of skilled workers into the industry, contributing to growth both within the region and across Scotland. The College is already delivering two courses at the campus: NPA Construction Craft Level 4 and Introduction to Construction.
A Construction Skills Network report found that the construction industry needs more than 25,000 new workers in Scotland to meet demand for growing output from 2022-2026. The industrial sector is expected to have the highest annual average growth over this period.
The courses encourage students to undertake work placements within industry to offer improved awareness of the market and their employability skills. Morrison Construction is supporting the College with opportunities on site to enhance learning. Along with school visits and talks, the firm has also offered placements for pupils from Ross High School, East Lothian Works and Dunbar-based project The Ridge. This has already resulted in permanent job offers. 
The new Wallyford Learning Campus has been designed to offer spaces for collaboration that will benefit learners and our wider community, and the Regional Skills Academy is part of this aspiration. It's a great example of council, further education and industry working together and we are pleased to be in partnership with Edinburgh College and Morrison Construction to offer such valuable opportunities through this facility.
East Lothian Council Leader, Norman Hampshire
We're delighted to be working in partnership with Wallyford Learning Campus, East Lothian Council and Morrison Construction to deliver introductory Construction skills and principles to young people in East Lothian, giving them a taster of life in the industry. We are committed to supporting the skills needs of our region and this partnership is aimed at encouraging young people to consider Construction as a career choice. We're looking forward to August 2023 when the new building opens and we can develop the programme further in a state-of-the-art facility.
Jonny Pearson, Vice Principal at Edinburgh College
We are delighted to be working in partnership with East Lothian Council and Edinburgh College in this innovative programme to shape and prepare tomorrow's talent for Scotland's construction industry. This project will deliver tangible and meaningful opportunities for young people to perceive construction as a viable career path to follow, allowing all participants an insight into the opportunities that exist now and in the future within the industry. We see this as a vital service for not just young people but for the wider community
Jim Johnstone, Head of Communities and Social Impact at Morrison