02 February 2023
Capital College selected to house Wella's new Scottish training base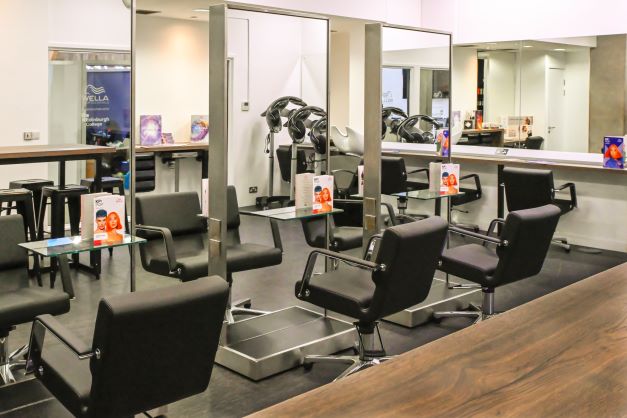 Edinburgh College has been selected by Wella Professionals to become the hairdressing industry leader's training base for stylists across Scotland and Northern England.
A new Wella Studio has opened at the College's Granton Campus, continuing a partnership which has existed for around 40 years – dating back to legacy college, Telford College, times. The College has been long-term Wella Centre of Excellence which signifies the highest standards of training is being delivered to students and enhances links between industry and education.
The newly refurbished studio will host retraining and upskilling courses throughout the year for those working in industry. The salon features new styling chairs, basins, a demonstration space and a product repository. In addition, a meeting space will be developed to allow visiting professionals to complete theory elements of their courses.
Wella Studio Education delivers courses in basic and advanced colour techniques, cutting and styling techniques including bridal and balayage, mens cutting, and theory courses.
As a result of housing Wella's new Scottish studio, College staff will have access to up-to-date training, ensuring that students are receiving the best education possible throughout their course. There is also the potential for future placement, apprenticeship and employment opportunities for College students.
We're delighted to open our new Wella Studio at Edinburgh College. It is fantastic to continue our long-standing working relationship with the College which we will use to continue to develop the skills of hairdressing professionals across Scotland and Northern England. Our studios are at the heart of our educational offering and have been expertly designed to stimulate creativity and inspiration. We're grateful to Edinburgh College for helping us to create a wonderful space for stylists up and down the country to perfect their skills and refresh their knowledge.
Ashley Bennett, Wella's Scottish Area Sales and Education Manager
It's fantastic for our College to be the new home for Wella Education in Scotland. We have worked with Wella Professionals for decades to achieve our shared goal of training and developing stylists of the future. The new Wella Studio provides a perfect space for those in the industry to retrain and upskill. It will also be of huge benefit for our students, who are in the early stages of their training, to be networking with professionals from across the country.
Frances Bain, Head of School for Hairdressing, Barbering and Beauty Therapy
Book your space on a Wella Education course