26 April 2023
Capital College to host SkillBuild regional heat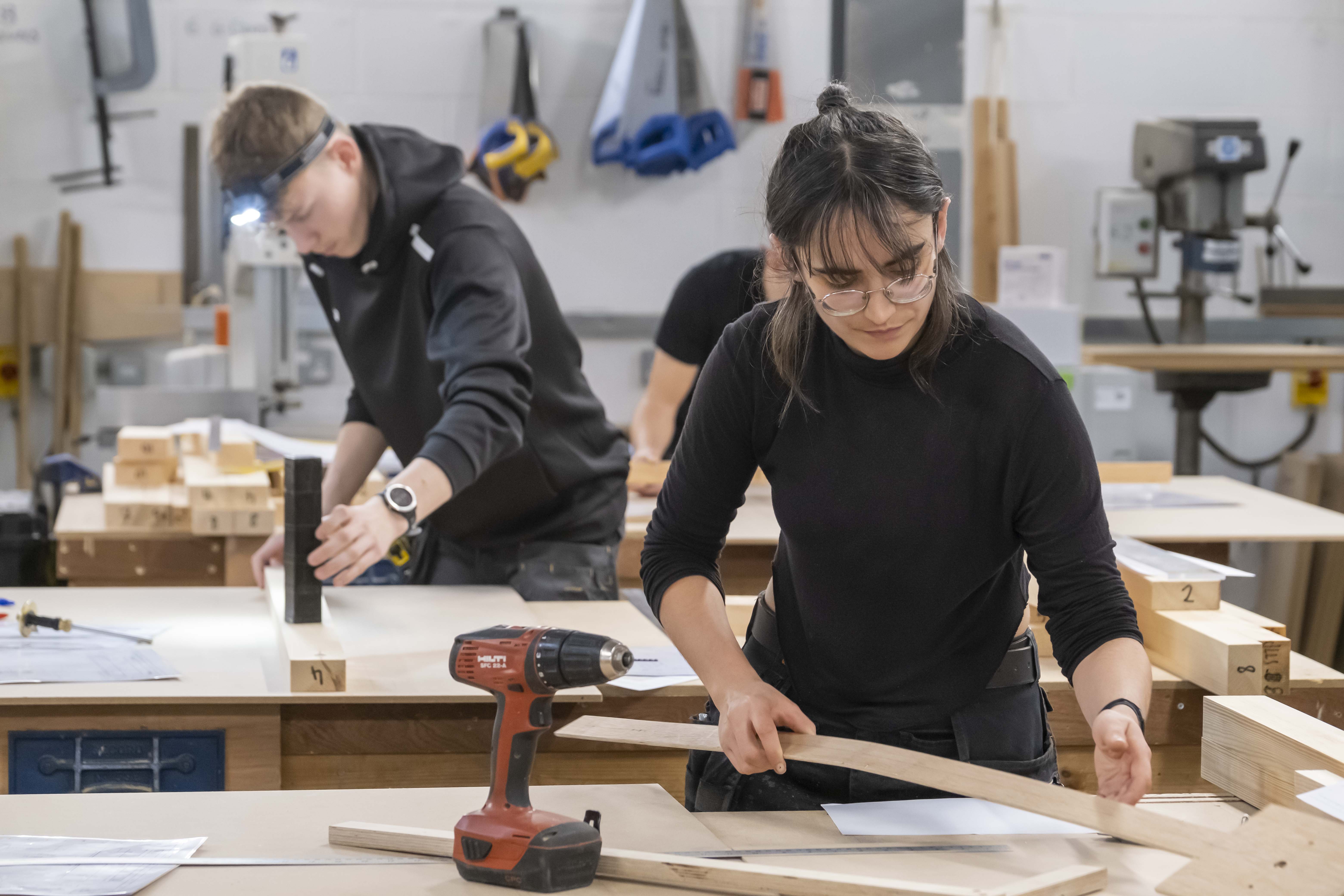 The largest and longest-running construction skills competition in the UK returns, as Edinburgh College prepares to host students and apprentices from across Scotland for the SkillBuild 2023 regional heat in the country's capital.
SkillBuild is delivered by the Construction Industry Training Board (CITB) and showcases some of the brightest talent, as highly skilled learners and apprentices go head-to-head to be crowned winner of their chosen trade.
On Thursday 1 June, the College's Granton Campus will host the following competitions: Bricklaying; Carpentry; Joinery; Painting and Decorating; Plastering; Roof Slating and Tiling; Stonemasonry; and Wall and Floor Tiling.
Competitors will be tested on their technical abilities, time management, problem solving and skills working under pressure. The competitions also bring many benefits to participants – including being proven to improve technical and employability skills, as well as advancing career options.
There are 15 regional qualifiers taking place across the UK from 27 April through to the end of June. Following the regional qualifiers, the top eight scoring competitors from each trade category will be invited to take part in the UK national final – an event which Edinburgh College was the sole Scottish host alongside counterparts across the UK in 2022.  
This year's national final will take place at the Marshall Arena in Milton Keynes on 21, 22 and 23 November 2023.
CITB's recent Construction Skills Network (CSN) report states that almost 225,000 extra workers will be required to meet UK construction demand by 2027. It also highlights that construction is expected to remain a sector where there is demand for workers, despite the current economic uncertainty. Covering 10 different trades, SkillBuild is a fantastic opportunity to alter perceptions and promote the diverse range of roles available.
"I first heard about SkillBuild through someone at my workplace and decided to enter as I thought it sounded like an interesting and fun challenge. I tend to overanalyse and spend too long perfecting things, so it was great to be able to push myself in a different way through engaging in a timed challenge. For anyone thinking about entering, I'd say go for it! Honestly, I don't think the outcome matters, it's just a really fun and different sort of challenge. I totally didn't think I'd made it through my regional heat but was still so glad I'd participated!"
Gracie Brill, a SkillBuild 2022 finalist from Edinburgh College
"We're looking forward to hosting SkillBuild at our Granton Campus in June. It is a fantastic event which brings together the most skilled students and apprentices from across the country, and we're looking forward to seeing all the competitors in action. "The event is also a great opportunity for our students and young people in the region to find out more about careers within Construction."
Scott Warden, Edinburgh College Assistant Principal,
"I always look forward to the SkillBuild regional heats, as it's the first glimpse we get into the fantastic variety of young talent coming through to industry. SkillBuild is a wonderful initiative which aims to attract a diverse range of recruits, and with the current skills gap, it places even greater importance on the competition and its ability to promote construction careers to a wider audience. "SkillBuild not only helps young people to grow personally, increasing their confidence and social skills, but it's also proven to assist them professionally by developing their technical and employability skills. While a challenging experience, if you're serious about a career in construction, SkillBuild is an excellent opportunity. I wish all competitors the very best of luck for the heats this year!"
Tim Balcon, CITB Chief Executive