05 October 2021
Class of 2021 celebrates Virtual Graduation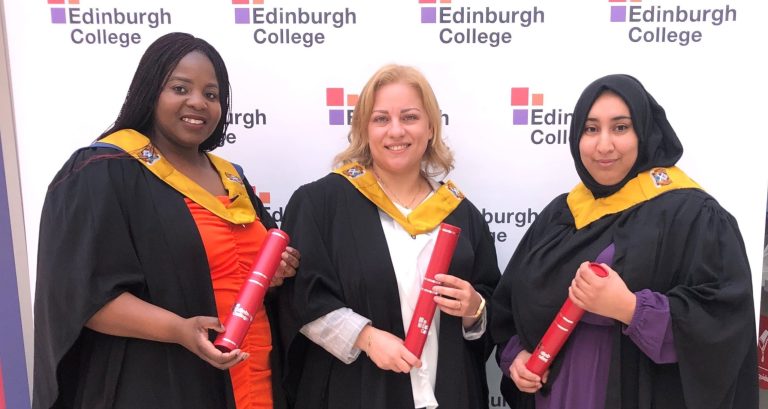 Edinburgh College's Class of 2021 celebrated the enormous achievement of graduating from their courses with a virtual ceremony held last week, Friday 1 October.
Around 400 graduates from across the College's Creative Industries, Engineering and Built Environment, Health Wellbeing and Social Science and Tourism, Hospitality and Business faculties joined virtual ceremonies hosted on YouTube. In total there has been over 1,500 views across each ceremony since the event took place.
This is the second year that students graduating from Edinburgh College have celebrated with a virtual graduation ceremony, with plans for an in-person event cancelled due to the ongoing COVID-19 pandemic.
Graduates celebrated in style and watched their ceremonies from their homes – taking in speeches from Edinburgh College Principal Audrey Cumberford, Heads of Faculties and a number of excited and emotional well wishes from their lecturers.
Graduates and staff shared photos of their individual celebrations across social media, showing off their gowns, mortarboards and certificates while enjoying their moment with their loved ones.
Principal Audrey Cumberford said: "I would like to congratulate our Class of 2021 on this wonderful achievement. This past year has been a challenging one, but they rose to that challenge and should be immensely proud of themselves.
"I would like to thank every graduate for their commitment to their studies and their determination to keep going, and for working hard with our dedicated lecturing and support teams to successfully achieve their awards.
"Graduates should take an enormous amount of pride in how far they've come during their time at College. We wish them all the very best for the future and can't wait to see everything that they will achieve."
Edinburgh College Class of 2021 Virtual Graduation ceremonies are available to watch here:
Health, Wellbeing and Social Science
 
Creative Industries
 
Tourism, Hospitality and Business
 
Engineering and Built Environment
The Digital Graduation 2021 programme can be found here.