17 May 2023
College students entertain crowds in New York as part of Tartan Week celebrations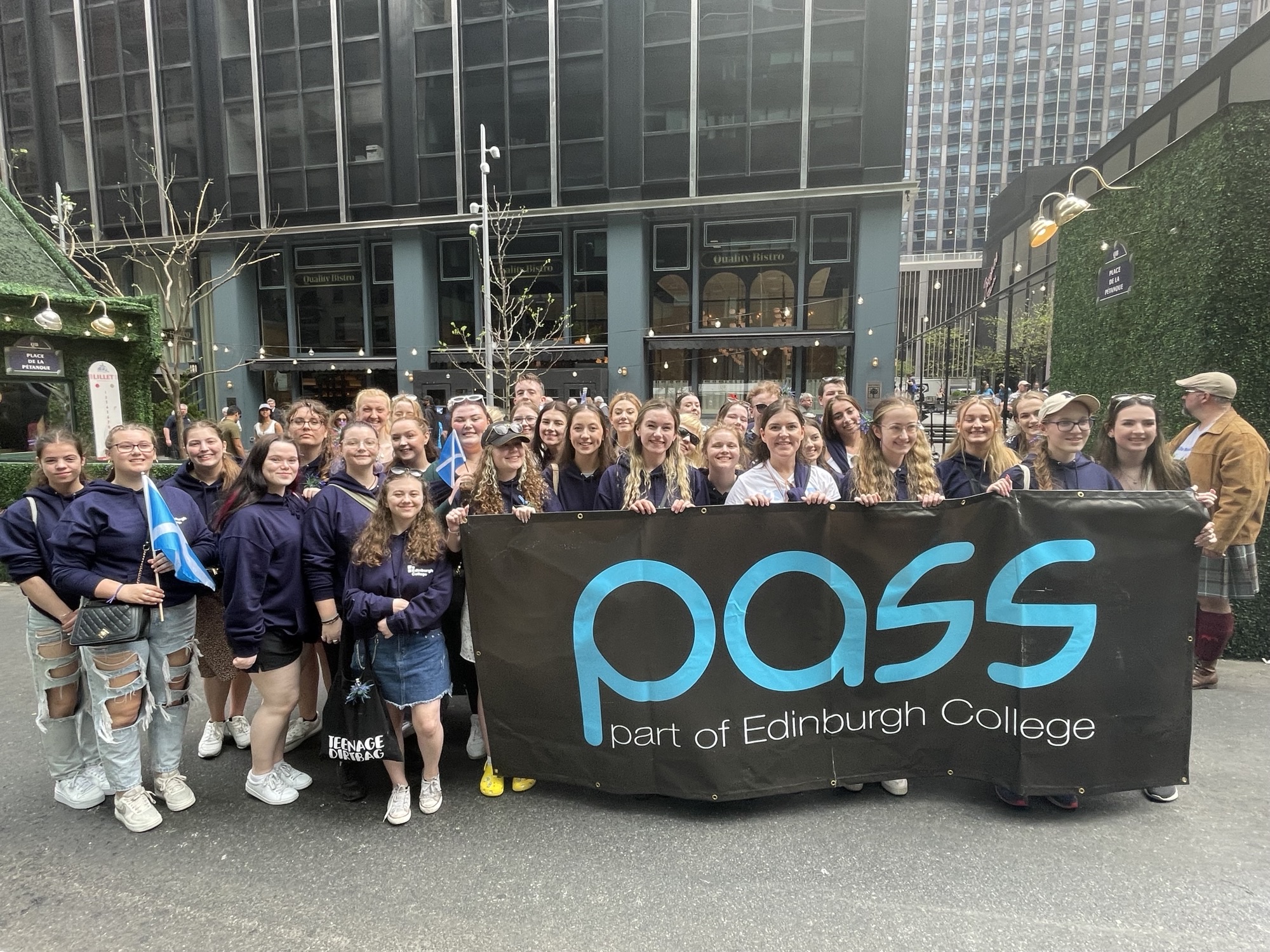 A group of Edinburgh College students travelled across the globe to perform at one of the world's biggest celebrations of Scottish heritage and culture last month.
The students, from the College's HND Musical Theatre and BA (Hons) Acting and Performance courses, were invited across the Atlantic to take part in the annual Tartan Week celebrations in New York.
The group of 36 students took part in the Tartan Day parade through the streets of the city, sang in Bryant Park in association with the American Scottish Foundation, danced to the Laurettes, and performed a ten-minute programme featuring a number of traditional Scottish verse and songs.
New York City's Tartan Week takes place annually to celebrate Scottish heritage and culture which culminates with the Tartan Day Parade, featuring over 3,000 bagpipers, Highland dancers, clan organisations, and more, proudly marching up Sixth Avenue amongst tens of thousands of spectators.
HND Musical Theatre student, Charlotte Watt, said: "The opportunities that being in New York gave me were fantastic. I was able to see shows on Broadway - both some new and some previously adored. I learned about the history of Broadway and New York's performing scene, which I didn't know about before.
"The whole trip was a wonderful chance to get to know students from the other course better, and it was so lovely to spend some time with our lecturers out with college. I was presented with performing experience that I will forever be able to put in writing for CV's or Resumes such as performing in Bryant Park, as well as walking and singing in the Tartan Parade."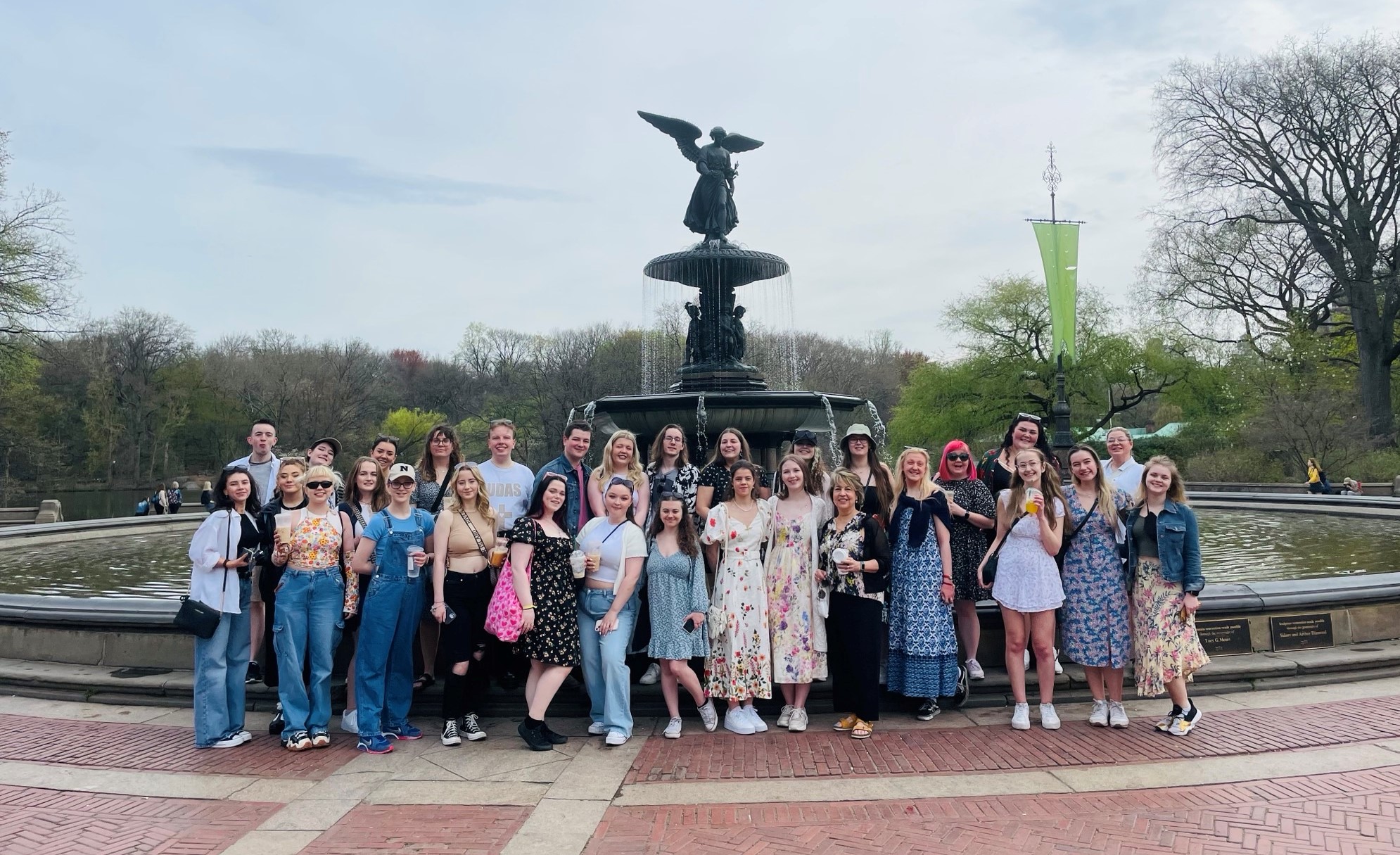 HND Musical Theatre student, Hannah Turnbull, said: "This was a once in a lifetime kind of trip, I got the opportunity to sing a solo in Bryant park for tartan week and see multiple amazing musicals on Broadway. I would've never gotten this opportunity anywhere else and it was the best week."
During the trip, the students also went to see two Broadway shows and learned from the best as they took part in a vocal workshop with Evan Zavada, who is Key 1/ Assistant Conductor for the national tour of 'Wicked the Musical.'
In addition, the students enjoyed some downtime where they explored parts of the city, visiting the recently opened Museum of Broadway in Times Square and eating breakfast in Central Park.
Finally, on the last day the group went to 1950s-themed restaurant Ellen's Stardust Diner, home of the world-famous singing waitstaff, where they followed in the footsteps of many aspiring singers before them by taking to the stage and performing for the customers.
Performing Arts lecturer, Zelie Jennings, said: "We are so privileged to offer this opportunity for our students. Performing in Bryant Park and being part of Tartan week 2023 was an honour. We were fortunate to see many Broadway shows between us all and a highlight for me was seeing how the students were taught and inspired by the wonderful Evan Zavada. Certainly not an experience we will forget."