04 April 2023
Dance students perform live in Glasgow as part of community-focused dance festival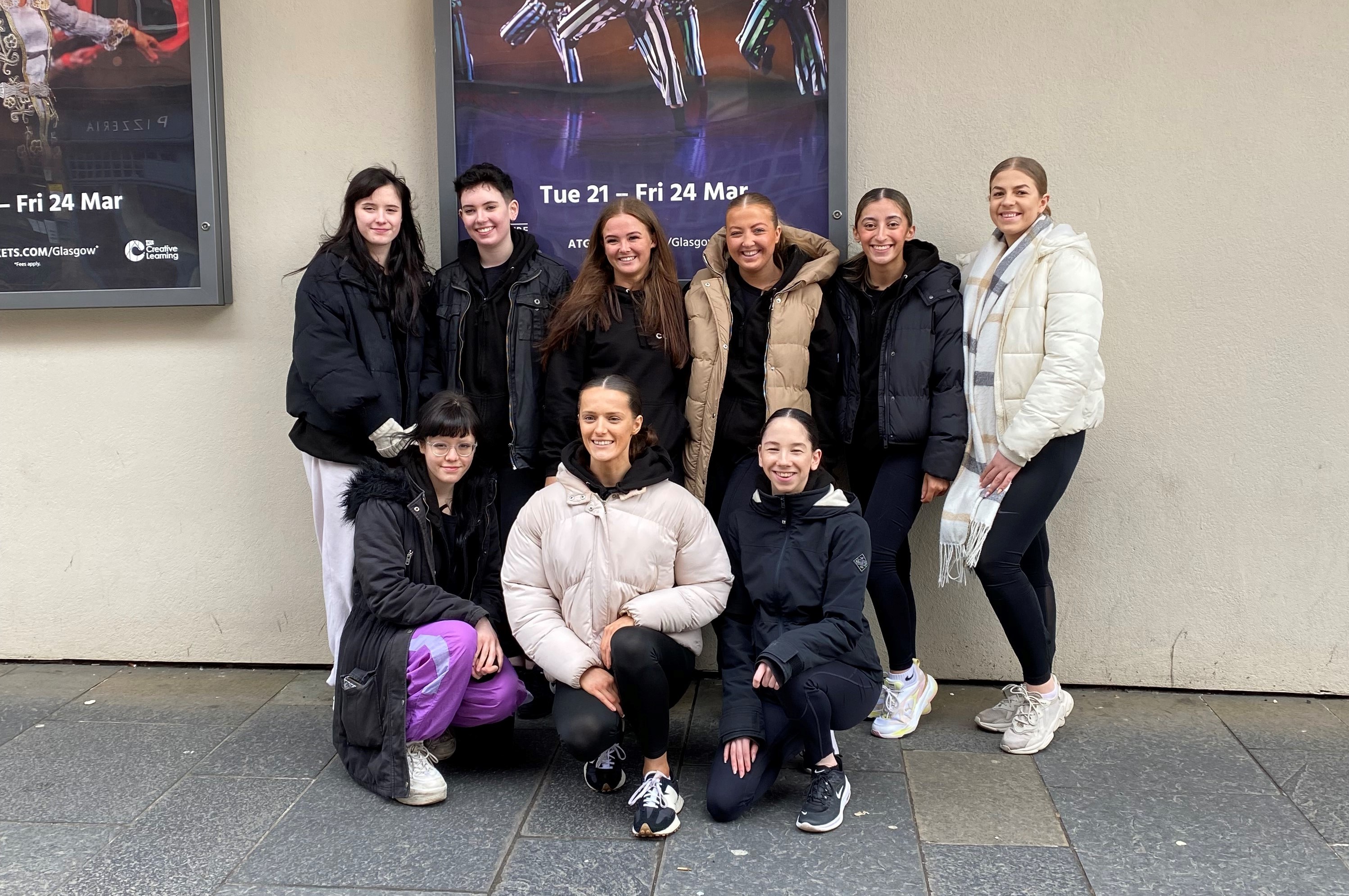 A group of the College's Performing Arts students performed live in Glasgow recently as part of a dance festival which aims to shine a light on the creativity of dancers in communities across Scotland.
Nine Dance students from across the College's HND and BA level courses travelled to Glasgow to perform as part of the community-focused dance festival GoDance at the Theatre Royal on Tuesday 21 March.
Alia Aslam, Kay Davis, Georgia Green, Maria Green, Elise Ogilvie, Charlotte Pennycook, Angelika Rowinska, Mairi Spence, and Hayley Stewart performed during the first day of the festival after being invited to take part in the four-day event alongside over 30 groups of dancers from across the country.
Elise Ogilvie said: "During the creation of our piece, our choreographer gave us a lot of creative choice through different tasks to produce movement. I really enjoyed this process as it allowed us to connect deeper to the meaning behind the piece.
"I love performing in front of a live audience as I feel like it really brings the piece to life. I like that the audience can follow the journey the dancers are going on throughout the piece.
"After College, I would love to choreograph pieces similar to what we performed at Go Dance as I think it's really inspiring being able to tell a story and follow a journey through movement."
Go Dance took place at the Theatre Royal from Tuesday 21 – Friday 24 March and featured dancers from community groups, schools, and colleges from across Scotland, as well as emerging choreographers, in an effort to share and celebrate their work.
The Go Dance festival takes place annually and aims to provide a platform for dancers and dance artists to make, share and celebrate their work.
Head of School for Performing Arts and Photography Winifred Jamieson said: "Taking the PASS dance performance group to GoDance this year was such a pleasure. The event has a wonderfully inclusive focus and the students thoroughly enjoyed sharing their work with other participants and to a sell-out Glasgow audience.
"The opportunity to perform on the prestigious Theatre Royal stage is a fantastic experience for dancers in training. The work that the students presented was devised to incorporate their creativity into making a group piece and to develop their choreographic voice."