09 November 2023
#ECGrad – Cameron's journey at College comes to a 'bittersweet' end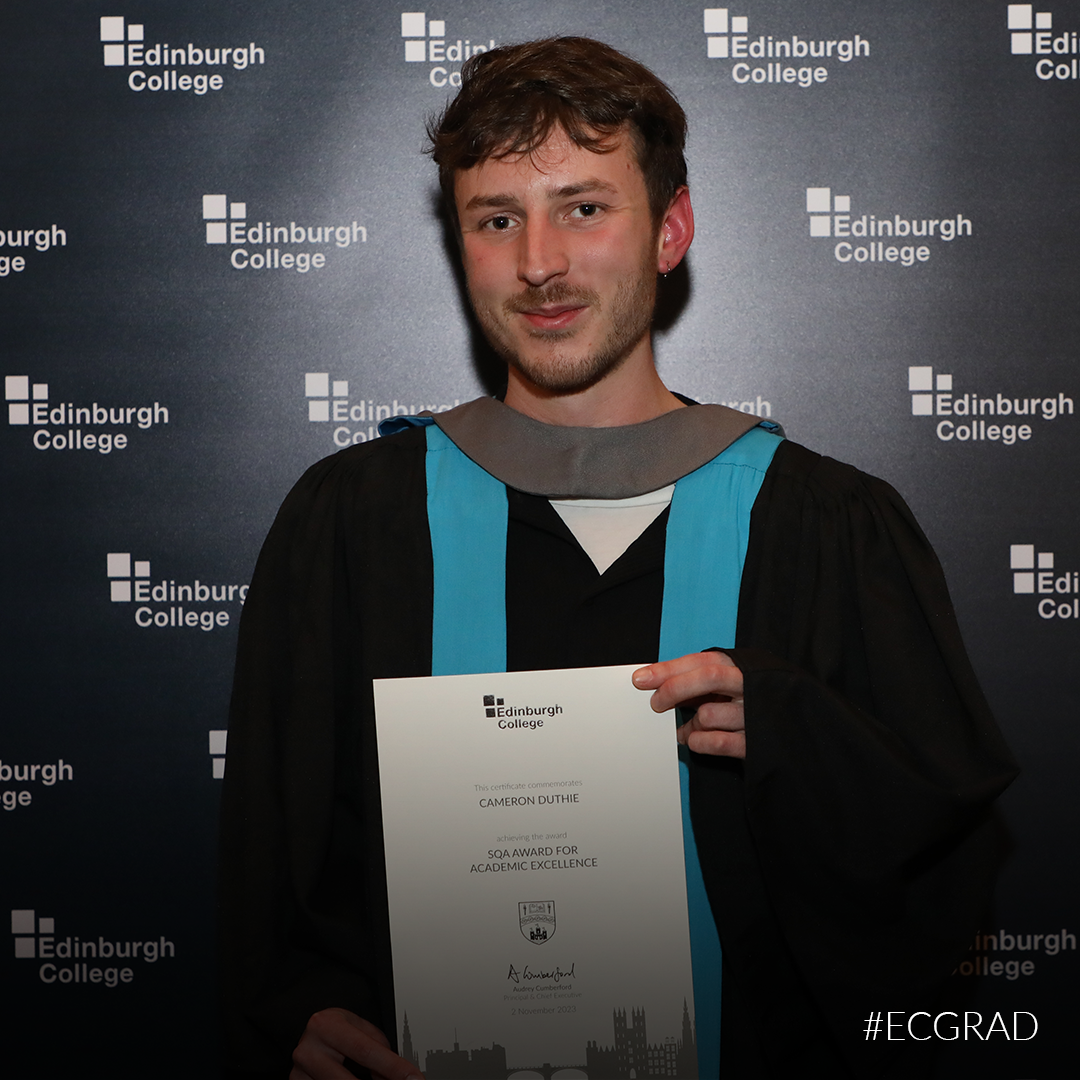 Twenty-four-year-old Cameron Duthie's College journey has come to a bittersweet end, as he leaves Edinburgh College with a BA (Hons) in Audio Production, as well as an SQA Award.
We caught up with Cameron, originally from Tayport in Fife, to find out more about his experience at College and his plans for the future:
"I have mixed feelings about graduating. I thoroughly enjoyed my studies at Edinburgh College, it was an incredibly insightful and rewarding programme. The College has great facilities, incredibly supportive and attentive lecturers, and lovely classmates. It is somewhat bittersweet to realise that it is over now.
"I chose Edinburgh College as the facilities looked incredible. Truthfully, I didn't know a whole lot about the programme when I started, but year after year I became more and more engrossed in what was taught in the curriculum.
"The course allowed me to dive into a large variety of subjects within audio and music production, where I developed a deep interest in film music in the last couple years. Something that wouldn't have formed if I had not gone through the course and attended some brilliant workshops focused in this area.
"I developed many friendships along the way. I'm grateful that my classmates were incredibly easy going, funny, and kind. They've left a positive lasting impact on my memories and experience of College.
"The last year of my degree I had a series of one-to-one sessions for my main project with curriculum team manager Allan. That was some of the most valuable, insightful, and thoroughly enjoyable times I've had in education. We managed to hone in on my interests in music soundtracks and really delve into the ins and outs of audio post-production. Looking at the processes in the industry and being challenged to execute my project in a similar, professional manner. I'm thankful for the support and guidance through this and I'll always remember it. I'm not sure if I would be where I'm at today if it wasn't for this help.
"I want to say a huge thanks to everyone who taught me during my time at College. I have learned a huge range of skills and have had such an amazing experience doing so with you all. I'll always be grateful for all the support from everyone. All the lecturers really do go above and beyond to help students and I couldn't hold them in higher regard.
"I have started a MSc in Sound Design at The University of Edinburgh. I chose this course as I'm interested in creative compositional practices by combining the disciplines of film music and sound design.
"I have plans to study an MA in Music Composition for Screen abroad in Lyon and Montreal post course end, but I remain open to all possibilities. My end goal is to become a media composer. A rather tough and arduous role to get to but I'm more than up for the challenge.
"My one piece of advice to a student starting College now is to make connections. You'll be surrounded by people who have similar interests to you. Help them, learn from them, collaborate, and above all, enjoy yourself!"