12 March 2021
#ECGrad – College helps Bryan change careers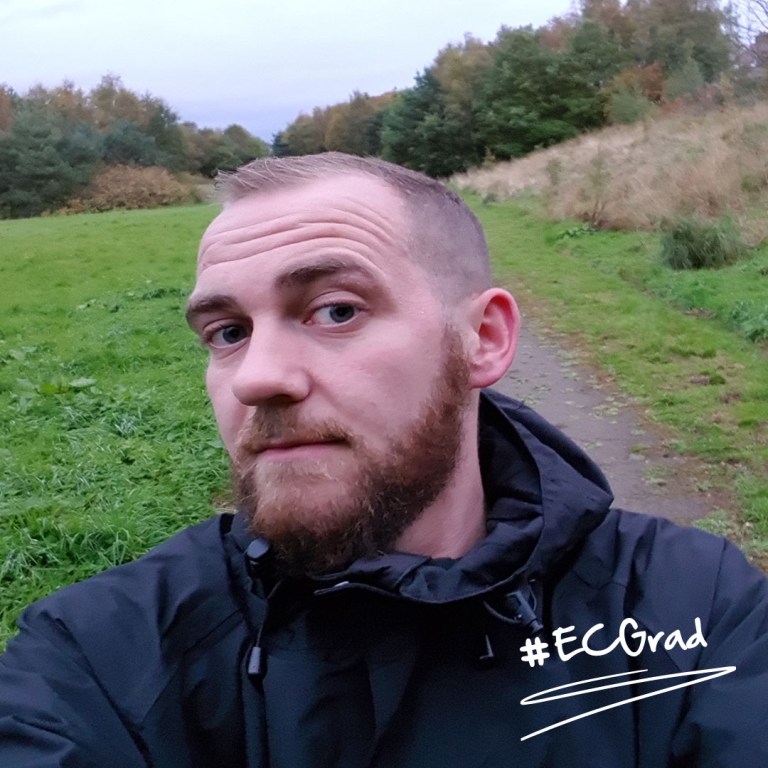 Thirty-five-year-old PDA Advanced Painting and Decorating student Bryan Oneil came back to College to get the qualifications and experience to change careers, and now graduates with the Marston Citizenship Award for Engineering and Built Environment.
We caught up with Bryan to find out more about his college experience, plans for he future and how he adapted to learning online:
How do you feel about Graduating?
I feel happy that my time is finished at College, that all my hard work has paid off and given me the chance to get a better job.
What made you choose Edinburgh College for your studies?
I decided to come to Edinburgh College as it was the only one that I knew that still offered courses in advanced crafts.
What were you doing before starting at the college?
Before starting College I was working in retail.
Have you faced any challenges, either before starting or during your studies? How did you overcome them?
I never really faced any challenges apart from trying to get used to a classroom setting again after being away from studies for so long.
What was is it like learning online near the end of your course during the COVID-19 pandemic?
Learning online wasn't ideal for me as I prefer face-to-face learning. But I think it's the way forward. Everything including student notes and comments from lecturer are all at your fingertips so I did like that part.
Did you have to learn quickly how to use online platforms and how did you do that? 
I just used an app on my phone to access all the platforms I needed for my course which made it very simple and easy to use.
If you could give one piece of advice to a student starting at the college now, what would it be?
Be open minded and just be kind and give a helping hand if and when you can.
Do you have any messages for the lecturers?
I would like to thank all of my lecturers for the help, support and knowledge that they have given me over the last four years. So thanks Mike, Raymond, Colin, Stuart and Robert. Also thanks to George who showed me some cracking dance moves!
What are your plans for the future? Are you going on to further study after college or into employment? What is your end goal?
I'm in full-time employment and enjoying it.
If you could describe your college experience so far in three words, what would they be?
Great, insightful and fun.