05 October 2022
#ECGrad – College helps Katarzyna fulfil childhood dream of becoming a photographer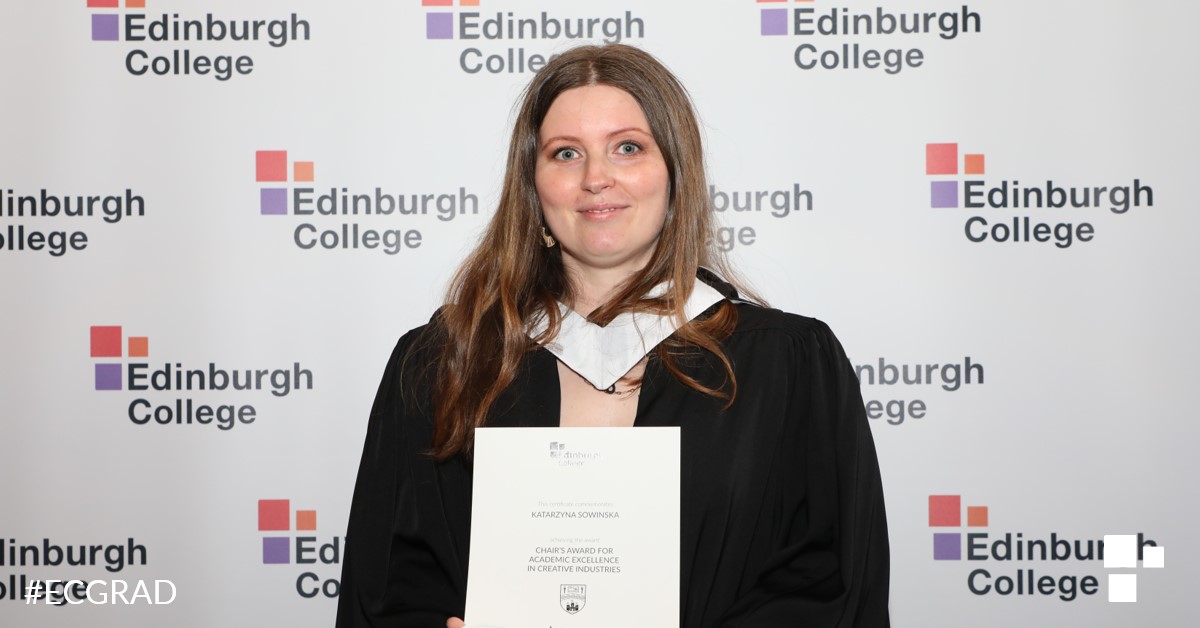 Thirty-eight-year-old Katarzyna Sowinska has fulfilled her childhood dream of becoming a photographer thanks to the knowledge and skills she developed during her time at College.
Katarzyna graduates from College with a BA in Professional Photography and also leaves with the Chair's Award for Academic Excellence in Creative Industries. We spoke to Kasia to find out more about her time at College and plans for the future:
How do you feel about Graduating?
Our Graduation event was an emotional one. I am happy for all of us, who despite the individual hardships, managed to complete the entire course. It still feels quite unreal that we are done with this chapter and off to the next adventure.
What made you choose Edinburgh College for your studies?
It was my friend who recommended Edinburgh College. He was most excited about studying photography here himself and convinced me to try.
What were you doing before starting at the college?
I've been working in hospitality for more than 10 years and prior to coming to College I became a mum.
What has been the best thing about studying at Edinburgh College? Any highlights?
Edinburgh College gave me the best opportunity to work with fantastic lecturers and meet new friends. Most importantly for me, it gave me the knowledge and confidence to make the first step into the industry. Without a College education I wouldn't have a clue where to start. Most of all, it helped me to fulfil my childhood dream of becoming a photographer.
Have you faced any challenges, either before starting or during your studies? How did you overcome them?
The biggest challenge for me was trying to juggle caring for my toddler, full-time education and part-time work. I wouldn't have been able to complete the course without the help and support of my partner. It helped being well organised and prioritising education above messy house. I kept reminding myself that one day we will be reminiscing about these days with sentiment and that achieving my dream was worth all the sleepless nights and hardships we were facing at the time.
If you could give one piece of advice to a student starting at the college now, what would it be? 
First of all, I would like to congratulate them! They've made the first step to take them closer to their goals. My advice would be to turn up to your classes, listen to lectures, and ask questions. That is half the work done already. Get all the help you can get. And do not put any work off for later - procrastination is your biggest enemy so make sure you hand work in on time!
Do you have any messages for the lecturers?
I would like to sincerely thank them for all their support during my College years. Their guidance allowed me to get through this time with great results. They have been there for me, when I thought I won't be able to make it to the end.
I am very grateful as they have been there for us, allaying doubts, reshaping our thoughts, and filling our heads with knowledge and new ideas. Their dedication to students and going above and beyond won't be forgotten by us. Most of all, thank you for believing in me like no one before (including myself), and always encouraging me to do better. Their support meant to me more than I can express.
What are your plans for the future? Are you going on to further study after college or into employment? What is your end goal?
I have just become a self-employed photographer and I am working on individual assignments. I am starting my journey and I have loads of ideas on what to do next.
I am working on my business growth and expanding my knowledge. My goal is to create a self-sustaining business that brings my family solid income while I will be doing what I love the most.