12 March 2021
#ECGrad – College helps Peter move on to university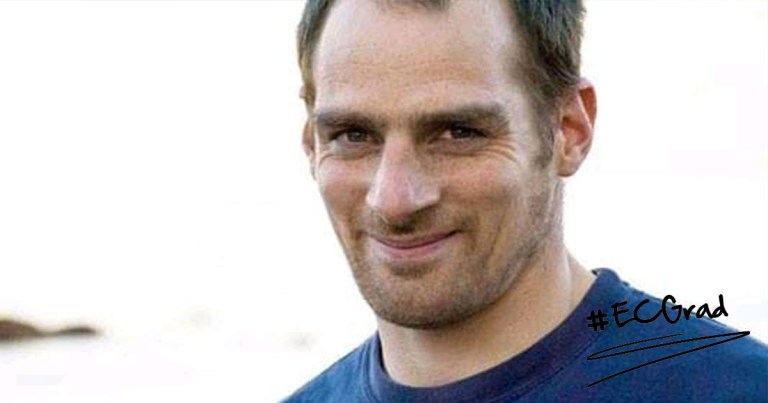 Thirty-eight-year-old student Peter Gilmour worked in the hospitability and events industry for over 20 years before coming back to College, and now leaves with an HNC in Marketing Communications as well as the Marston Citizenship Award for Tourism, Hospitality and Business.
We spoke to Peter to find out more about his college experience and how he adapted to learning online:
How do you feel about Graduating?
I'm so excited to be graduating and moving forward with my plan to complete BA International Business Management.
What made you choose Edinburgh College for your studies?
I decided to come to Edinburgh College for my studies as I live locally, so it was a reasonably easy decision to make.
What were you doing before starting at the college?
Before coming to College, I had been working for 20 years in the hospitality and events sector.
Have you faced any challenges, either before starting or during your studies? How did you overcome them?
Aside from the Covid pandemic, I found it challenging to come back to study after so many years away from it. However, the tutors were very supportive and I found the work great fun to do.
What was is it like learning online near the end of your course during the COVID-19 pandemic?
Fortunately, we had most of the materials needed to complete the graded unit and other coursework with online assistance from our tutors. This made closing the course online more manageable.
Did you have to learn quickly how to use online platforms and how did you do that? 
I was familiar with some of the online platforms, but there were some early teething issues until we became accustomed to using them.
If you could give one piece of advice to a student starting at the college now, what would it be?
This may be very challenging at the moment but, it won't last forever, and we are learning how to make the world a better place. Knowledge is powerful.
Do you have any messages for the lecturers?
I would like to say thank you all so much to all of our lecturers for your courage and hard work which enabled us to graduate and complete the course on time. We couldn't have done this without you.
What are your plans for the future? Are you going on to further study after college or into employment? What is your end goal?
I'm studying International Business Management at Napier at the moment and in the future I'm hoping to work in renewable energy for the Scottish government.
If you could describe your college experience so far in three words, what would they be?
Challenging, friendships and knowledge.
You can still watch the Tourism, Hospitality and Business virtual ceremony on the College's YouTube channel.