06 October 2022
#ECGrad – Eilidh 'very proud' to graduate from College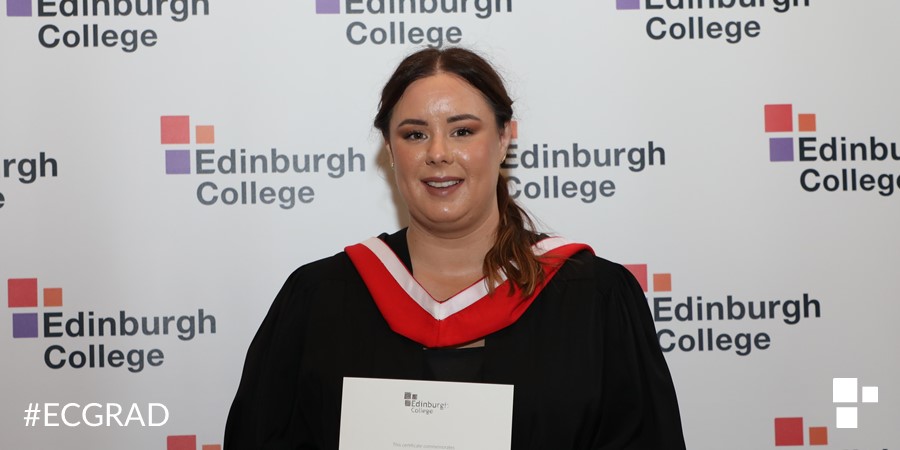 Thirty-four-year-old Eilidh Lancashire from Tranent feels 'very proud' to be graduating after coming to college to further her career.
Eilidh leaves College with an ILM Level 5 Certificate in Leadership and Management, as well as the Chair's Award for Academic Excellence in Hospitality, Tourism and Business. We spoke to Eilidh to find out more about her College experience:
How do you feel about Graduating?
Very proud.
What made you choose Edinburgh College for your studies?
I got an opportunity through my employer.
What were you doing before starting at the college?
I am a Traffic Manager at Lothian Buses but currently Interim General Manager at Edinburgh Bus Tours.
What has been the best thing about studying at Edinburgh College? Any highlights?
The support from the tutors.
Have you faced any challenges, either before starting or during your studies? How did you overcome them?
It was challenging juggling a demanding job and coursework. I tried to have a balance between work, college work and time off. When it was time to work on assignments, I was quite strict with dedicating the time.
If you could give one piece of advice to a student starting at the college now, what would it be?
Do not be afraid to ask questions and make use of the resources available to you.
Do you have any messages for the lecturers?
You were fantastic to work with and the level of support and encouragement shown was incredible.
What are your plans for the future? Are you going on to further study after college or into employment? What is your end goal?
As well as continuing to work full time, I am looking at the next level of study.