06 October 2022
#ECGrad – No wrong path for Chelsea as she moves on to further study at university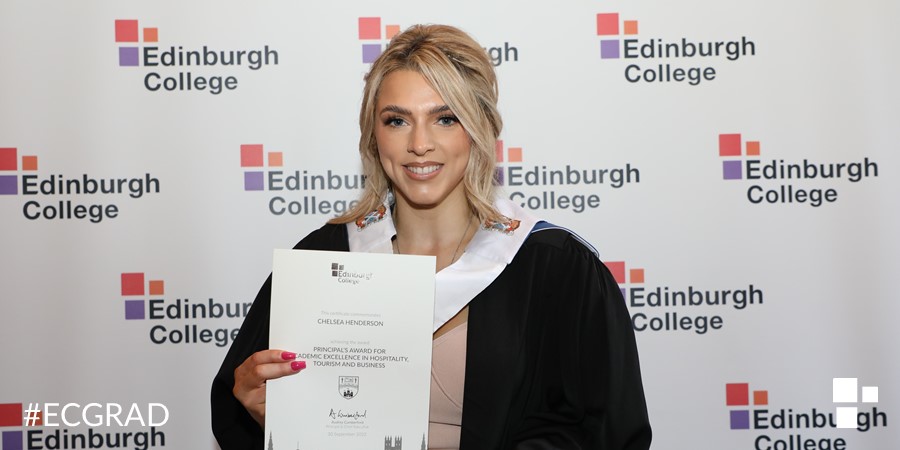 Twenty-seven-year-old Chelsea Henderson swapped working in care, to study beauty therapy at the College and now leaves to go on to university to study nursing.
Chelsea graduates from College with an HND in Beauty Therapy and also leaves with the Principal's Award for Academic Excellence in Tourism, Hospitality and Business. We spoke to Chelsea to find out more about her time at College and her plans for the future:
"I feel a lot of pride in myself and happiness to be graduating from College. I was interested in the beauty industry and when I was researching, I found an access course showing the basics of beauty at the College. Before College, I worked part-time as a carer for the elderly and caring for my son.
"There have been many highlights over the five years I've studied at College, as well as obstacles, growth, and achievements along the way. I think when you study for such a length of time you become well known to the beauty department and you feel a big part of the team. I have also met friends that are now my best friends today.
"I have faced many challenges over the time I have studied at the College, so many I couldn't list them all. I think my difficulties with dyslexia have made it harder for me to learn but it never stopped me, I got support from the learning team at the campus and researched different strategies to help make my learning and writing manageable and it really helped.
"My biggest challenge would most definitely be in my 1st year of HND Beauty, at a time during the pandemic, when I was getting lots of coursework to complete and everything was moved online. In the busiest time of my course I heartbreakingly lost my nana who meant the world to me, it was truly the worst time in my life, and I was trying to cope with the grief. I got through my course with the amazing support and guidance from my lecturers, family, and a promise I made to my nana that I would complete my course. I know my nana is with me and will be so very proud and it makes this achievement mean so much more to me because I never broke my promise to her.
"To any students starting college now my advice would be to believe in yourself – you can achieve anything you put your mind to, so never give up. I can definitely be my biggest critic in thinking I can't do something, or it is not enough but definitely believe more in yourself as you are better than you may think. There is support and guidance for all students I would say don't shy away from asking for help as we all learn differently.
"I would like to thank all the lecturers that have taught me over the years and my HND first and second-year lecturers you are a credit to the students, your support and guidance for every student, your care, patience, and time shine through and I couldn't have done it without yous, it has been a pleasure to have been your student.
"I have gone on study at the University of Edinburgh as an adult nurse and I plan to go further into midwifery. I just go with the flow I don't rush ahead to how long things may take, I focus on the present and keep moving forward, I don't know what path I may go or what doors will open for me, which is exciting. My goal is to be better than yesterday, be a good role model to my two children and make a better life for myself and them."