09 November 2023
#ECGrad – Scott determined to make career switch a success after graduation from College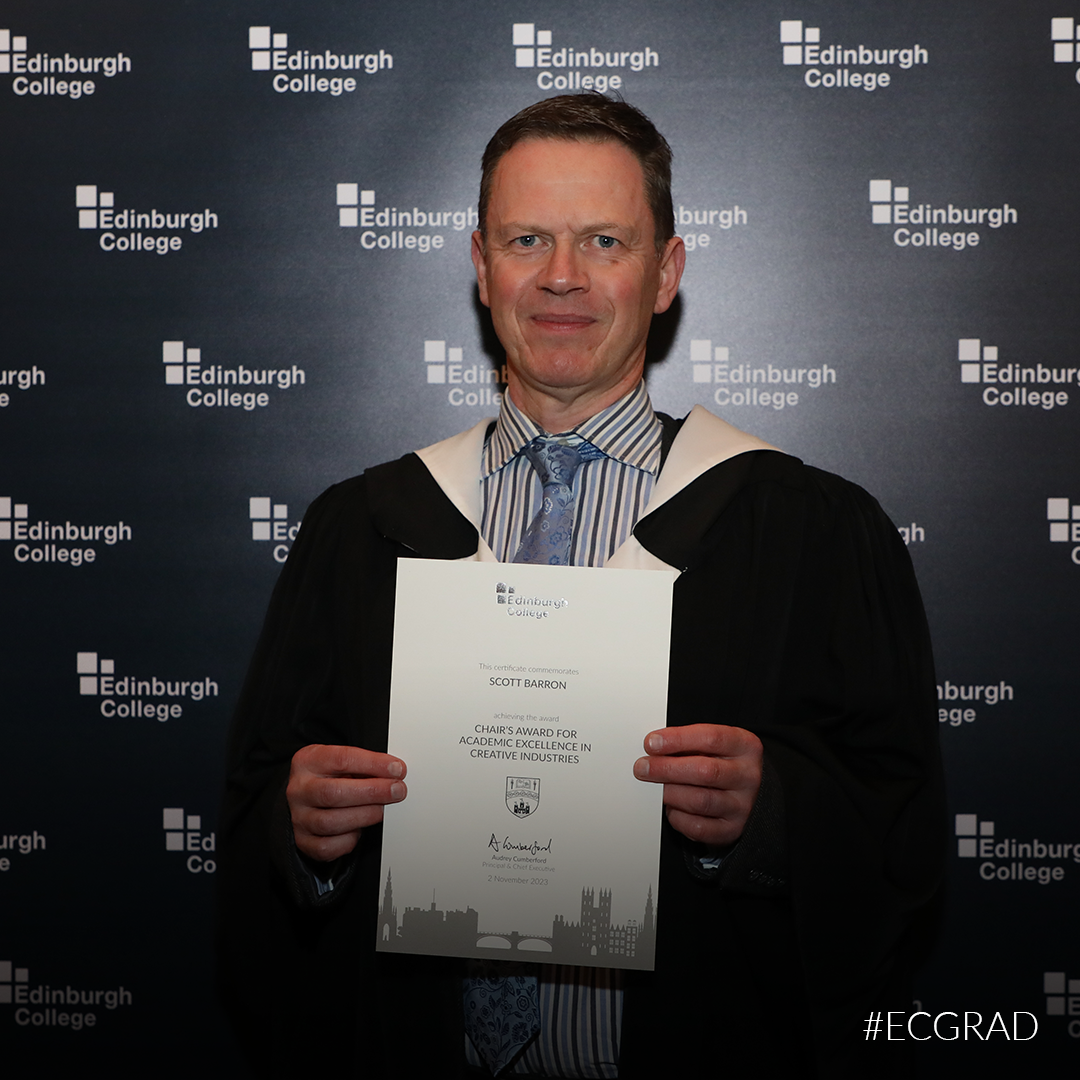 Fifty-two-year-old Scott Barron came to Edinburgh College as a piano teacher with the aim of using his studies to change careers into a new industry, and is now leaving college with a BA in Professional Photography and the Chair's Award for Academic Excellence in Creative Industries. 
We spoke to Scott to find out more about his time with us, how he feels to be graduating, and his plans for the future: 
How do you feel about Graduating?
I am glad to be finished the course and to be graduating. I still feel I have a huge amount to learn, but I think this will be better learnt on-the-job.
What made you choose Edinburgh College for your studies?
I first heard about the course 14 years ago when I attended a one-day Portraiture Introduction course at Edinburgh-based Stills photography centre. The course leader was David Grinly, a lecturer at Edinburgh College, and he told us how much more we could learn from attending their photography courses. I never forgot this and when researching which course to attend I felt this fitted me the best as it was marketed for professionals.
What were you doing before starting at the College?
I was and still am working as a piano teacher.
What has been the best thing about studying at Edinburgh College? Any highlights?
Definitely the people I have met on the course. They are all very good friends, with some remaining very close. The teaching staff were also excellent.
Have you faced any challenges, either before starting or during your studies? How did you overcome them?
Absolutely! I didn't realise how intensive and stressful studying was as I'd forgotten what it was like first time round when I was in my early 20's. What helped was being organised and making sure I was submitting work well before the deadlines.
Also, as we were studying during the COVID years, online lectures were challenging, as were the assignments considering we couldn't meet with anyone. However, I found that this increased creativity as we had to 'make do' with who was around us and what we had at hand.
If you could give one piece of advice to a student starting at the College now, what would it be?
Get organised! Also, start looking for paid work as soon as you can. If you are on the course you are good enough to be working. Don't wait until graduation as it's a difficult uphill struggle. 
Do you have any messages for the lecturers?
Thanks for your patience and commitment to getting the best out of us all.
What are your plans for the future? Are you going on to further study after college or into employment? What is your end goal?
I am actively pursuing self-employed photography work with the goal of stopping my piano teaching work within the next two years.