15 March 2023
Edinburgh College and EC Students' Association win at Edinburgh Chamber of Commerce Awards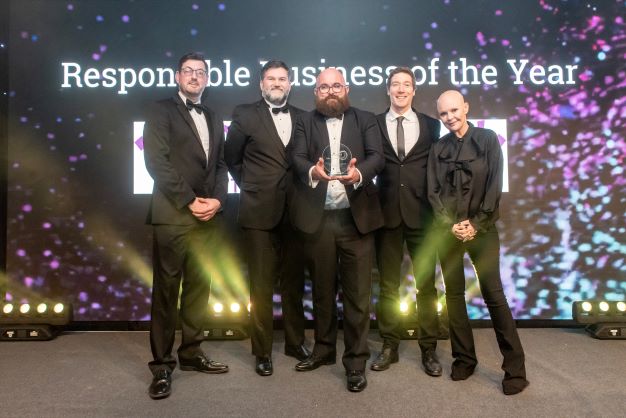 Edinburgh College and EC Students' Association won the Responsible Business of the Year award at last week's Edinburgh Chamber of Commerce Business Awards for their work in supporting students during the ongoing cost of living crisis.
The College and its Students' Association has worked hard to support students by introducing a free breakfast club and low-cost lunch options.
The breakfast club allows students to access free breakfast at all campuses three days per week. The club itself is staffed by students working in newly created jobs – providing a part-time wage for their work in delivering the project.
In addition, Professional Cookery students are preparing and serving affordable lunches from their Granton and Milton Road training kitchens four days per week – where students pay what they can for homemade soup, and other affordable sandwiches and home bakes are on sale.
Other work which played a huge role in the award win includes:
The continuation of Community Fridges and Clothing Swap Shops run by EC Students' Association
Promotion of the College's Liftshare programme and under 22s bus travel
Financial support for students
Winter Fair organised by lecturer Polly Phillips, Wellbeing Officer Callum Neil and many others.
More information on cost of living support can be found on the College website.
It is fantastic to have won this award which recognises the work of our staff and our Students' Association. The cost of living crisis is presenting extreme challenges for students across the country and I'm proud that our teams are working hard to alleviate those challenges and support our students. We will continue to work with our Students' Association and partners to do what we can to help our students and communities
Mike Jeffrey, Edinburgh College Vice Principal
We are delighted to have been recognised through the Edinburgh Chamber of Commerce Awards as Responsible Business of the Year. This follows on from last year's Net Zero Champion award and recognises the hard work of many colleagues across the College. Building on the Association's provision of clothing SwapShops and Community Fridges on every campus, we have worked in partnership with many teams across the College to deliver the Free Breakfast Clubs on all four campuses, three mornings every week. This has not only created jobs for students on campus, but it has provided free breakfasts for hundreds of students every week, setting them up for their day of learning, and forging a closer community atmosphere on every campus. We are proud of the partnership approach to addressing the intense financial challenges facing students and are committed to continue to do all we can to work together and make students' lives better.
Al Wilson, EC Students' Association Director