20 June 2022
Edinburgh College Art and Design students celebrate prestigious achievement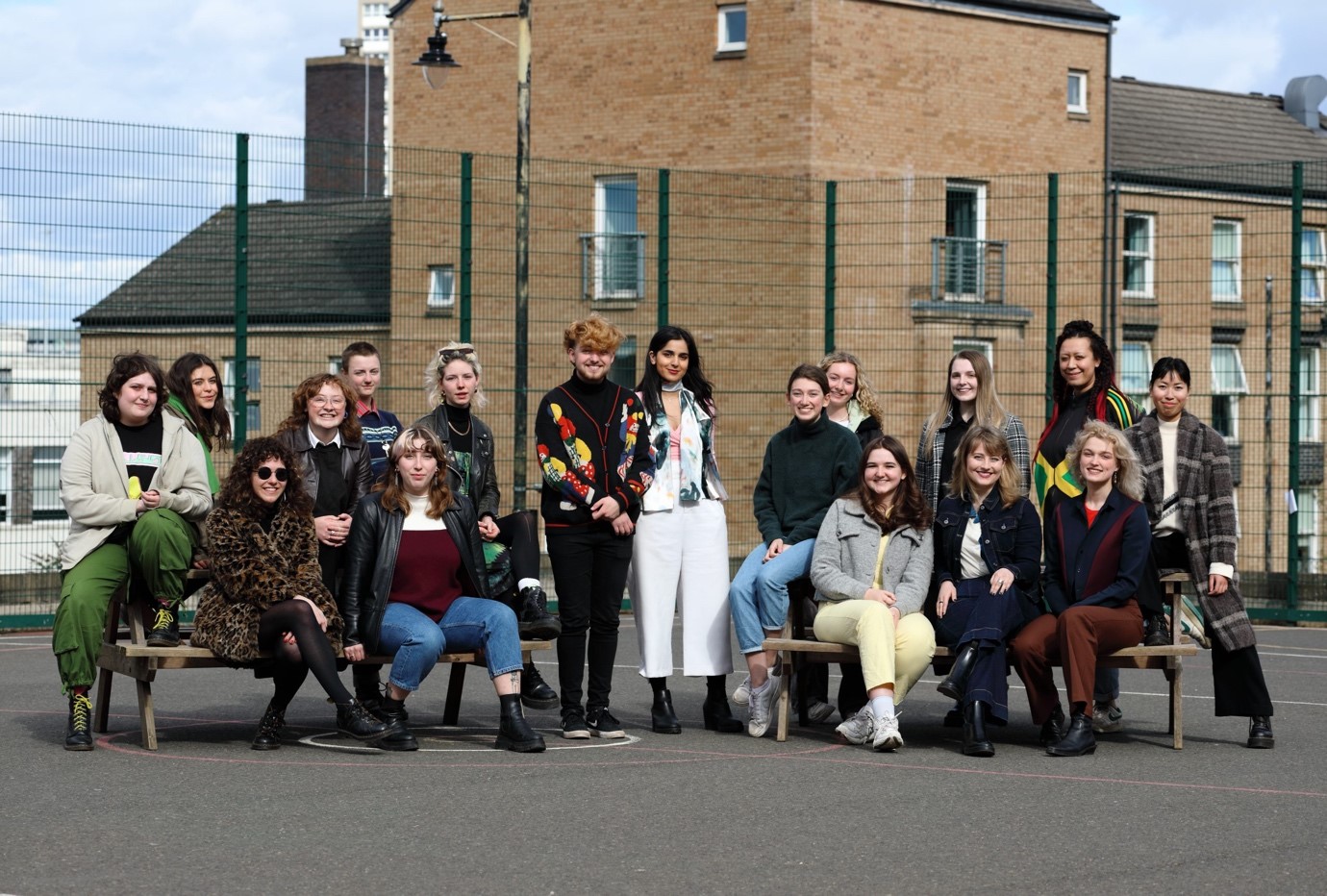 Photography by Matthew Williamson 
Two Edinburgh College students are getting ready to fly across Europe after being selected to take part in a prestigious contemporary art professional development opportunity in the Italian city of Venice this year.
HND Contemporary Art Practice students Chloe McHardy and Kirsten Grant have been selected to work at the Venice Biennale, a series of exhibitions curated around a specific theme representing the cream of global contemporary art.
This year there are 213 artists from 58 countries taking part which can be seen across the city of Venice from April to November and is one of the most prestigious cultural festivals in the world and a celebration of art and architecture.
Edinburgh College's HND Contemporary Art Practice (CAP) course is celebrating the first year of a partnership with A-N (Artists Newsletter), The British Council, and Scotland + Venice, meaning two fully-funded places were available for CAP students to take part in Scotland + Venice's Professional Development Plan.  
After a competitive application process, Chloe and Kirsten were selected to be the first successful CAP recipients of this prestigious professional and career-defining development opportunity and will spend four weeks living and working in Venice.
During their time in Venice, Chloe and Kirsten will gain invaluable hands-on experience and will draw from the rigorous training programme they have already undertaken. This programme has included learning about the day-to-day running of a contemporary art gallery whilst working closely alongside Scotland's representative artist Alberta Whittle.
Scotland + Venice was originally founded in 2003, identifying itself as distinct from the British Pavilion, a place that could celebrate the unique and independent space that Scotland has within the global Contemporary Art World.
Edinburgh College Art & Design lecturer Jennie Temple said: "The HND Contemporary Art Course is absolutely delighted that this partnership has been established and we celebrate the significant recognition from Scotland + Venice, the British Council and A-N that our students are rightfully valuable and highly capable contributors to the Professional Development Plan.
"The CAP course works continually hard to ensure that students are provided with a meaningful, appropriate, and active learning experience that sets solid foundations for both continuing education and working within the art industry. We are very proud of all of our students, and the work that both Chloe and Kirsten have put in to successfully achieving their well-earned places on Scotland + Venice's PDP stands as testament not only to themselves but the course itself.
"Well done Chloe and Kirsten, we are incredibly proud of you, and we look forward to the CAP community benefiting from your first-hand experience and the ripples of your time in Venice reaching the distant shores of the Granton Campus in North Edinburgh in the coming months."
Norah Campbell, Head of Arts, British Council Scotland, and Scotland + Venice partnership board member said: "The Scotland + Venice programme has had a hugely positive impact for those taking part over the years, and I'm sure this year will be no different. The invigilators will have a unique opportunity to build lasting global connections, grow their professional network, experience a vast range of contemporary art, and most importantly – to generate ideas for their own work and practise."