03 February 2022
Edinburgh College International Business Advisor among first AoC Research Further Scholars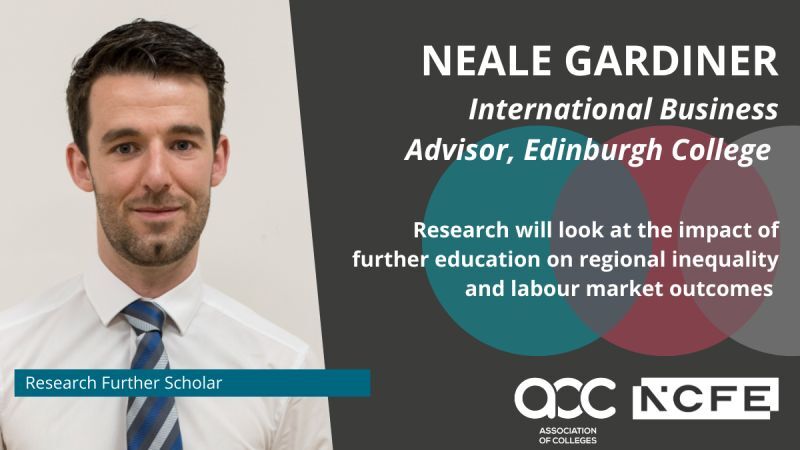 Edinburgh College's International Business Advisor, Neale Gardiner, has been chosen as one of the first scholars in a UK-wide Further Education (FE) research programme, the Association of Colleges (AoC) and NCFE have announced.
Research Further is a scholarship programme launched by the AoC and NCFE and aims to support practitioners to carry out Masters or doctorate level study.
Neale, who is the only Scottish-based scholar, has been chosen alongside 10 peers from across AoC member colleges by Research Further's high calibre advisory board, following the submission of dozens of research proposals.
Each scholar will now undertake funded research into areas of post-16 teaching practice and policy that have little to no data currently available.
Neale's research will look to enhance understanding of the returns to FE for individuals and, in turn, provide some insight into the aggregate impact this has in terms of the role colleges play in tackling inequality and driving economic growth across their regions.
Neale said: "I'm absolutely delighted to have been chosen to be one of the first Association of Colleges Research Further scholars. It's exciting to be a part of this programme as I look to complete my MSc in Applied Economics at the University of Strathclyde in the coming months.
"I'm grateful that I've been supported by my employer, Edinburgh College, to undertake my Masters alongside my work and I hope my research can therefore contribute to better understanding the impact the college sector has in Scotland. I'm also indebted to the academic staff at Strathclyde who were quick to support my application for the Research Further programme."
Edinburgh College Principal Audrey Cumberford said: "Congratulations to Neale on being awarded this fantastic scholarship. We're delighted to support his research and have no doubt it will provide valuable outcomes for not just our College but the college sector as a whole. We look forward to seeing Neale progress with this important work."
AoC's Senior Research Policy Manager (Research and Evidence), Julia Belgutay said: "I'm delighted to be able to announce the first Research Further scholars. They are already real experts in their fields and their work will help us fill crucial gaps in evidence. At the same time, their knowledge and experience as they go about their chosen qualifications will inspire and help grow the blossoming practitioner research community across the sector."
David Gallagher, NCFE's CEO, said: "It is fantastic to see this pioneering initiative progressing so well. We've been blown away by the calibre of the scholars and wait in eager anticipation to see what their research uncovers. This project is an important moment for the Further Education sector and quite rightly invests in educators, giving them the opportunity to carry out innovative research and bring to light ideas to form future best practice. Up until now there has been a shortfall of truly practitioner-led research. This programme is all about untapping potential and we believe that those closest to learners and learning have a huge role to play in the future of FE."