30 March 2022
Edinburgh College launches new Education Innovation Hub in partnership with Fujitsu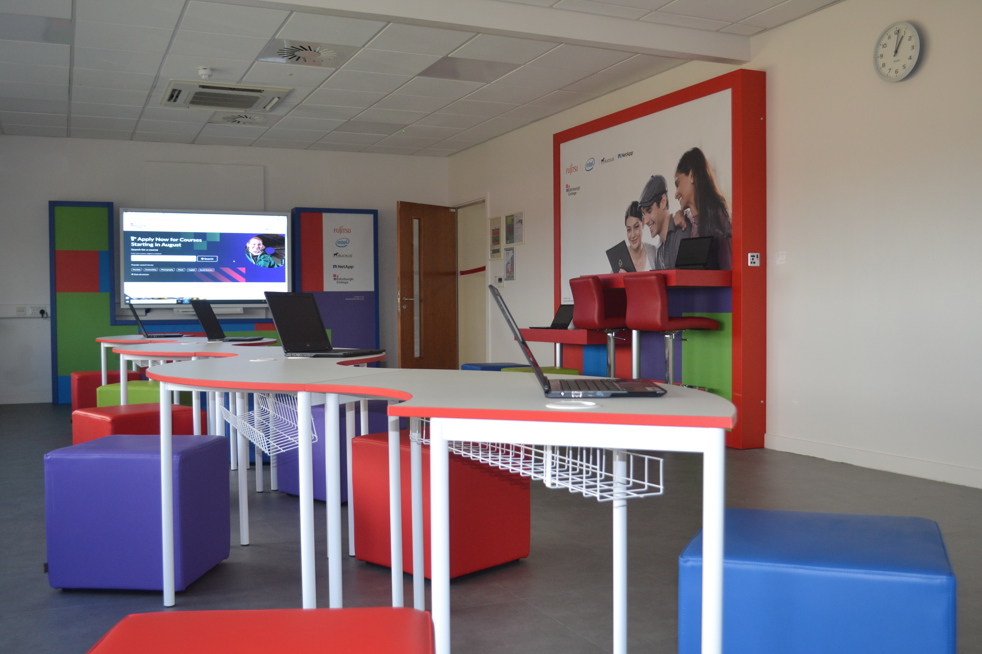 Edinburgh College has become the latest educational institution to join Fujitsu's Ambassador Programme with the launch of a new innovation hub.
The launch took place on Wednesday 30 March 2022 at the College's Midlothian Campus in Dalkeith. Edinburgh College Vice Principal, Jon Buglass officially opened the hub alongside Fujitsu Director of Education, Ash Merchant.
The College's Innovation Hub will be equipped with the latest computing technology to support staff, students, schools and the community in the use of technology and the development of digital skills. It will provide a modern, technology-enhanced space for the development of challenge-based learning and digital-related skills, as well as flexible space for events and sessions. It will form the central piece of an ongoing partnership between Edinburgh College and Fujitsu.

The hub strengthens the College's commitment, outlined in its Digital Strategy 2020-25, 'to be a leading College in the UK for digital learning, teaching and operations, with data driven innovation at its core.'
Through the new Innovation Hub and our partnership with Fujitsu, we're offering our Edinburgh College community the chance to access and utilise the latest computing technology. The hub will support our overarching digital ambition of becoming a 'high performing digital college' and will be a fantastic facility to support staff and students in developing new skills and ideation in an increasingly technology driven environment.
Jon Buglass, Edinburgh College Vice Principal
With the rate of technology and digital innovation moving at an unprecedented pace, many people are feeling as though they're struggling to keep up. And this goes double for those in the education sector, who are responsible for imparting that knowledge to the next generation. Consequently, it's never been more important for them to be up to speed with emerging and new technologies, in order to best prepare the nation's youth for the future of work in a modern and digital-first world. Educational institutions like Edinburgh College will play a crucial role in making this happen – and Fujitsu is committed to supporting them in bringing their vision to life.
Ash Merchant, Director of Education at Fujitsu
The Fujitsu Ambassador Programme is an engagement initiative led by Fujitsu to highlight how computing power underpin knowledge in Science, Technology, Engineering and Maths (STEM) subjects. It is designed to drive innovation and digital skills development at Edinburgh College and within its wider community.
The main objectives of the Ambassador programme are to support greater collaboration between industry and education, aiding career skills development and providing expertise on personalised technology in teaching and learning.