29 April 2022
Edinburgh College launches Renewables and Energy Efficiency Training Centre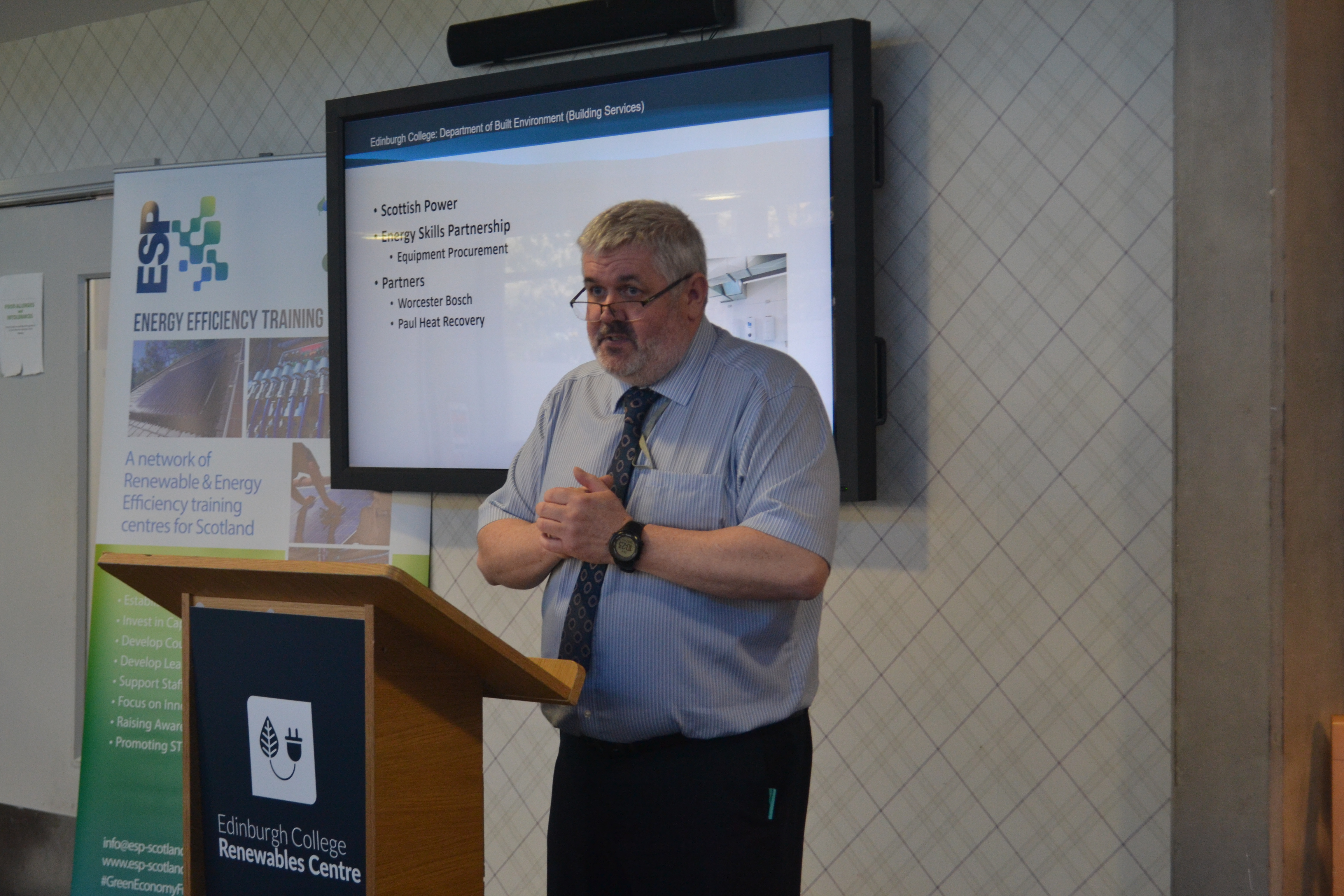 Edinburgh College has officially opened a new Renewables and Energy Efficiency Training Centre aimed at helping people save energy in their homes, thanks to funding from SP Energy Networks.
The new facility will see students, apprentices and industry professionals learn how to use cutting edge equipment and develop skills required to build low energy homes, and to modify existing homes to become more energy efficient.
The centre, housed at the College's Granton Campus, was opened by Edinburgh College Vice Principal Jon Buglass, alongside speakers including Jillian Violaris of SP Energy Networks and John Renwick of Energy Skills Partnership (ESP).
Equipment featured in the new centre includes: ground source heat pumps, air source pumps, solar thermal systems, rainwater and greywater harvesting, SIPS eco panels, underfloor heating systems, and latest gas appliance condensing boiler technology supplied by Worcester Bosch.
The focus for the centre is to train students and apprentices in these technologies, while also supporting those in industry to reskill and upskill, using high-class equipment under the guidance of Edinburgh College lecturing staff.
The centre has been funded by SP Energy Networks' Green Economy Fund and managed via the ESP.
ESP is a collaboration of Scotland's colleges and industry partners established to increase Scotland's capability and capacity to deliver the right skills for the energy, engineering and construction sectors. ESP were awarded £500,000 in 2019 from the SP Energy Networks Green Economy Fund, which was established in 2018 by the electricity network operator for Central and Southern Scotland.
SP Energy Networks' Green Economy Fund supports the delivery of the Scottish Government's ambitious plans to meet climate change targets, boost local economic growth, improve air quality across the country and deliver a better future, quicker for local communities.
In order to manage the project, ESP established the Energy Efficiency Training Network comprising of nine colleges to launch new training centres including across Scotland.
It's a privilege to open our new Renewables and Energy Efficiency Training Centre at our Granton Campus. The centre will provide students, apprentices and those within the supply chain with access to a state-of-the-art place to learn new and existing technologies. It is incumbent on us as one of Scotland's largest colleges to play our part in ensuring those in industry can embed these skills early in their careers, understand them and start to use them to build houses for the future – helping the nation to move towards net zero. Our thanks go to Scottish Power Energy Networks, Energy Skills Partnership, Worcester Bosch and other partners for the support in creating this new facility.
Edinburgh College Vice Principal, Jon Buglass
Edinburgh College's new Renewables and Energy Efficiency Training Centre will support the skills needed to help the country achieve net zero emissions. Rapid change will be needed across the nation in the coming years and the new training hub will support the development of the next generation of green experts that will deliver it. When establishing the Green Economy Fund, it was clear that delivering clean energy transition in our communities would require a future workforce with the right skills, that's why education plays a vital role in the move to a low carbon economy.
Jillian Violaris, Green Economy Fund Manager at SP Energy Networks
The SP Energy Networks Green Economy Fund project has realised a massive impact for colleges across central and southern Scotland in developing the capability and capacity to deliver the future skills industry needed to support government's commitment to reach Net Zero by 2045. This flagship education project supported nine new centres with investment in capital equipment which positions colleges at the forefront of upskilling and training for industry. It has been a true partnership with government, industry and colleges working together to address the skills challenges in reducing carbon emissions, supporting green growth and the just transition to Net Zero. ESP is delighted to have facilitated this project alongside Edinburgh College.
Jim Brown, Director at ESP