21 September 2021
Edinburgh College lecturer becomes Unreal Authorised Instructor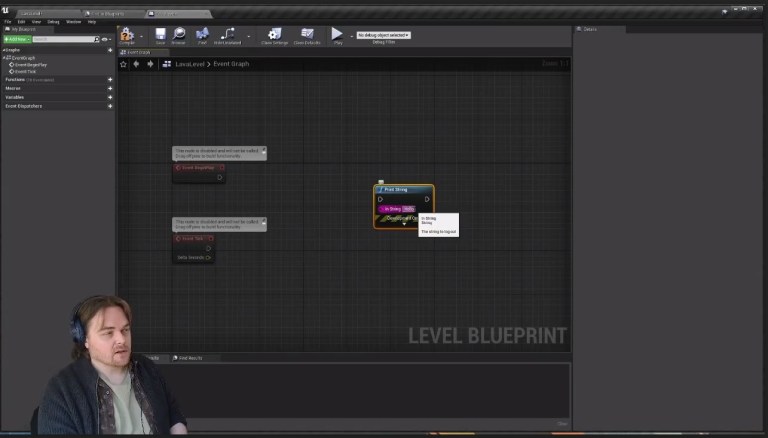 An Edinburgh College lecturer has received a professional certification from industry experts meaning students across the College will benefit from the highest quality of education in game development for years to come.
Computing lecturer Nick Bell became a certified Unreal Authorised Instructor earlier this month after applying to Epic Games to undertake the certification process as part of efforts to provide the best standard of Unreal Engine teaching to his students.
To gain the accreditation, Nick completed months of independent training to develop the knowledge and skills needed to pass the Product Knowledge Exam, before submitting recordings of himself delivering Unreal Engine classes at both beginner and advanced levels to his students.
Nick's achievements mean that the College is now well on its way to becoming the first College in Scotland to be recognised as an Unreal Authorised Training Centre, which will further enhance the quality of teaching for students studying game design and mean they will be able to work towards gaining individual certifications from Epic Games in Unreal Engine, which is something they would not previously be able to achieve.
The College's Computing department also hope to offer a variety of commercial courses in future so that businesses across Edinburgh and further afield can benefit from this type of specialised training.
Unreal Engine is a game engine developed by Epic Games, which is also used for film and television production. The Unreal Authorised Training Program supports those who commit to a high standard of Unreal Engine training. Being an Unreal Authorised Instructor or Unreal Authorised Training Centre means that individuals or organisations are able to offer the highest quality of Unreal Engine learning to their students.
Nick said: "I'm delighted to receive this accreditation, which will mean students studying games development courses at the College will have the opportunity to gain experience of using high-profile tools and processes to see what impressive and fun experiences they can create. I'm also excited to help them get their own industry accredited certificates as a reward their hard work and creativity."
Edinburgh College Computing curriculum manager Sam Blyth said: "I am immensely proud of Nick's efforts to secure this accreditation for our college and put us on the Games Development education map for this specialised training. The potential it unlocks for students and businesses in the future is about to be realised as we embark on utilising this new training in the months ahead."