08 February 2023
Edinburgh College lecturer to take on Adele and Liam Gallagher at the 2023 National Broadcast Awards
An Edinburgh College lecturer will go toe-to-toe with superstar musicians Adele and Liam Gallagher at a national awards ceremony to be held in London tonight (Wednesday 8 February 2023).
Broadcast Media lecturer Ravi Sagoo is eyeing award success as his programme The Glasgow Mela 2022 is pitted against An Audience with Adele, BRIT Awards 2022, Charles Hazlewood: Reinventing the Orchestra, Flackstock, and Liam Gallagher 48 Hours at Rockfield to be crowned the Best Music Programme at this year's National Broadcast Awards.
Ravi said: "I'm up against some stiff competition, but I'll be honest with you I'm really stoked. I'm going to get kilted up, go down and network and enjoy it as much as I can. I'm really chuffed as a lot of blood, sweat and tears went into this. I'm a Glasgow boy, so I'm going to go down there with a bit of a gallous attitude and hopefully we come away with the award. But even if we don't, to just get shortlisted alongside such phenomenal names is an achievement in itself."
The Glasgow Mela is a multi-cultural festival that has been held annually since 1990 and brings music, dance, arts and vibrancy to the heart of Glasgow's West End. Ravi's coverage of the Glasgow Mela features highlights from the 2022 festival and also provides insight into how it has grown to become one of the biggest festivals in Scotland.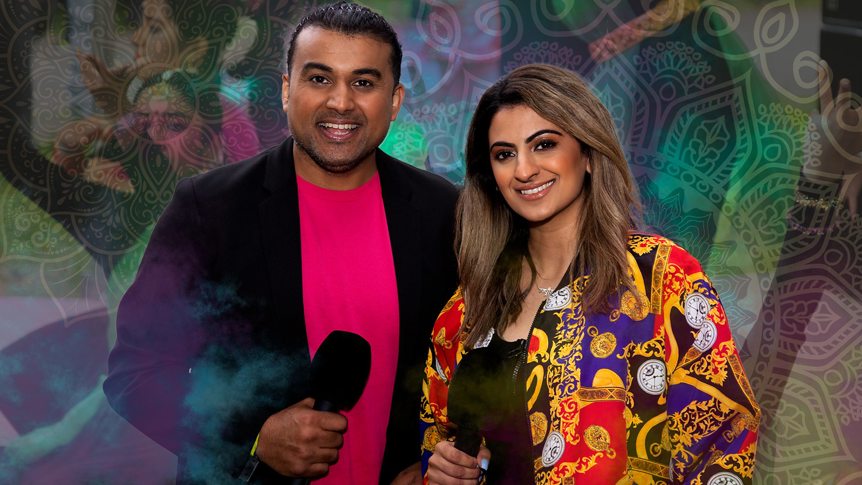 In the programme, Ravi and co-host Harpz Kaur explore the South Asian culture at the heart of the festival, listen to performances from stars such as Deesh Sandhu and headliner Jaz Dhami, learn about its origins and the first mela that took place over 30 years ago, sample the vibrant cuisine, and learn some traditional bhangra dance moves from the Apna Punjabi Virsa Bhangra troupe.
Ravi is a freelance presenter based with BBC Scotland/BBC Radio Scotland and works as a producer with Demus Productions. He produced and presented the Glasgow Mela which first aired on BBC Scotland on 26 July. Watch the Glasgow Mela 2022 on BBC iPlayer.
Commenting on his continued connection to the industry and the benefits this presents for his students, Ravi said: "In addition to working at the College I work as a presenter in television and radio broadcasting and I also work as a producer making television, radio and digital content. Continuing to have this presence helps bring that real-life experience into the classroom to shape the content, which is vital as we want to always keep our content and curriculum on point all the time and keep up with trends that are happening in this dynamic and ever-changing industry."
The National Broadcast Awards celebrates the best in British TV channels and content, providing an opportunity to reward and recognise the programmes and talent within the television industry. This year's awards will be held on Wednesday 8 February 2023.