09 December 2022
Edinburgh College students experience life with dementia through ground-breaking VR technology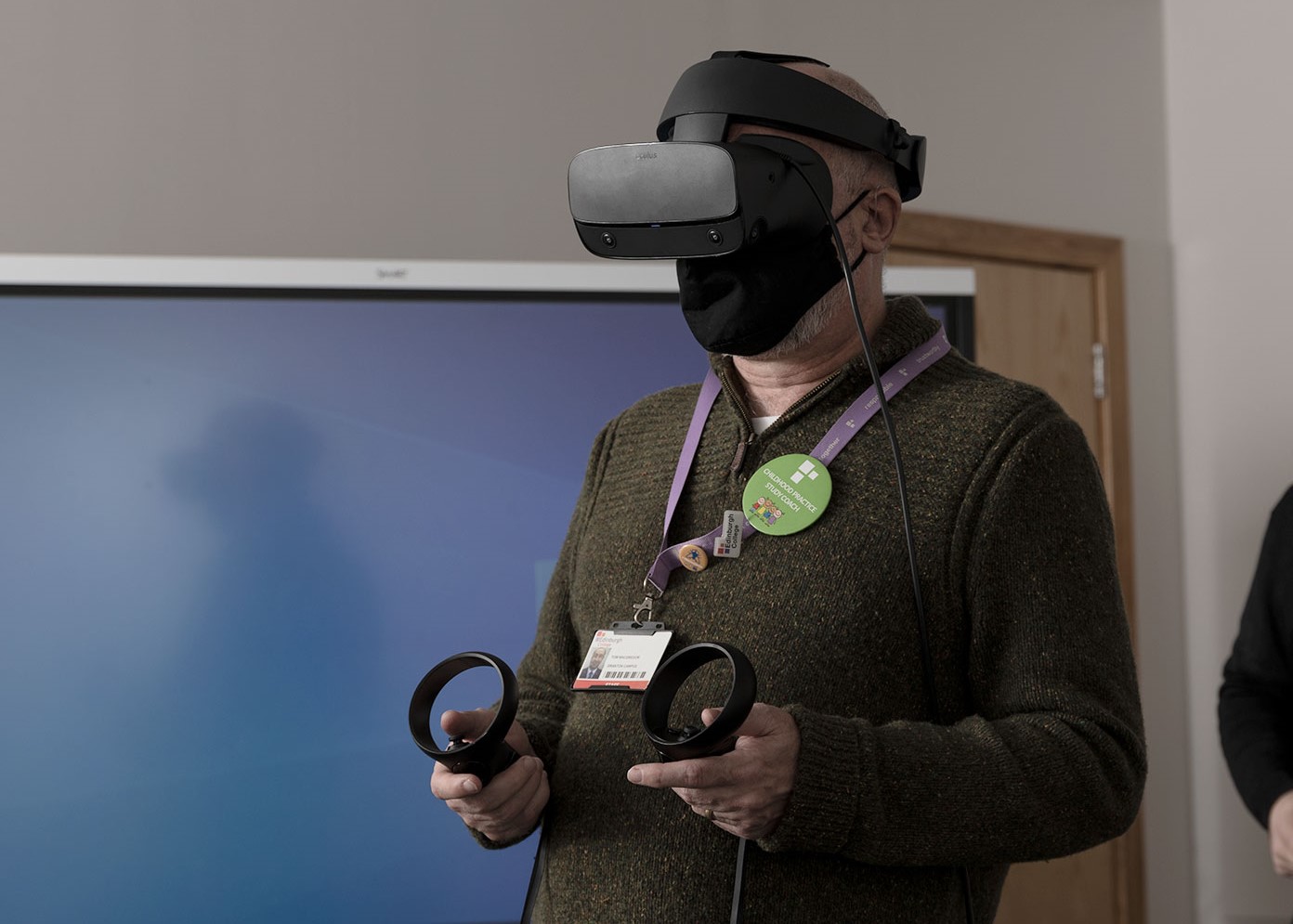 Edinburgh College is now using ground-breaking virtual reality (VR) technology to prepare health and social care students for working with people with dementia.
The unique learning experience allows students to see the world through the eyes of someone living with dementia, enabling them to experience hallucinations, patterns and lines coming alive around them, and memory loss- some of the typical effects of the syndrome- through their headset.
By immersing students in a dementia sufferer's reality, the VR Dementia Care programme gives students a unique insight into the practical care that is needed for people living with dementia, whilst also providing them with a more engaging learning experience that will set them up for a successful career in care.
SCP Higher Health and Social Care student, Gemma Salvona, said: "The experience was very visual, it was really helpful to see and understand what it felt like to live with dementia. It was so much better experiencing through VR and I really enjoyed it."
The software programme, which was developed in partnership with technology company Cadpeople, is at the centre of Edinburgh College's Digital Care Hub project, helping to bring the College's vision of a learning space that not only fascinates students, but also inspires essential career pathways, to life.
Jon Buglass, Edinburgh College Vice Principal, said: "The VR experience has added a new dimension to the curriculum delivery. Learners gain a first-hand insight into the support required for Dementia, as well as a strong theoretical foundation on its biological aspects. Students are reporting that they are more inspired by this complementary learning facility and better prepared than ever for the workplace."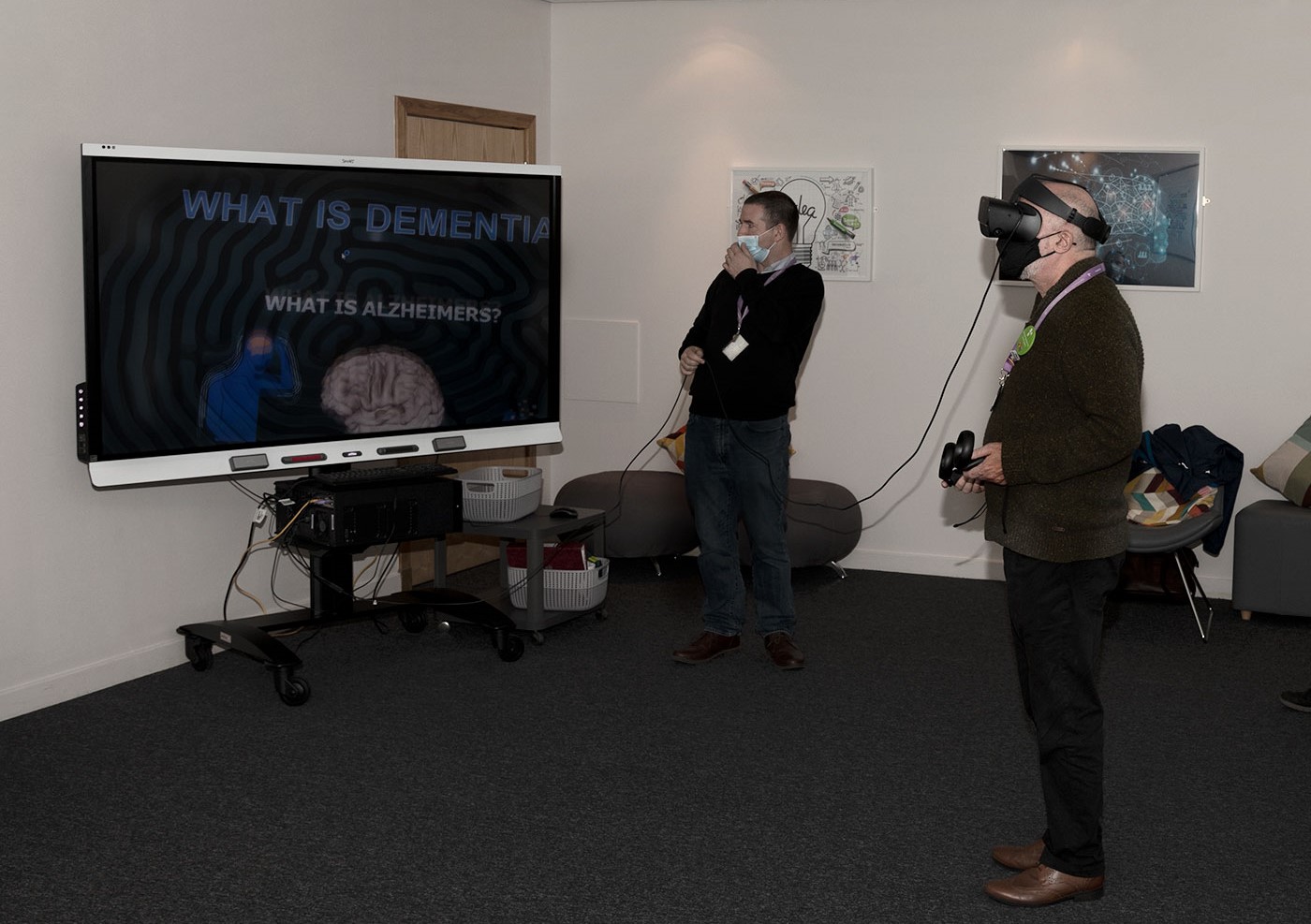 With Scotland's ageing and growing population, industry demand for qualified health and social care workers is set to rise over the next ten years, with an additional 3,400 qualified health and social care professionals being needed regionally across Edinburgh and the Lothians by 2024, and a further 7,800 from 2024 to 2031.
The Care Hub and VR programme aims to address this demand, alongside the amplified skills shortages caused by the pandemic, by using technology to expose students to the many skills and specialisms that will effectively prepare them for their future within the rapidly changing care sector.
Learning activities around the VR programme help students to develop various 'soft' skills, including communication, confidence and curiosity, as well as a range of professional values, which were previously difficult to achieve within the traditional classroom setting.
Edinburgh College lecturers played a key role in the design and success of the project, bringing their expert knowledge and experience on dementia care to ensure the VR experience is aligned with the module learning objectives for the accredited Caring for People with Dementia Unit, and that it will also have a real impact on the students across the health and social care curriculum.
Jonas Somerville Andersen, Managing Director at Cadpeople UK said: "Through our collaborative workshops and discussions with the dementia team at Edinburgh College we had a great insight into the expectations of the dementia course as well as hands on experiences that we were able to implement into the solution. We were also very encouraged by the College's ambition towards using new technology and adaptability even among team members for whom VR was a novelty. Altogether we are very proud of the end-product and wholeheartedly believe this will make a difference for the next generation of Health & Social Care pupils."
Having recently won the Digital Learning Award at the CDN College Awards, the VR Dementia Care programme is a key part of Edinburgh College's commitment to enhancing learning experiences and transforming teaching practices for the digital age.