04 January 2023
Father and son duo study at Edinburgh College to take their first steps towards creating their family business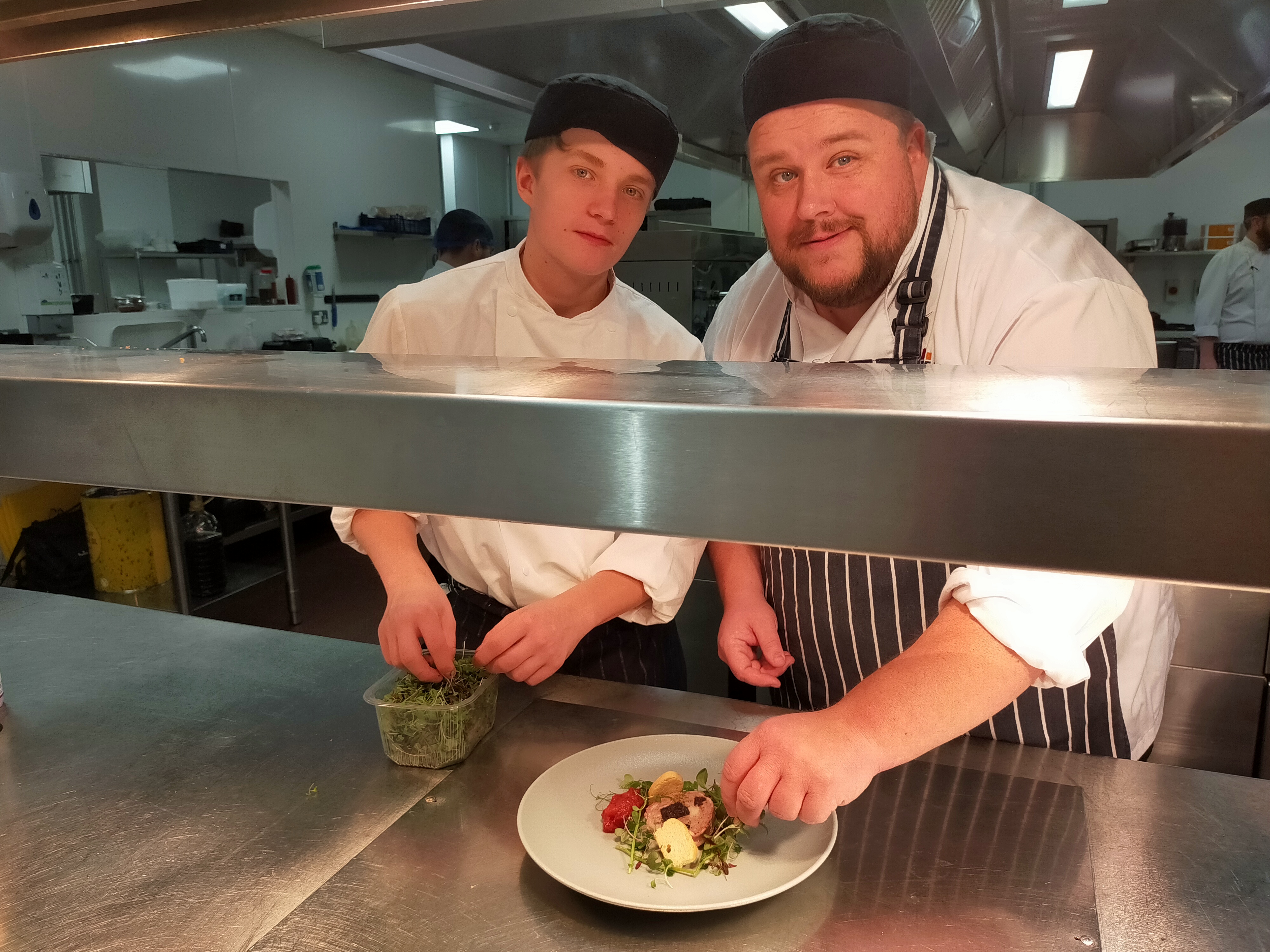 42-year-old Dean Reilly, who recently starred on BBC's MasterChef programme for amateur chefs, is perfecting his craft at Edinburgh College in the hopes of one day opening a family-run business with the help of his son, Michael, who also studies at the College as part of a Schools College Partnership.
The former public speaker developed an interest in cooking during the Covid-19 pandemic, when he spent much of his time cooking for his family, often alongside Michael, in their caravan on the east coast.
From these days of practicing making pasta and watching MasterChef religiously, Dean was encouraged by his son to apply for the BBC show in 2021; a process which then inspired him to apply to study Professional Cookery at Edinburgh College.
After succeeding in both applications, Dean put his college plans on hold to take up the once in a lifetime opportunity of being on MasterChef; but when his time on the series was cut short, he returned to the College in December 2021 to continue learning his craft.
Dean said: "MasterChef was a really great experience that made me think cooking is something I want to do full-time. So, when I got offered the opportunity to come back and do Level 3, I just jumped at it. I'm really happy to be at the College taking my next step towards achieving my goals."
By doing so, Dean has also served as inspiration for his 15-year-old son Michael, a student at Castlebrae High School, who now studies Hospitality at Edinburgh College in the hopes of one day becoming a chef.
With Dean and Michael both on campus, they often get the chance to work the Thursday evening service together at eh15, the College's student-run restaurant, allowing Michael to continue learning from his Dad.
Michael said: "My Dad's helped me a lot, and with my work experience days, I've learned a lot."
Both Dean and Michael have reported having great support from the School of Hospitality throughout their time at the College, which has been all the more important for Dean due to his multiple sclerosis, which he was diagnosed with in 2012.
Dean said: "There's days where I can't get a shoe on, there's days where I can't get out of bed, but right from the off, Chris (Dean's lecturer) and Mandy (Head of School) have said you tell me what you need and we'll sort it out. It's been more about how can I help you, rather than you do this. There's always been an emphasis on support."
Steph Tanner, Head of School for Professional Cookery, said: "It's been a privilege to have both Dean and Michael learning with us here at the College. Each day they are on campus we see a real enthusiasm and passion from both Dad and son.
Mandy Purdie, Head of School for Hospitality said, said: "Dean is inspirational not just in the sense that he has inspired Michael to pursue a career in Cookery, but in the example he sets us all, in facing the challenges he has on a daily basis due to his medical condition. He works hard and dreams big and it's a pleasure for us to play our part in helping Dad and son achieve their goals."
Dean and Michael are keen to continue studying at the College, with Michael planning on following in his Dad's footsteps by studying Professional Cookery, and Dean planning to do a Patisserie course so that he can become a fully rounded chef.
Dean said: "I want to do it so I can be self-sufficient in what I want to do. I don't want to be a Michelin star chef, I just want to run a family business."