24 September 2021
Former Edinburgh College students earn their own breakfast radio show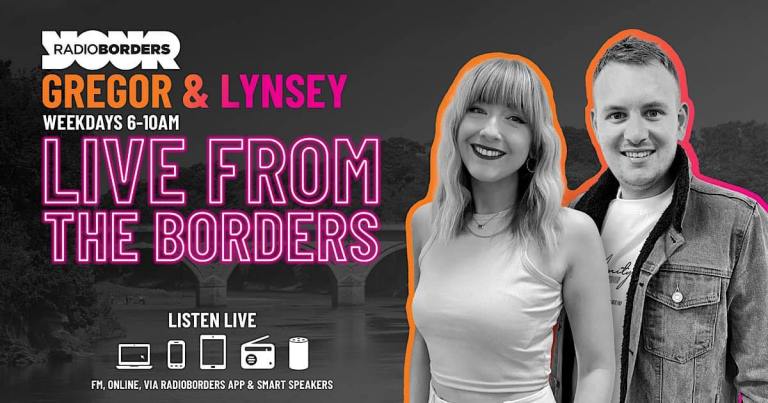 Two former Edinburgh College students have traded their early morning lie in to hit the airwaves after earning a primetime slot on a regional radio station.
Twenty-nine-year-old former HNC Radio students Lynsey Gibson and Gregor Runciman have excelled since graduating from College in 2011 and have now earned their own breakfast radio show on Radio Borders – a dream come true for both Lynsey and Gregor since beginning their journey in radio at the College's Granton Campus ten years ago.
We spoke to them both to find out more about their time at College, and how it feels to now have their own breakfast show after a number of years working in the industry:
How would you describe your College experience?
Lynsey: My college experience was so much fun, you learn so much about the industry whether you want to be on or off air. I was lucky enough to have a great class who had a good laugh together and I loved doing radio shows which were broadcasted down to the cafeteria.
Gregor: I loved college, mixing with others that were just as passionate about learning all things radio as much as me.
What did you do after leaving College? Did you go on to further study or straight into working in the industry?
Lynsey: I worked full time for a year in a restaurant after college before going to study HND Radio at Adam Smith College in Glenrothes.
Gregor: I was lucky enough to get a job with Bauer Media straight after college, doing traffic scheduling for Radio Borders (placing all the ads in the ad breaks).
Can you tell me a bit about your journey after College to get to where you are now?
Lynsey: After studying HND Radio I did Camp America where I took a Radio workshop with the kids there. I also did work experience with the BBC and various workshop/open days over the years. In 2014 I did a Bauer Academy course at Clyde 1 in Glasgow which was the perfect way to get my foot in the door and meet the right people. After that I also did a course at Forth 1 which led onto doing street team and doing travel cover shifts, and in 2016 I got a full-time gig doing Home Run travel at Forth 1 in the afternoons.
Gregor: I started off helping around the station (Radio Borders) and being part of the on-air team for the Wired show – this was a youth show presented by young people for young people. After a few years of this, I eventually got the chance to present the Saturday dance show, this led to covering daytime shows to eventually taking over the 10am-2pm slot as well as being a programming assistant and traffic scheduler. Three years later I was offered the chance to move up to Dundee and join the team at Tay FM presenting the homerun show from 4pm-7pm.
Did you always want to get into Radio?
Lynsey: Yes! In high school the only subject I enjoyed and paid attention to was Media. I didn't have the right grades to jump straight into a HNC course so I did a Creative Industries course at Stevenson College – one of Edinburgh College's legacy colleges – so I could apply for HNC Radio.
Gregor: Yes, once I realised I wasn't going to be a Formula 1 driver, I decided Radio was what I loved and wanted to do.
How does it feel to have your own breakfast show?
Lynsey: Without sounding corny, it's a dream come true. The very early alarms are tough but I've always wanted to host a breakfast show, it's the biggest show on any station and definitely the most fun show to do!
Gregor: Amazing, this is the big show, this is the show that most presenters want to do. To get the chance to broadcast on the big show, on the station I grew up listening to, is a dream come true.
Can you tell us about any big plans/ideas that you have for the show?
Lynsey: Gregor and I both turn 30 next year so we're planning on doing a bucket list.
Gregor: We also plan to get out and about as much as possible and do a few outside broadcasts. I want to do the breakfast show from the beach one morning next summer – plus start a new feature/game getting the kids from local schools involved with the show.
If you could give advice to anyone looking to get into radio what would it be?
Lynsey: Be patient. Things don't happen overnight and takes years of work experience and dedication to get the ball rolling. After college it took me five years to get a permanent job in radio. You'll have to do the 'crappy' jobs in the beginning but they're the jobs that show the determination. I had to wear the 'Courage the Cat' costume on many occasions which was hotter than a sauna! And don't burn bridges, always leave a good impression and get people talking for the right reasons.
Gregor: My advice is to say YES to as much as you can, the more you can do and be seen around the station, the more likely you will be in the right place at the right time when an opportunity comes up. I must have dressed up as Bobby the Beaver (the Radio Borders mascot haha) about a hundred times before I got anywhere near the studios.
You can listen to Lynsey and Gregor's Breakfast Radio Show from 6am until 10am every Monday – Friday on Radio Borders.
Find out more about Radio Broadcasting courses at Edinburgh College here.