14 July 2020
Fraser Mansell – A Gentleman and a Scholar by Robert Mccahill
I first met Fraser when he joined the College in 2004 as a lecturer. I immediately warmed to him and we quickly struck up a close working relationship. It was obvious, even in those early days, that he was extremely knowledgeable of all things Audio Visual. Half American and half Scots, he had the "other world" wisdom of a well-travelled, well-seasoned scholar. He knew the difference between Koyaanisqatsii and Powaqqaski. He knew his Apples and his apertures. He knew cameras and computers inside out. He knew all about Gamma Correction and Bezier curves. More importantly however, he'd partied in the Arizona desert and danced naked on Calton Hill in Edinburgh during the Beltane Festival which he'd helped to establish during his student days at Edinburgh Art School.
I was immediately impressed and thought we could do business. And so, we did, for the next of 16 years. Fraser could turn his hand to just about anything. In his work-shed at home, he bent metal and soldered connections to create stuff that worked. I affectionately referred to him as the crazy inventor when he brought his creations to work – a teleprompter, a recycled power supply or a knackered video camera that the rest of us had given up on. He redesigned and rewired the TV studio at Sighthill in order to allow students and staff to keep up with the rapidly changing world of TV. He had an encyclopaedic knowledge and I frequently sought his advice. His patience and relationship with students were the envy of our teaching team. His energy, enthusiasm and knowledge had no limits.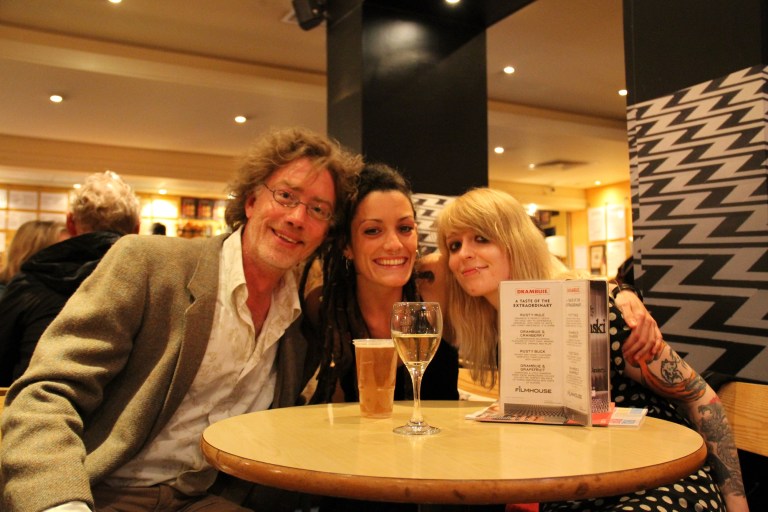 Above: Fraser with students at the Edinburgh Film House during Spliced – our annual student film showcase.
Last year, Fraser and I went to The Australian Pink Floyd Show at the Usher Hall in Edinburgh. He was a big Floyd fan and he knew all the words – even to the most obscure Sid Barret numbers. He was as impressed by the lasers and the video projections as he was by the performance. I'm sure he thought of events like this as the best sort of CPD and I could see him thinking about the best way to recreate the spectacle in his shed or in the TV studio with his students. He never really switched off.
In 2014, Fraser and I were tasked with taking 12 students on a work experience trip to the Glastonbury Festival. This dubious pleasure would become an annual trip for us and perhaps the highlight of our year. Best of all was the fact that the festival always fell on the last week of term. Result! So while the rest of our team were stuck in end-of-term meetings, discussing internal verification or blended learning strategies, Fraser and I would be working out the best strategy to ensure that our 12 students remained sober enough for their next shift. And years before Covid-19, at Glastonbury, we discovered the benefits of remote working, as we figured out how to log onto the college server, in order to enter student results into Celcat during our night shift. And we did it in style, in our wellies, right there in a barn at Glasto. I kid you not. So, even at the world's biggest greenfield festival, Fraser was developing new and better ways of working. We both became part of an extended team of steward supervisors at Glastonbury and each year when we returned, we'd pinch ourselves, and remind each other that we were actually being paid to be there. It was like an end-of-term reward to ourselves. One year, as we sat overlooking the festival site, sharing a bottle of wine, we stared up and the sky. Far up into the blue atmosphere we could see the jet-stream from an air liner as it passed overhead to some other-worldly destination. "Do you know Rab…" he pondered in his authoritative mid-Atlantic accent, "…most people think the vapour trail is exhaust fumes from the aeroplane. But it's not!" This revelation was news to me. I looked at him with suspicion and confusion.  "It's actually nitro-glycerine they are spraying from the aeroplane…" he explained "…in attempt to sew up the hole in the ozone layer." He said this so convincingly and with such a straight face that for a few moments, I actually believed him. Eventually I buckled. I thought I may pass out with laughter at his suggestion. But he would not admit that he was pulling my leg. And to this day, I still wonder if he knew something that I did not on the issue of atmospheric pollution. Either way, his yarn made me realise why so many people had so much faith in his every word. Such was his authority on all matters. And now, with a bitter-sweet irony, it seems that he slipped off during the weekend of what would have been Glastonbury 2020 – the festival that never was.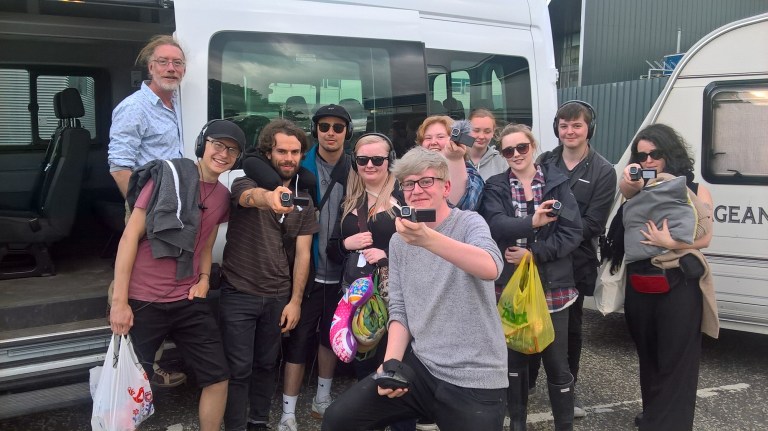 Above:  Fraser (top left) with Students at Sighthill Campus en-route to Glastonbury in 2017.
Over the years I sat back-to-back with Fraser, sharing a small corner in room 123 at Sighthill along with a growing collection of plants that he tended to year-after-year. I think he probably got more sense out of them than he did out of me. None-the-less, he called me "sir" and he would frequently salute me with equal measures of mock and mutual respect. I learned to trust his opinion on all things – professional, pleasure and leisure. From behind those plants, we planned the revolution and plotted our way through Monday mornings, Friday afternoons and the assault course that faced us every August at the start of a new academic year. I very much looked forward to seeing him again in August 2020. Sadly, tragically, that chapter will not happen. He was much loved and will be sadly missed by staff and students. And now that he's off to The Great Gig in the Sky, I suspect that the hole in the ozone layer to which he referred will be sorted before the larger hole in our hearts is fixed. He is and will be sorely missed.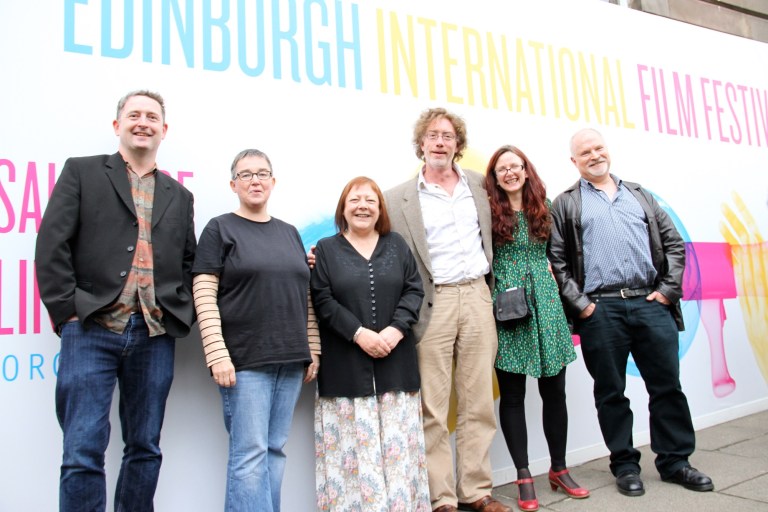 Above:  Fraser (3rd from right) with the teaching team in 2016.