15 June 2023
Gut geschafft! Eilidh is named German Student of the Year at Prize Giving 2023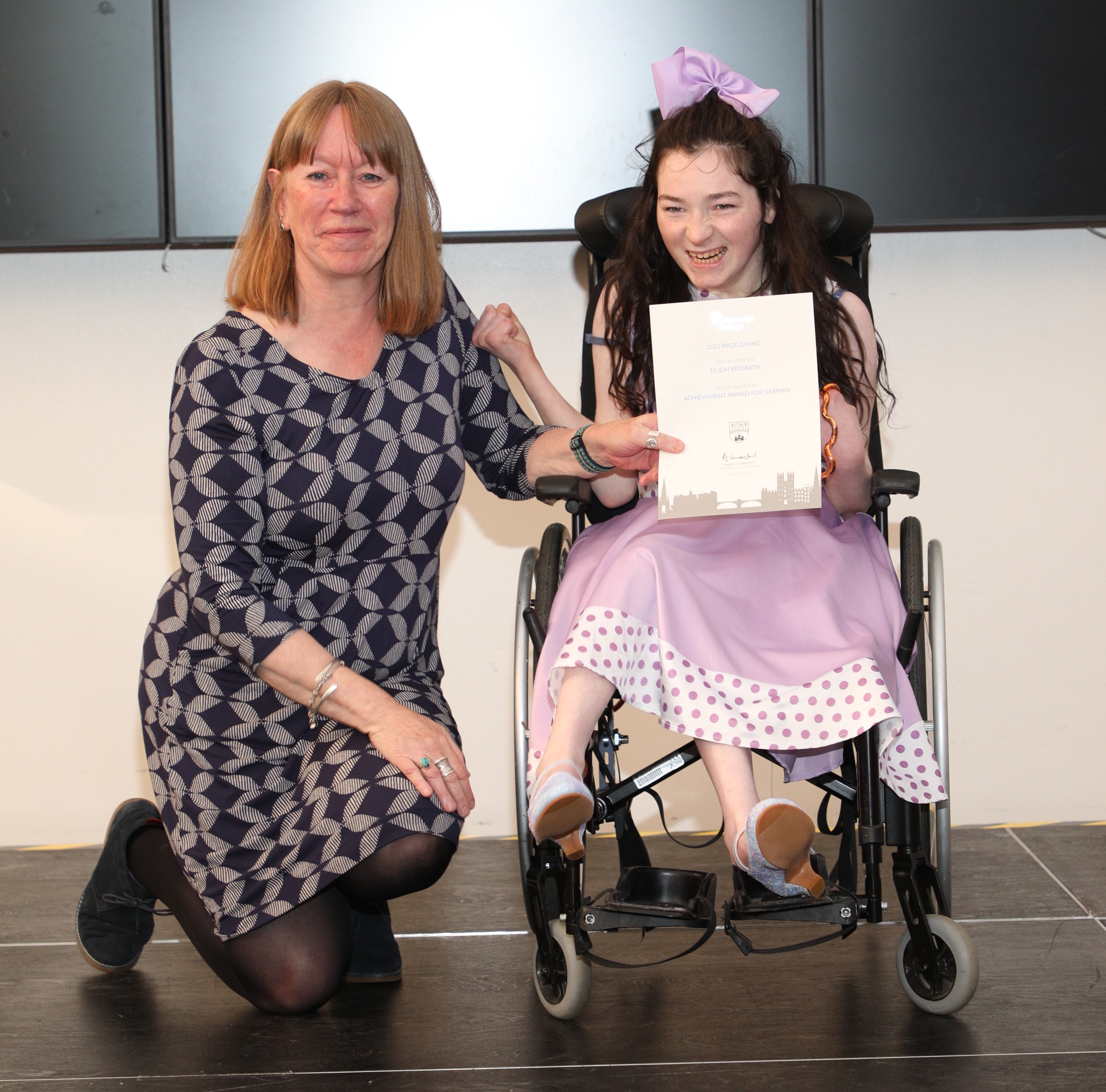 Twenty-year-old Eilidh Elizabeth Molly Mcgrath has been named German Student of the Year at Edinburgh College's annual Prize Giving ceremony.
Eilidh, from North Queensferry, was presented with the accolade after being described as 'one of the most passionate Germanists you could ever hope to meet' by her lecturers.
Having studied National 5 German at school, Eilidh came to College to study Higher German and, after achieving an A grade, then progressed onto an Advanced Higher German course. Eilidh made the decision to progress her German studies after hiring a German-speaking personal assistant during the Covid-19 lockdowns. Eilidh was born with cerebral palsy and is unable to use her voice to speak or use her hands to type, so uses a variety of low and high-tech methods to communicate. 
Eilidh's achievement comes as a result of her hard work, passion and dedication. She also attributes her success to her 'amazing' lecturer, Isobel Maclean: "She is amazing. I will forever hold a special place in my heart for her due to her kindness, understanding and general awesomeness. Meine Katzenkönigin, du bist eine wunderbare Dame, vergiss es nie!"
When discussing her experience of studying at the College, Eilidh says: "The teaching team has been the highlight of my time at the College, they really care about you and make efforts to learn how your brain works so that they can teach you things in such a way that you understand what is being said."
As a keen linguist, alongside German Eilidh also studied French and Spanish at school, and has in more recent years begun learning Polish. She regularly blogs about her language learning experiences to help inspire and encourage others. 

Eilidh's lecturer Isobel said:
Eilidh is quite frankly one of the most passionate Germanists you could ever hope to meet. She achieved an A at Higher in 2022 and has taken the enormous leap into the Advanced Higher course in her stride, demonstrating excellent analytical skills and writing nuanced, sophisticated essays. Eilidh is a self-described 'non-verbal linguist' who produces fluent, detailed and spontaneous German with an ease rarely seen in more noisy speakers. It has been a pleasure to work with Eilidh and observe her stratospheric progress. Her goal is to become a modern languages teacher who supports students with additional needs, a feat only a person with such diligence, determination and enthusiasm could accomplish.
Isobel Maclean
Eilidh was presented with the German Student of the Year Award at the College's Prize Giving ceremony at its Granton Campus last week, alongside other prize-winning students from across the College's wide-ranging curriculum. She describes her Edinburgh College experience as an 'empowering, magical adventure'.
Eilidh now intends to begin a language degree at the Open University in October 2023.