22 February 2023
Media students screen films to experts in the field of justice and prevention at Midlothian Community Justice Screening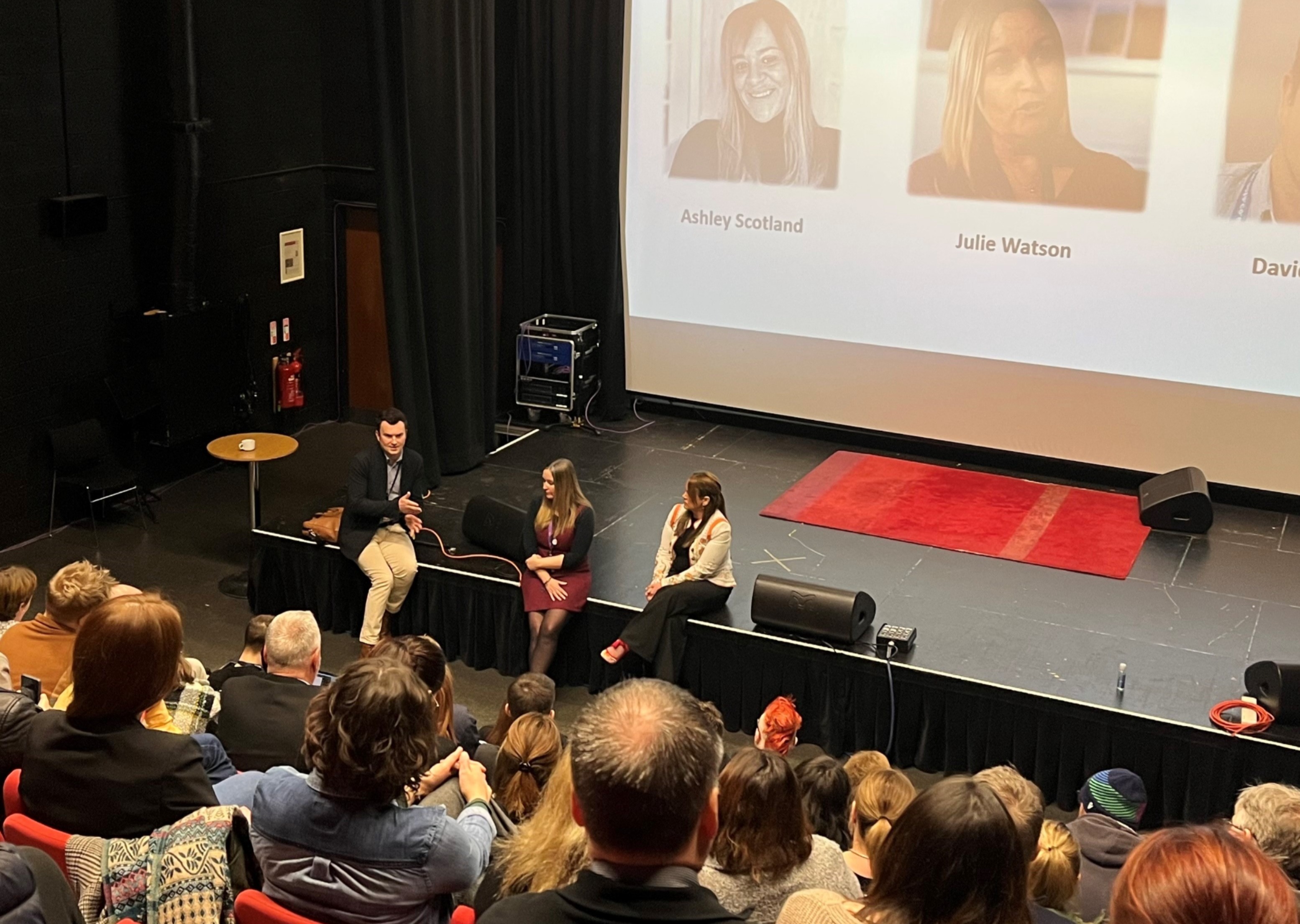 A group of HND Television Production students showcased their films to experts in the field of justice and prevention this Tuesday (21 February 2023) at a Midlothian Community Justice Screening event. 
The event, which was held at Edinburgh College's Milton Road Campus, saw the students present four films on issues within community justice as part of a project they have been working on with the Midlothian Community Justice Partnership- a strategic group that works with and supports those who have been involved in the justice system. 
The project, which the students started working on in November, involved the Midlothian Community Justice Partnership ordering four documentaries from the two student production teams to help them raise awareness of violence against women and girls, and restorative justice- an approach to justice where safe communication is organised between the victim and perpetrator of a crime to allow them to find ways in which the harm might be repaired. 
In dealing with such challenging and sometimes controversial topics, the media students had regular meetings with the subject-matter experts throughout the creation of their films to ensure they handled the topics sensitively, which allowed them to gain the valuable experience of working with a real-life client on topical issues for the first time. 
HND Television Production student, Jed Giboin, said "It was different because usually we're given a brief and have freedom to go out and do what we want. But this was a really delicate subject. We had to change a lot and take regular advice from the experts. 
"I think we made a really good film in the end. I would definitely like to put it out there for people to see, especially since its main goal is to raise awareness."  
Featuring informative overviews, dramatised accounts and first-hand narratives from victims of crime, the films were introduced by each of the students to the audience including representatives from Women's Aid, Social Work Services, Police Scotland, and the Scottish Prison Service. 
Following the screening, a panel of experts were then questioned on some of the complex issues that were raised within the students' films, allowing them to see the impact of their work first-hand. 
Juliet Wood, Lecturer in Broadcast, Media and Photography, said: "This project has been a really valuable experience for the students. Obviously we want to provide them with technical and creative skills while they are with us, but we also want them to leave us as professional, thinking, ethical film and programme makers. 
"Working with Midlothian Community Justice Partnership gave them the opportunity to engage with professional clients on subjects that are current, challenging, often sensitive and even controversial. It has given them a real sense of the power and impact their work can have, and the responsibility that goes with that. To hear representatives from organisations like Police Scotland ask to use their videos in training was immensely rewarding after the hard work they put in."