17 November 2023
Sarah sets students up for success with The Music Box Sessions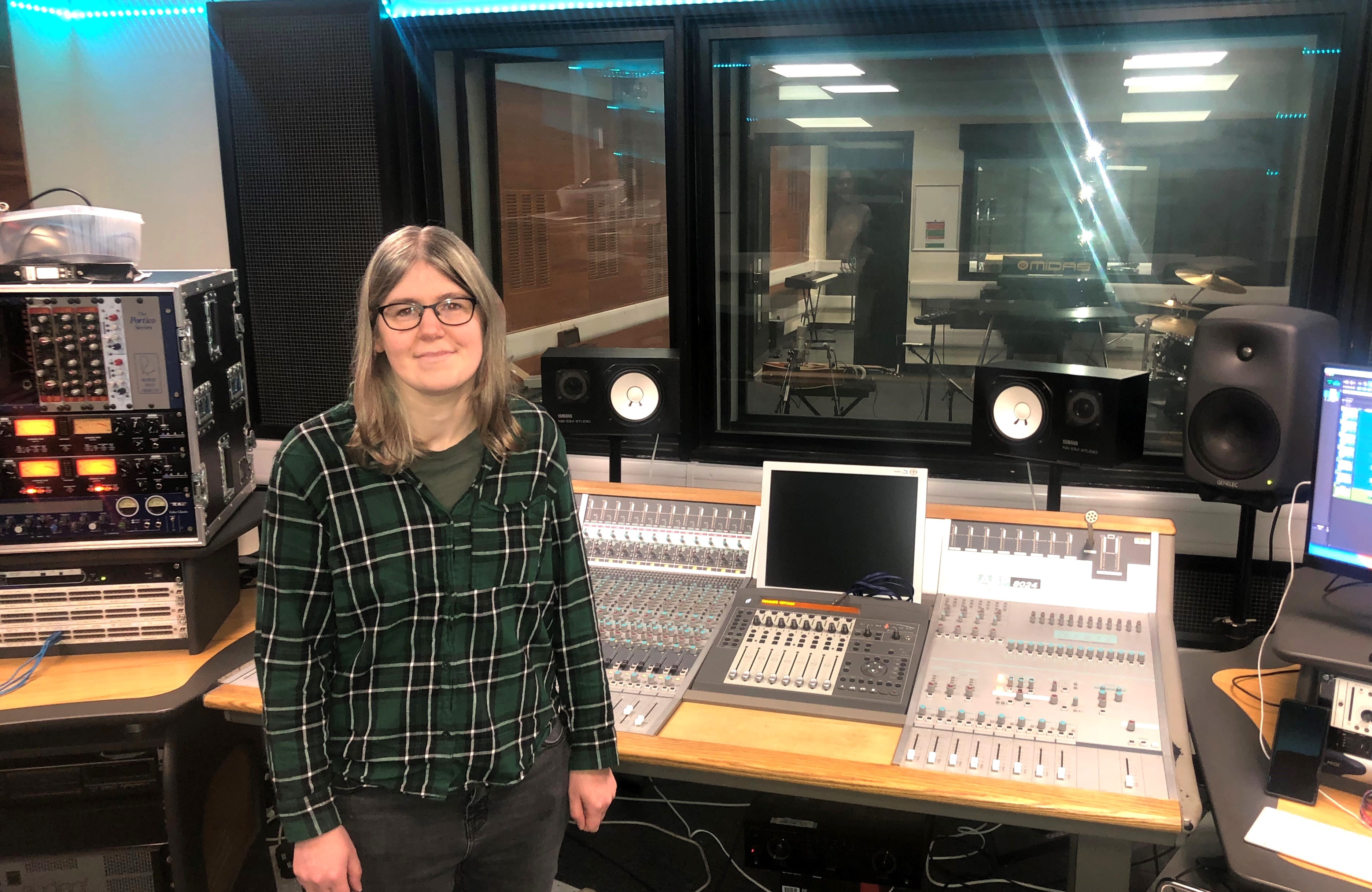 The red-light flashes on in the studio, the mic looms ahead. A thumbs up from the producer and it's time to record. But despite the hours of practice, shallow breaths start to take over, and sticky palms mark the guitar. Until finally fingers fumble across frets forgetting the well-rehearsed riff.
With the pressure of not messing up a recording session, any talented musician can struggle with 'red light fever' – freezing up when the recording light goes on in the studio. So to tackle this, Edinburgh College Learning Assistant for Music and Sound production, Sarah May introduced The Music Box Sessions – a set of extra-curricular recording sessions that allow Edinburgh College students to record a piece of music in the College's purpose-built music teaching hub – The Music Box – and build their confidence in the studio.
Since beginning in 2022, the weekly sessions have provided a platform for roughly 40 unique students, giving them the real experience of recording music in a professional setting and helping them to work past freezing up when the recording light goes on.
Each person who performs in these sessions is related to The Music Box in some way, whether they are students, alumni or staff members performing with students, and all play in a range of classical ensembles, popular music bands, or are singer-songwriters and solo artists.
Sarah said: "My colleague Scott Hannah and I started the sessions to allow students to work on projects that they could use to develop their own portfolio, as well as to showcase the fantastic musicians we have studying music at Edinburgh College.
"The sessions provide students of all levels and disciplines with a great opportunity to gain studio experience, showcase songs they have been working on and build a portfolio of work. In the past students have used Music Box Sessions for college submissions, to promote themselves on social media, to send to promoters to get gigs or simply to show their family and friends what they get up to at college."
Recorded and mixed by Sarah herself and filmed and edited by her colleague Scott Hannah, the sessions are made to feel like a real recording session, with the constraints that exist in the industry being emulated by recordings being limited to three takes.
Then, by ensuring that each session is released on social media at the same time each week – 5pm on a Friday – Sarah and Scott create a real buzz around each video so that the students can get excited about sharing their performance with their friends and family on a regular basis.
Music student, Arthur Hill, said: "The music box sessions were an amazing opportunity to record original music in a professional environment and to work amongst an incredibly experienced team.  Personally, focusing on composition as my primary avenue of study, the chance to have my work performed and recorded and shared amongst a wider audience was so exciting and I'm hugely grateful to Sarah for affording me (and so many other people) that opportunity. They massively boosted my confidence as a performer and a composer."
Music student, Charlotte Allan, added: "The sessions have positively impacted my college experience. Seeing the final result of the sessions gives me a feeling of achievement as I see all our hard work put together in a video. Sarah does a great job of mixing and editing videos in a way that displays and shows off each person's abilities. I am inspired by her skills in mixing and editing – the videos that have been mixed and edited by Sarah have always been of a high quality."
With her work helping students build confidence and showcasing the College's fantastic work to a broader audience, Sarah was recently shortlisted in the Professional Services Colleague of the Year category at this year's CDN awards.
On her shortlisting, Sarah said: "It's fantastic! Doing the Music Box Sessions doesn't really feel like work – so to be nominated and recognised for something that I enjoy doing and which is also adding value to the student experience is an amazing feeling.
"Scott and I are continuing to run sessions as we always have but recently have been working with individual students over a number of sessions to try and focus on a more polished end result. We are hoping to offer more sessions like these in order to make them something the students will get even more from in terms of experience. We always have lots of ideas about how to make them bigger and better and more exciting and hope that one day they will be a core part of the curriculum."