21 June 2023
Social Services Professions student Sarah-Louise Morris recognised at this year's Prize Giving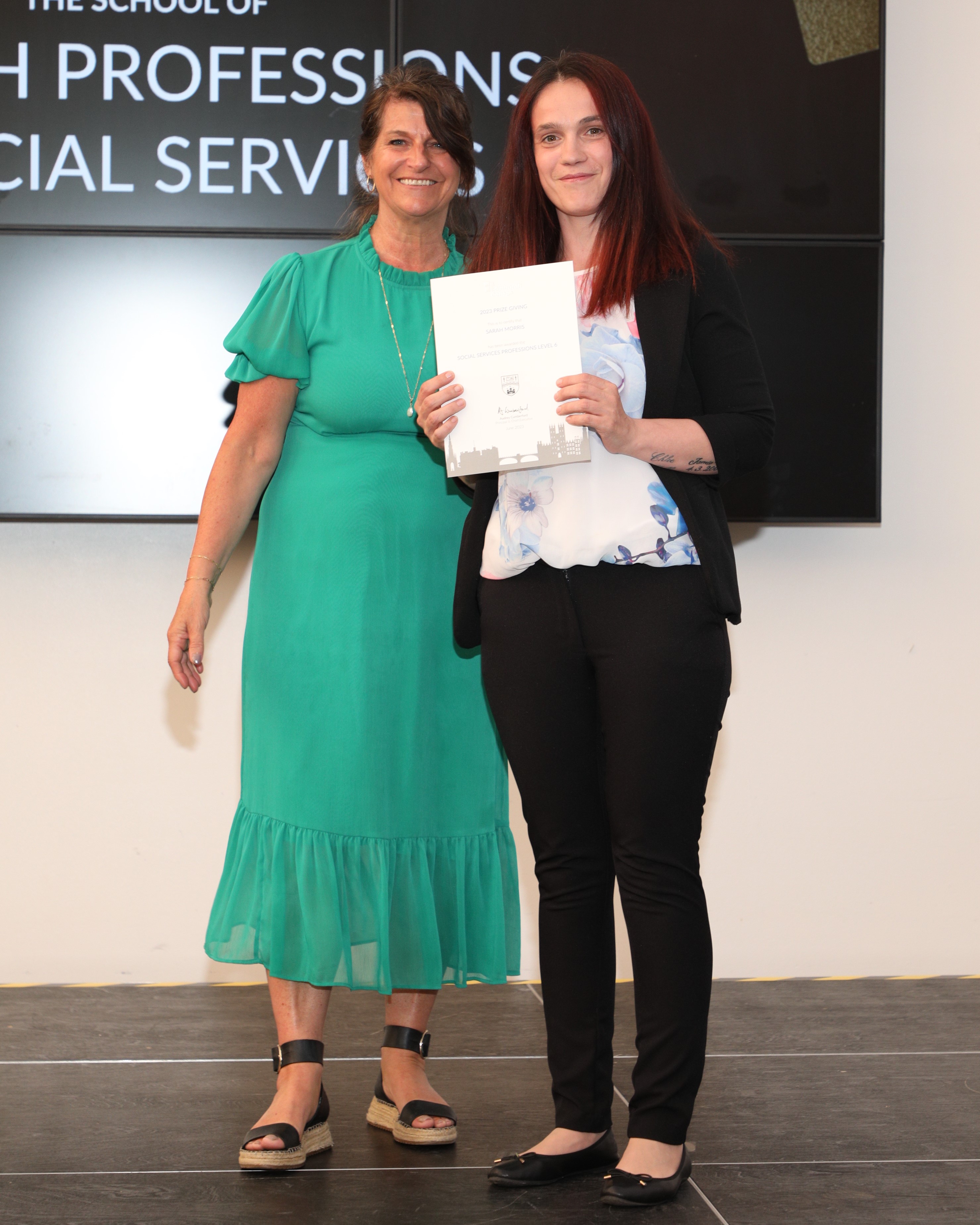 37-year-old Social Services Professions student, Sarah-Louise Morris, is really proud of all of her hard work at College this year, especially given that it has earned her the Social Services Professions Level 6 Award at Prize Giving 2023.
On her award, Sarah-Louise said: "I was in shock as it was unexpected but equally excited as I feel I've worked really hard this semester.
This award is a real highlight for me, I've worked hard in college since 2021, trying to progress from the Adult Returners to HNC Social Services. Sometimes it's been hard but this gave a well needed boost to keep going. I have to say my course lead at Sighthill for Level 5 and 6 has been super helpful. I'm thankful to have had Caroline as my tutor for the last two semesters.
Thank you for believing in me when I struggled to believe in myself and for being so understanding during the time I've been at college."
Originally from Nottinghamshire, England, Sarah-Louise moved to Edinburgh four and a half years ago, after which she decided to start her career journey at Edinburgh College.
Sarah-Louise said: "I had to spend a lot of time trying to recover from a mental breakdown which occurred in 2017, whilst being a full time stay at home mum, a lot of my time was focused on family and healing. Until during lockdown when I realised I could use my experiences to help others.
After coming out of lockdown I wanted to start working towards a career and Edinburgh College had the best options for someone who left school without any qualifications.
Coming to college as a then 36-year-old single mum with no qualifications was challenging to say the least but somehow I've made it work and progressed further than I had initially thought possible when I first came as an Adult Returner.
My plan for now is to complete the HNC next semester. I would like to go to university one day and have been advised by Robert Gordon University that because I'm in relevant employment I would satisfy their entry requirements for the distance learning BA (Hons) Social Work degree once I have achieved my HNC."
Based on these experiences, Sarah-Louise then gave some advice to future Edinburgh College students, adding: "Just take the first step. Don't worry about where you're going, one semester at a time you'll get there, it's scary but it's also so liberating. College is so different to school and so don't let that thought put you off.
Looking back, I would spend less time worrying about the future and my abilities and more time enjoying student life and the course."
Finally, to sum up her College experience in three words, Sarah-Louise said: "Life changing, challenging, inspirational."