27 September 2021
Students carry the Edinburgh College flag at WorldSkills UK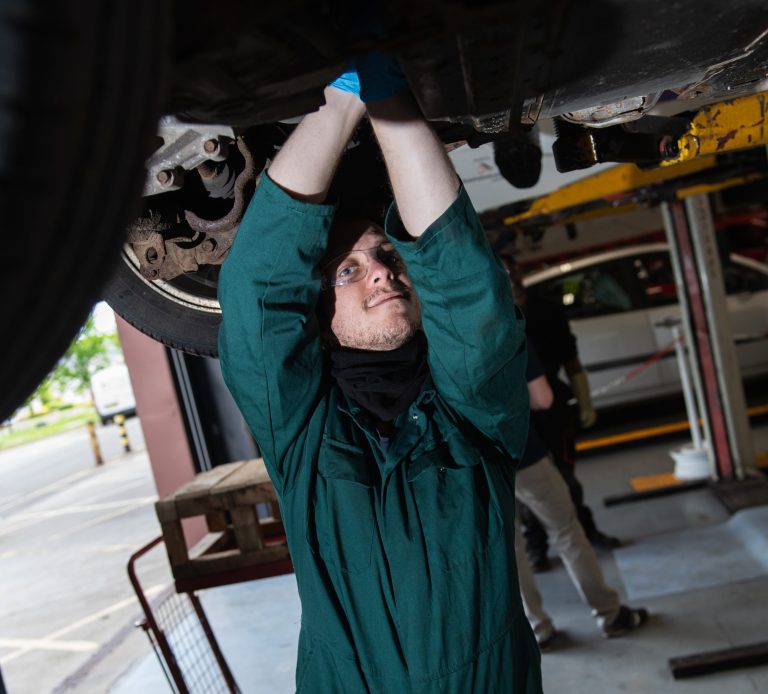 Four Edinburgh College students have qualified for national WorldSkills UK finals having triumphed in a series of qualifying heats in their respective fields of study.
Damian Tchorzewski and Liam Ward have qualified for the Automotive Technology final, while Ben Nicolson and Corrie Kettrick have qualified for the Stonemasonry final.
Automotive Technology
Damian, who recently studied Electric/Hybrid Vehicle System Repair and Replacement, and Liam, who studies Light Vehicle Repair and Maintenance Principles, reached the finals following a qualifying process. Stage one saw the duo sit a test that consisted of 30 questions in 30 minutes. The highest scorers from regions across the UK then progressed to stage two where they were tasked with completing five challenges on a Virtual Learning Environment (VLE) program, under timed conditions. Damian and Liam were among the six best performers in this qualifier and will compete in the national final taking place at Cardiff and Vale College on the Friday 19 November.
Stonemasonry
This year's Stonemasonry qualifiers – SkillBuild – did not take place due to COVID-19, however Ben and Corrie will have the chance to experience competition as they have been selected to participate in the national final.
The duo, who study at the College's Forthside Construction facility, will travel to the National Construction College in Norfolk on 16-18 November where they will complete a set of stone-cutting challenges in competition with two Stonemasons students from Bath College.
"Congratulations to Damian, Liam, Ben and Corrie on qualifying for their WorldSkills finals – it is an outstanding achievement.
"WorldSkills UK, and skills competitions in general, are a fantastic way for our students and apprentices to network with peers from across the country, to test their skills in a new and challenging environment, and to boost their confidence.
"We're delighted that four of our students will experience that this year and have the opportunity to be named among the best in the UK in their field. We wish them the best of luck."
Scott Warden, Head of the Faculty of Engineering and Built Environment at Edinburgh College