31 March 2023
Students get experience of a lifetime helping Scotland make history during Six Nations tournament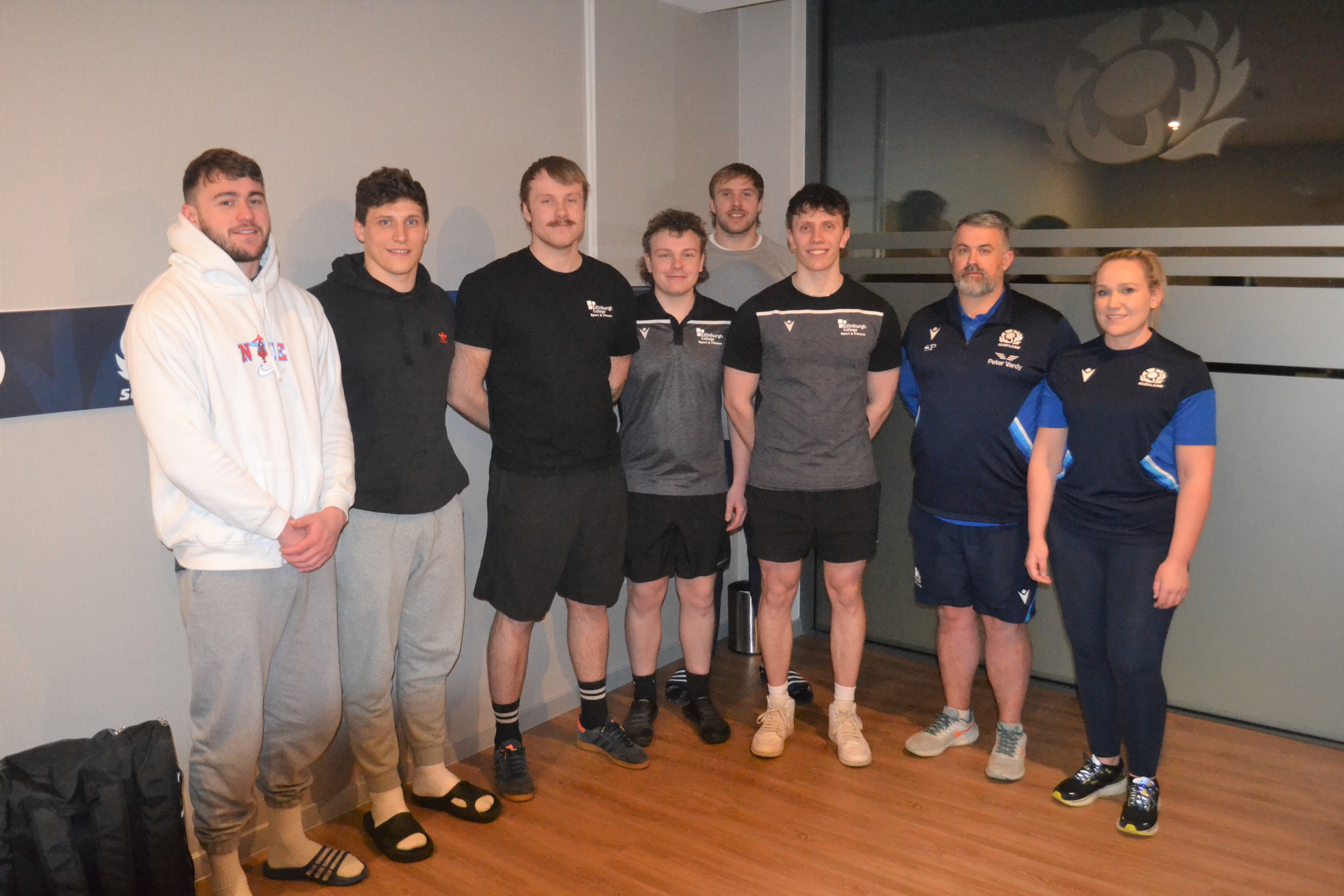 A group of Edinburgh College students have had the experience of a lifetime helping Scotland's national rugby team make history during the Six Nations rugby tournament.
The group of 15 students across our HNC and HND in sports therapy courses have been working on a rotational basis with the team since the beginning of the Six Nations, after impressing during an initial trial period throughout the Autumn Internationals last year.
The students have been working directly with some of Scotland's superstar players in preparation for each of the games, including before and after the match against England where Scotland made history by becoming the first Scottish team to beat England three times in a row since 1971.
History was made again when Scotland followed up their victory over England at Twickenham with their biggest ever victory over Wales – which was also the first time Scotland won their first two opening games of the tournament since 1996.
The students all worked in one-to-one sessions with the players allocated to them, using the skills they learned as part of their course to provide the players with soft tissue therapy after training sessions, under expert guidance from the sports science department at the Scottish Rugby Union.
HND Sports Therapy student David Johnston said: "Working with the Scottish Rugby team has been an incredible experience, I feel honoured to have been given this opportunity and can't wait for more opportunities like this in future!"
The partnership been such a success, plans are now underway for the women's team to receive the same support from students studying at the College as they prepare for the start of their Six Nations campaign.
Edinburgh College Sport and Fitness lecturer Del Williams said: "This partnership was developed to give our students on the HNC and HND program an opportunity to work within a professional environment with professional players to further develop their soft tissue skills.
"It has been a great success as the student's confidence and skills have escalated working within this environment and this calibre of athletes."
Scottish Rugby Union Head of Physiotherapy & Rehabilitation Stuart Paterson said: "Across Scottish Rugby we are always looking to engage with students in various areas and this partnership with the College has allowed us to be able to offer increased provision on our soft tissue support for the players of the national team.
"I think the students who have come in have had a steep learning curve going from College to working with professional athletes, but the great thing is they have really engaged with us and have been really receptive to feedback and then going back and actioning on that feedback."