You are regarded as a 'new' student at Edinburgh College if you have never studied with us, or if your last time studying at Edinburgh College was before before 1 September 2022. 
Please note, if you have enrolled as a new student, it may take up to 30 minutes from when you completed your self-enrolment, to your EC account being created for you.
EC number/Username
You have been assigned an Edinburgh College EC number (student number). You will find this number in your enrolment emails.  
This number is used across the College to identify you. Please take a note of this number and keep it safe. 
Your EC number will look something like this:  
ec2112345   
Your number is 'ec' followed by seven digits. *The number above is an example, please find your unique number in your enrolment emails from the College. 
You also have a unique email address (ecXXXXXXX@edinburghcollege.ac.uk) which you are encouraged to use at all times when communicating with your lecturers or any other Edinburgh College departments. Your email address is also your username for all College systems you will be accessing.
If you get stuck, make sure to have a read through the instructions below. 


Password creation and recovery 
The default password uses your date of birth, in the format: changemeDDMMYYYY
Please note it is all four digits for the year.
As a new user, you are required to setup a password recovery method to help you if you forget your password. Please watch the videos and click the links to step-by-step guides below to find out more about setting up a password recovery method.   
We strongly advise that first log in should be completed on a desktop device, where possible. 
You can update your existing recovery methods at any point here.
Changing your password
Once you have set up your EC account and have created your password recovery methods, you can change your password.
Please go to https://office.com/signin and sign in using your Edinburgh College email address (ecXXXXXXX@edinburghcollege.ac.uk) and existing password.
Go to Settings, then Change Password.
Make your changes and click Save.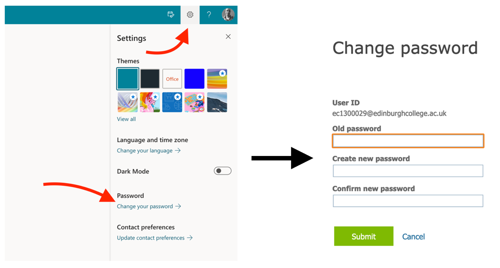 Please note: Your new password will need to be a minimum of 15 characters in length.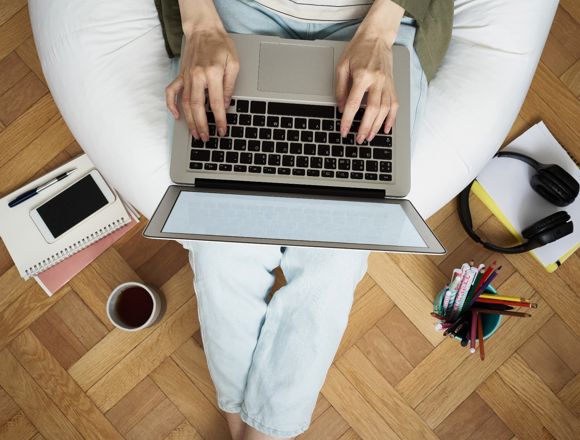 Further support
If you would like help with with logging on, you can contact our IT team by phone 0131 297 9090 between the hours of 8am and 4pm, Monday to Friday, or email the team.
Please ensure that you are fully enrolled before contacting the IT team. You will have received a confirmation email confirming your enrolment. The IT team does not deal with general college queries.
Email the team