12 June 2018
Alan Shows It's Never Too Late to Learn
Many people may think that it's far too late in life to be starting college at the age of 50, but Carpentry and Joinery apprentice Alan Smith has put a nail in that theory.
Alan had been working as a labourer for East Lothian Council since 2014 but jumped at the chance to come to Edinburgh College to complete a two-year apprenticeship, in partnership with his employer.
Starting in 2016, Alan has honed his trade and leaves the college as the two-time winner of the Edinburgh College Carpentry and Joinery Apprentice of the Year. He collected his second honour at this year's Prize Giving Ceremony on Friday 8 June.
Alan was also named the 2017 winner of the Association for Public Service Excellence (APSE) Apprentice of the Year award, after producing a portfolio of his work.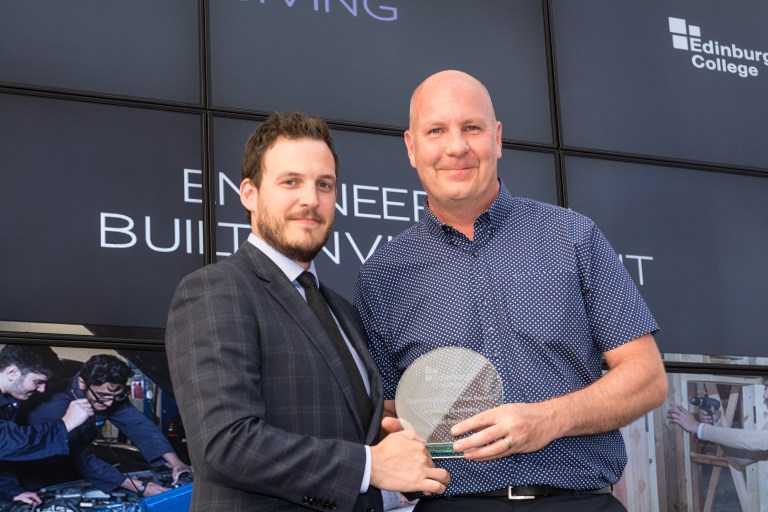 East Lothian resident Alan said: "Coming to college at the age I did was daunting. It was a challenge but I have really enjoyed it all. Through hard work, my determination to succeed and being able to help the young people around me, I leave the College very proud, having completed my apprenticeship.
"Winning the college Apprentice of the Year Award twice and the APSE Award is a huge honour, a great achievement and something I'm very proud of – it just goes to show you can teach an old dog new tricks."
The plan now for Alan is to continue working for East Lothian Council as a joiner.
Asked how he would summarise his Edinburgh College experience in three words, Alan said: "Daunting but enjoyable."