08 June 2018
Apprentice of the Year Title the Right Fit for Edinburgh College Student
An Edinburgh College welding student has been named the Heating and Ventilation Apprentice of the Year after impressing judges at a national competition.
Andrew Grant was presented with the honour after competing in the BESA Scotland Pipefitting and Welding Competition held at the college's Midlothian Campus in April.
Andrew collected the award at the BESA Scotland Annual Awards held at the Kelvingrove Art Gallery in Glasgow last night. He will now go on to compete against apprentices from across the UK in an event in London later this year.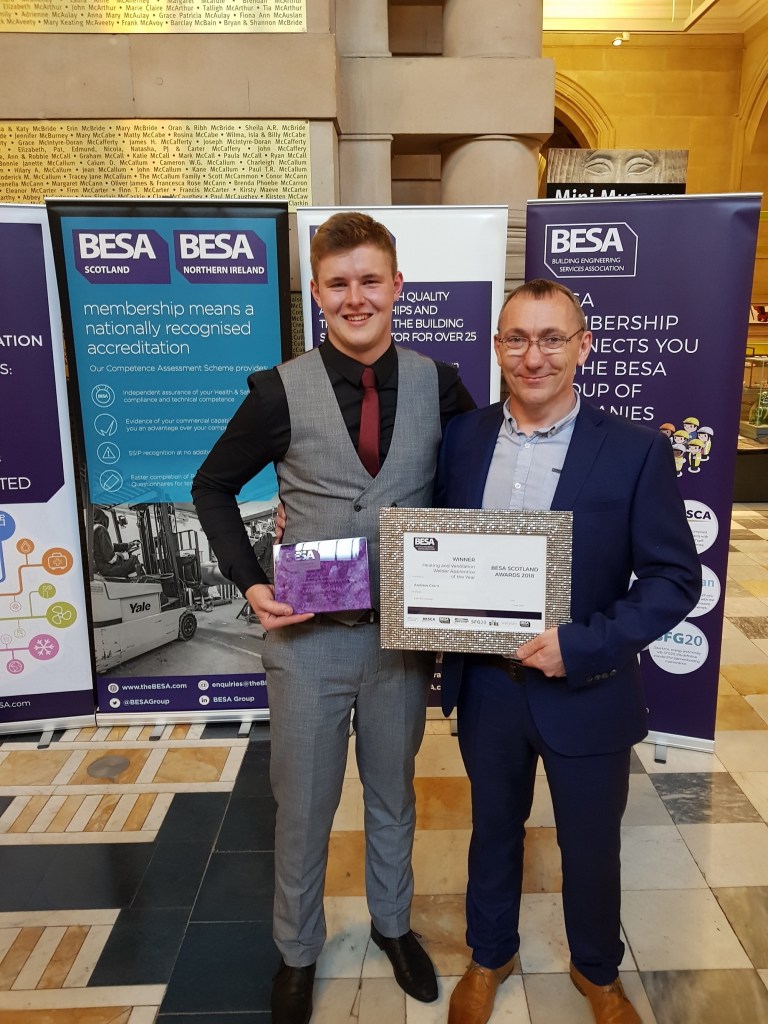 Andrew said: "It's brilliant to be named Apprentice of the Year, it's something I never thought would happen when I started out. I've really enjoyed being a part of the BESA competition. It's been great to meet all the other apprentices and to test out the skills we have all learned against each other.
"The standard of competition has been really high, so I'm really chuffed to have won and I can't wait to take part in the UK-wide competition later this year."
Edinburgh College had five apprentice finalists in total on the night, Ewan Finlay and Ryan Cairney were runners up to Andrew, coming in second and third place.
Greg Benson and Adam McKenzie narrowly missed out on the Heating and Ventilation Pipefitting Apprentice of the Year prize, coming second and third respectively, while Calum Finlayson and Tom Widdowson were awarded participation certificates.
Edinburgh College Engineering curriculum manager Ross Milligan said: "Congratulations to Andrew on becoming Heating and Ventilation Welding Apprentice of the Year – it's a fantastic achievement.
"All of the finalists should be proud of themselves. They've done an excellent job throughout the term and it was brilliant to see them all competing at our Midlothian Campus earlier in the year.
"Competitions like these are crucial as they offer students a different type of platform to excel and demonstrate the skills they have learned during their college education, which can only benefit them in the future."
The BESA Pipefitting and Welding Competition sees apprentices from across Scotland take part in two challenges designed to test their knowledge and skills in the pipefitting and gas-welding disciplines.
The welding element of the competition was based on the industry-recognised TR/5 code of practice and students had the choice of completing one difficult weld or two slightly easier ones.
Pipefitting students were tasked with creating a frame to specific dimensions using skills and techniques learned at various stages of their training including threading, bending, soldering and connecting steel and copper pipework.