14 June 2018
Fabio Snaps up Student of the Year Photography Award
Twenty-two-year-old Photography student Fabio Scalici is edging closer to his dream of becoming a professional photographer thanks to opportunities provided through his college course.
After leaving high school, Italian-born Fabio came to Scotland where he worked as an au pair in a bid to improve his English. He then went on to work in a restaurant and coffee shop to practice his new language. Outside of work, Fabio dedicated most of his free time to his passion for photography before enrolling in the College's NC Photography course.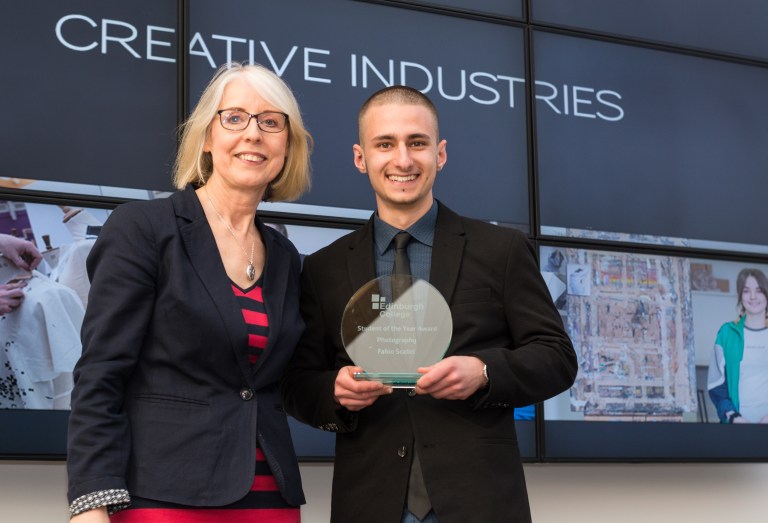 "I wanted to turn my hobby into a career and chose to study Photography at Edinburgh College because of all of the opportunities the course offers. It gives you practical experience and prepares you for working as a professional photographer. It has helped to develop my confidence and has given me a solid base to move on to the HND course. My end goal is to get a BA in Photography and to become an economically independent photographer."
Fabio was the recipient of the Student of the Year Photography Award at this year's Prize Giving Ceremony.
"It was an honour to be recognised by my lecturers at Prize Giving, they always encourage us to be as successful as we can and motivate us by sharing their knowledge. I'm really happy to have been selected for the award, getting this recognition will encourage me to always work hard."
Fabio's Photography lecturer Raymond Keith said: "Fabio is a hardworking and attentive student who has gone above and beyond what was asked of him throughout the course. As well as completing his own work, he was always willing to help and support his peers. He thoroughly deserves this award. We were so impressed with his work that we have put him in touch with professional photographer Derek Anderson whom he has been assisting on a regular basis."
Fabio has been working with Edinburgh-based photographer Derek Anderson and Edinburgh West End BID (Business Improvement District) on the West End Character Project, an on-street photography exhibition which documents the characters and environments of the city's West End. The outdoor exhibition will launch for the Fringe Festival in August 2018.
"Derek contacted my lecturer to say he was looking for an assistant to help with the project and I was given the opportunity. After only studying photography for one year, to have the opportunity to work on a project like this was fantastic. I've helped Derek with proposals, ideas and direction for the project and I am looking forward to it launching in August."