28 February 2020
Gavin Is Named Opito Apprentice of the Year
Edinburgh College Instrumentation and Control Maintenance apprentice Gavin Brown has been named Apprentice of the Year by OPITO.
Gavin, who is 34-years-old, came to College in August 2018 to begin his apprenticeship, working alongside the College's lecturers at Midlothian Campus as part of OPITO's Oil and Gas Technical Apprentice Programme (OGTAP).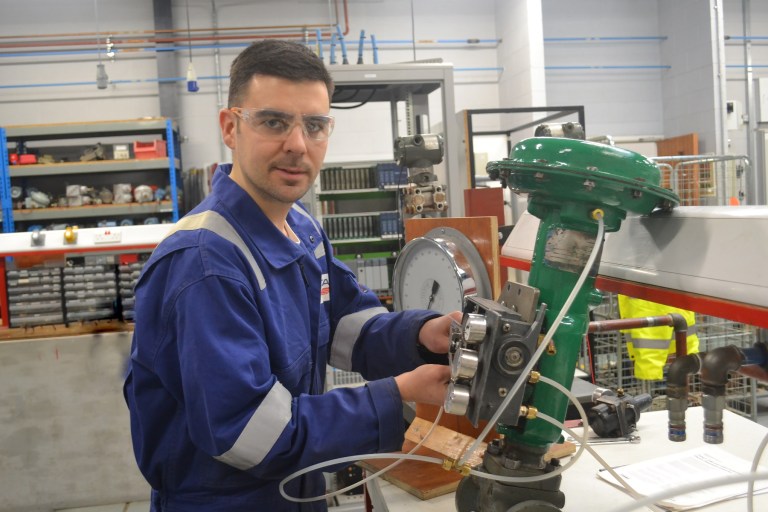 Now a second year apprentice, Gavin scooped the Apprentice of the Year Award following a panel interview with representatives from OPITO, Ithaca Energy, and Skills Development Scotland (SDS) – after being recommended by College lecturers as an exemplary candidate for the award.
Prior to joining the College and OGTAP, Gavin worked as a petrol pump designer in Dundee – his home town. However, his desire to move away from desk-based working and take on a role which involved being more hands-on led him to seeking a place on the apprenticeship scheme.
Gavin said: "It's a great honour to have been named as Apprentice of the Year. It's something I never imagined when I started out in my apprenticeship. I found that working in an office wasn't the career that I wanted and I found the oil and gas industry appealing.
"Since coming to College I've really enjoyed all aspects of the apprenticeship. I've loved the workshop environment and now I'm really looking forward to the next phase when I complete my training working in the North Sea – putting the skills I've learned into practice and learning what life is like offshore."
Engineering curriculum manager Ross Milligan said: "Congratulations to Gavin on being named OPITO Apprentice of the Year, it is a terrific achievement which he should be very proud of.
"Congratulations also go to our team of experienced lecturers who guide Gavin and his fellow OGTAP apprentices during the College phase of their apprenticeship."
OGTAP is OPITO's apprenticeship programme which sees apprentices go through a two-stage study programme designed to have them ready for the world of work. In phase one, apprentices spend time learning at College. Edinburgh College is one of two college partners in the programme, with Instrument and Control training taking place at our Midlothian Campus.
Find out more about OGTAP here.
#ScotAppWeek #TalentWithoutLimits