05 May 2020
Learn About Broadcast Media & Photography Courses
Are you considering a career in the broadcast industry, or want to turn your passion for photography into a job? A course at Edinburgh College will provide you with the specialist training you need to work in broadcasting. We offer a range of exciting courses in Broadcast Media & Photography like radio and podcasting, outside broadcast and photography basics.
Radio and Podcasting HNC 
Interested in working as a producer on a top radio show or running your own podcast? In our full-time Radio and Podcasting HNC course you will learn everything you need to know about working in radio and the audio broadcasting industry. During your studies you will gain recording and editing skills, learn how to script and present and develop interview techniques.  
Upon completion of this course you can progress onto Television HND at Edinburgh College or move on to employment. Previous students of this course have gone on to work as producers on shows like Boogie in the Morning and several now broadcast on the Bauer Network. 
Outside Broadcasting PDA
This innovative part-time course is designed to build your skills and set you apart in the competitive industry of broadcasting. During your studies you will receive professional training on things like rigging camera operation, vision mixing and multi-camera shoots. Students of our Outside Broadcast PDA will also gain experience of live streaming for commercial clients. In 2018, students of this course worked at the Scottish Artistic Gymnastic Championships. 
After you've completed this course you will have the knowledge and qualifications needed to progress onto university level study or to get a job within the industry. We also offer an introductory course in Outside Broadcasting and Live Streaming which will introduce you to a range of outside broadcasting roles.  
Digital Photography Basics
If you're passionate about photography and have an eye for detail, you might be interested in our Digital Photography Basics course. This part-time course starts in September 2020 and will introduce you to the technical and creative aspects of photography. During this course you will learn how to capture, develop and produce a portfolio of work.  
Check out this photo of Princes Street, Edinburgh, by photography student Jolanta.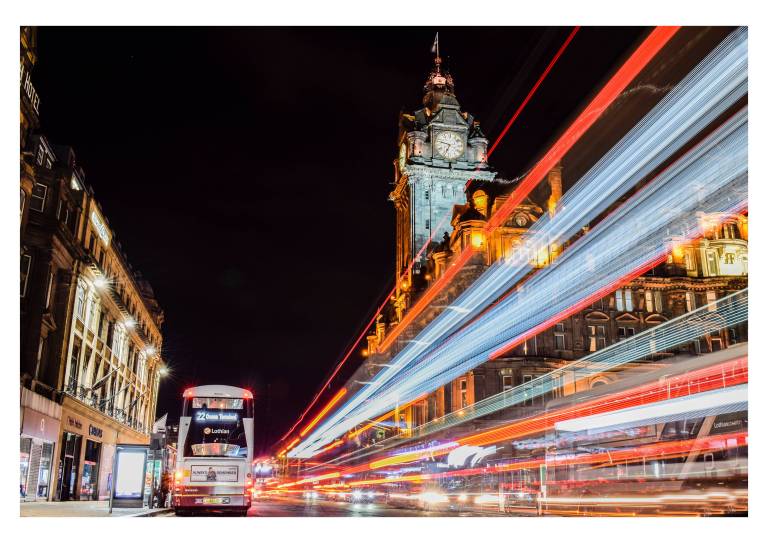 View all Broadcast Media & Photography courses on our website.