21 January 2020
50 Years of Education Celebrated at Edinburgh's Sighthill Campus
Edinburgh College celebrated 50 years of its Sighthill Campus last night with a Civic Reception hosted by the Rt.Hon. Lord Provost of the City of Edinburgh which saw former students and staff, as well as Deputy First Minister John Swinney, come together to share stories and memorabilia.
Sighthill Campus, which was previously home to Stevenson College prior to the merger which formed the current Edinburgh College, first opened on 6 January 1970 – welcoming students from various educational annexes from across the city.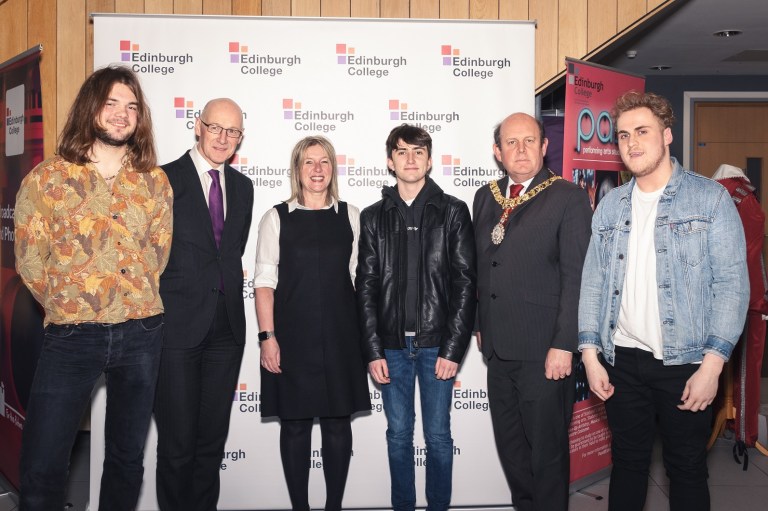 Photo by HND Photography student Fabio Scalici
Stevenson College was born from the Ramsay Technical Institute, which taught Motor Vehicle and Electrical Installations; Torphichen Street which housed the Department for General Education; and James Gillespie's old school at Warrender Park, known as Dean College which taught Health Education.
The original departmental structure of the College consisted of five departments, namely; Building Services, Engineering, General Education, Health Education, and Commerce. The new Department of Commerce was established in order to focus on Business Machine Operators, Data Processing and Computer Operators to meet an ever-increasing demand in these, at the time, new industrial fields.
The College, which was named after famous Scottish civil engineer Robert Stevenson, continued to thrive and on 1 October 2012 was part of the merger of three colleges across the region to form Edinburgh College and has since been referred to as Edinburgh College, Sighthill Campus.
Today, Edinburgh College delivers more than 700 courses to more than 26,000 students across its four campuses – Granton, Midlothian, Milton Road and Sighthill. Around 1,300 staff are involved in the delivery of life-changing education across four faculty areas – Creative Industries; Engineering and Built Environment; Health, Wellbeing and Social Sciences; and Tourism, Hospitality and Business.
At the anniversary event, former students and lecturers from pre-Stevenson Colleges, Stevenson College and Edinburgh College shared stories of their time both studying and teaching, while Cabinet Secretary for Education and Skills John Swinney MSP delivered a keynote speech highlighting the everlasting importance of further education institutions in providing education and skilling the nation's workforce.
In addition, a timeline mapping major college events over the past 50 years and various items of memorabilia were on display, while students from Sighthill Campus' Music Box performed and Professional Cookery and Hospitality Schools students served drinks and canapés to the 100-plus guests in attendance.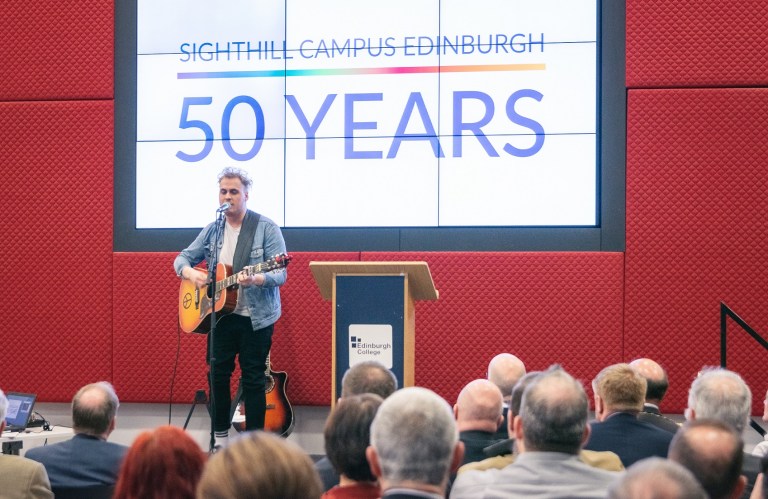 John Swinney, Deputy First Minister and Cabinet Secretary for Education and Skills, said: "For 50 years, Stevenson College campus – one of three institutions which now form Edinburgh College – has been a pioneer in offering life-changing opportunities to students in Edinburgh and the Lothians.
"In that time the campus has seen many great achievements and continues to do so, and like many of Scotland's regional colleges it has remained at the very forefront of developing its own agile responses to what it offers as local economic needs have changed.
"I would like to congratulate the College on reaching this landmark milestone, and wish it and its staff and students the very best for the next half century.
"May your passion and determination continue to inspire our communities for many more years to come."
Lord Provost Frank Ross said: "On behalf of the people of Edinburgh, I was delighted to congratulate the Sighthill Campus on its golden anniversary celebration.
 "Since its beginnings in January 1970 as Stevenson College, the campus has provided an all-encompassing facility, bringing together a broad number of courses of study and inspiring countless students. Throughout its 50-year history, the campus and its teaching has continued to thrive and be a key part of the community. It has continued to evolve, to grow, and to support and reflect the changing landscape of our city, and I am enthused that this dynamic approach will continue going forward."
Edinburgh College Principal Audrey Cumberford said: "It is an honour to be celebrating the 50th anniversary of this wonderful centre of education as Principal. Of course, there have been many changes over that fifty-year-period. Then the College was home to 3,000 students and now Edinburgh College is one of the UK's largest further education institutions– teaching more than 26,000 students who come from a vast variety of backgrounds, including many students from countries across the world.
"We look forward to continuing using this space to continue the tradition of providing high-quality education and working with industry partners, ensuring we play our part in equipping the workforce of the future with the skills they need to achieve their goals."
View photos from the night on our Facebook page.