10 February 2020
Alizah Presents at the Year in Infrastructure Conference
Nineteen-year-old HND Civil Engineering student Alizah Mughal won the chance, alongside her school teammates, to attend a prestigious industry conference in Singapore in winter 2019, following their success in a UK-wide design competition – the Design, Engineer and Construct (DEC) competition.
Alizah tells us about her experience of attending and presenting at the Year in Infrastructure conference at such an early stage in her career.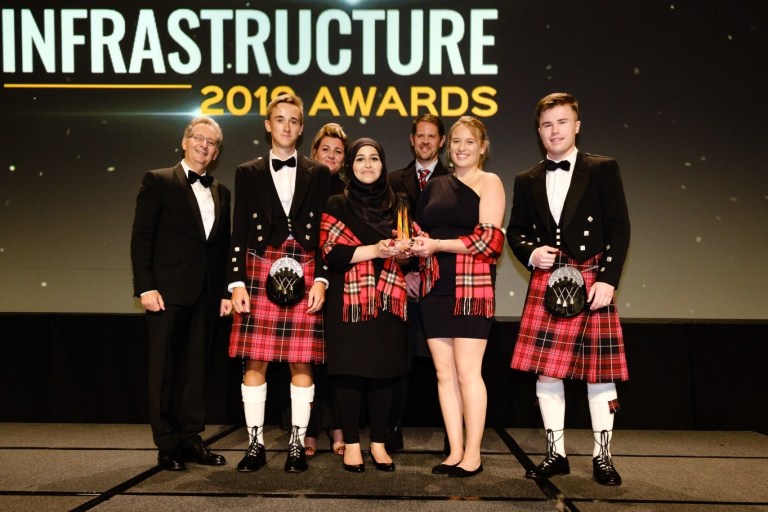 As a young woman, four years of interest in Engineering has allowed me to build myself capable enough to achieve my dreams, think outside the box, and use my creativity to turn the tables and make the impossible possible.
The biggest opportunity that has come my way to date was the chance to participate in the world's first-ever Hyperloop challenge in collaboration with Bentley Systems in 2019. This involved competing against four other schools to design a Hyperloop station to then win a chance to attend Bentley's annual conference and Year in Infrastructure Awards (YII 2019), in Singapore for a week.
With determined efforts, hard teamwork and struggles over a year, my team and I became the first four students to win the competition and prize.
Singapore, it's the greenest and cleanest country I've ever travelled to. My team and I landed in Singapore on 20 October 2019. The annual conference commenced two days later, so we got the chance to explore the city for a couple of days which was amazing. From tasting the famous Singapore Laksa and completing a Night Safari trek, to a tour bus which took us to iconic places such as the Merlion Park, National Orchid Garden, the historical Tanjong Pagar Temple, and a small town named Little India – it was brilliant. They say Singapore is one of the world's fastest developing countries, so it is.
As part of our prize, we stayed for four nights in the famous Marina Bay Sands right next to the convention centre where the conference was based.
The welcome reception on Tuesday evening was the chance to make connections and build a network with engineers, architects and prestigious companies across the world. Nervous yet excited, I approached the convention centre to be astonished at the response I received. Everyone was very friendly and seemed very interested in our project, especially as to how young students can make a difference in the future.
The next two days' task was to present our work, our Hyperloop station design, to various members of companies that developed a keen interest in collaborating with young students to promote their work. They applauded our confidence in being able to deliver a presentation in front of a huge audience at such a young age. Once presenting was over, people were amazed at the quality of work we managed to develop using Bentley's professional software and this was the moment to express our views of the industry and show how passionate we were about our work.
Journalists, CEOs, publishers and many media channels began to interview us about who we are and what this opportunity meant to us. Thrilled with the world's response, this was a big step within my career path. What I would have achieved after completing my degree, I was given beforehand which meant I was a step ahead of everyone and this was my opportunity to stand out.
We spent the last night in Singapore attending the annual Year in Infrastructure (YII) Awards hosted by Bentley Systems. As a school from Scotland amongst several industry professionals, my team members and I decided to dress up in our Scottish traditional look to stand out from the crowd. The moment we stepped into the hall, all eyes were on us. Everyone was rushing to click pictures with us and we were recognised as the first students to attend the conference from Scotland by our look.
Throughout the past two years, I have worked closely with Alison Watson (CEO of Class of Your Own) and David Bentley (Bentley employee) so our table was appointed with them for the night. Alison received a special recognition award for her efforts in developing the Design Engineer Construct (DEC) project. More than that, little did we know that something was in surprise for us. Yes. We were also presented a special recognition award that night from Bentley's CEO, Greg Bentley. It was a surprise that left us shocked and speechless. A business award in front of industry professionals? The only award that received a standing ovation from over 2000 people that night? Could that night have been any better?
Following that week, I have grown stronger in believing that I will become a great civil engineer someday and set an example to other women out there willing to pursue their dreams no matter what path they choose.
If you've been inspired by Alizah's story, learn more about our courses in Engineering.