06 July 2022
Automotive team support Sir Chris Hoy at C1 Club 24 hour at Silverstone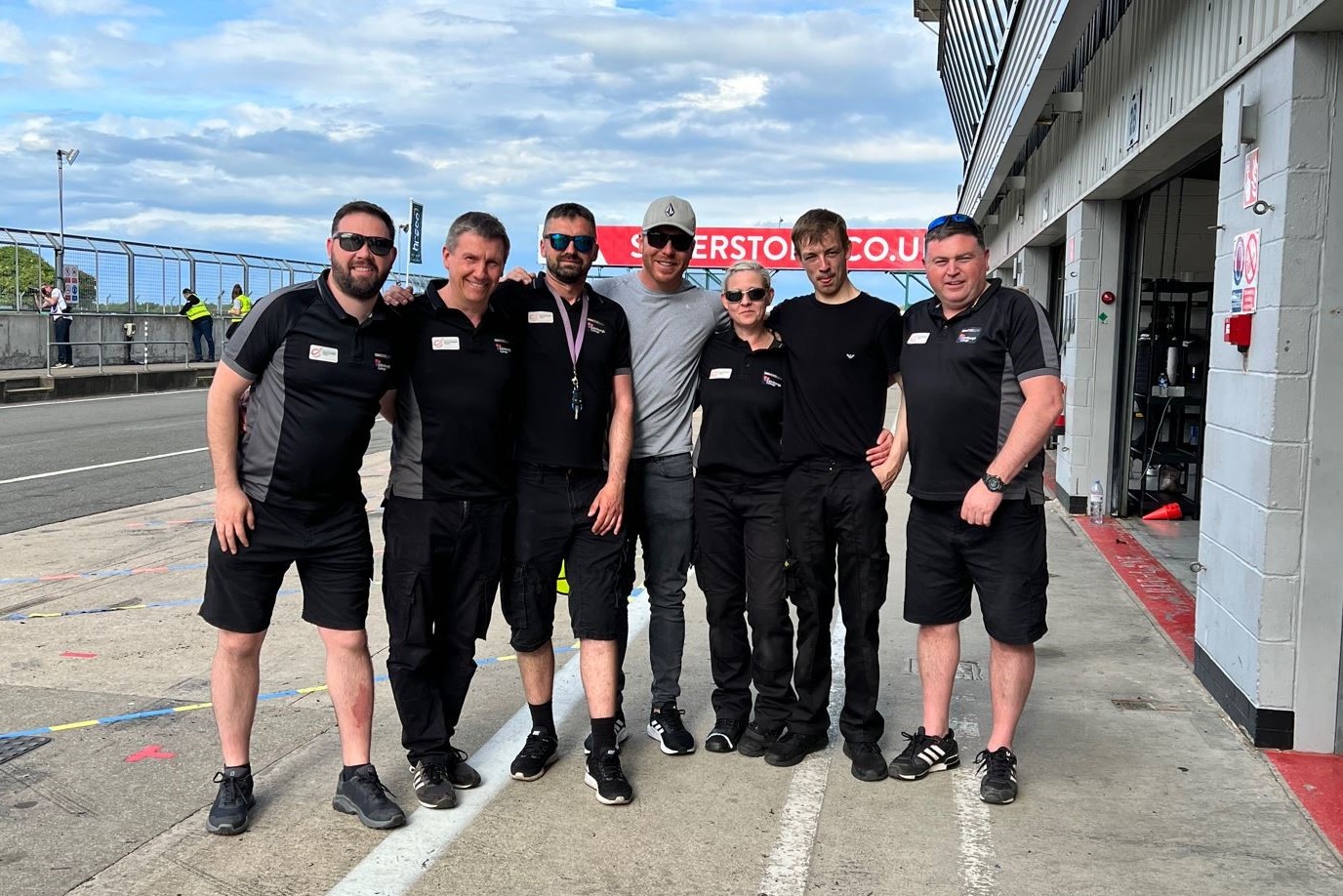 Automotive lecturers Brian Alexander, Kerry Dempsey, Martin Tracey, Robert Vass and Grzegorz Dwojak, as well as student Kyle Nisbet have helped Sir Chris Hoy raise more than £20k during 24-hour endurance race at Silverstone – the home of racing in the UK.
The team of mechanics provided car maintenance and pitlane support to Sir Chris and his Racing Lines team who were driving a Citroen C1 car around the famous track used to host Formula 1 and other motor races.
The team provided 24-hour support, including fixing the car during the race following a crash in which the car was rolled over and required a mammoth team effort to fix so that it could return to track.
Brian Alexander said: "It was a great experience, we got to work with Sir Chris Hoy and lots of experienced drivers across the weekend.
"The highlight of the race came after about an hour and a half when the team pulled together to get the car fixed as quickly as possible and back out on the track after it was involved in a crash. The car rolled on its roof, so it was all hands to the pump getting the car ready to go back out to finish the race."
Robert Vass said: "Getting the car to the end of the 24 hours was a massive achievement."
Martin Tracey added: "When we managed to get the car back on the road, the other drivers were amazed. An hour and half into a 24-hour race with a crash makes getting the car ready to race again, very difficult but we did it."
Automotive apprentice Kyle Nisbet said: "It was a brilliant experience, we really had to work as a team and we did that well. We worked from 6am until 6am, more or less non-stop.
"The whole experience was really enjoyable; the layout and format of the weekend was really done well. It was really enjoyable because of all the people involved across the entire event."
The Automotive team was approached to provide support given their knowledge of Citroen C1 racing, having been part of the College's Scottish C1 Cup team since 2019.
The Scottish C1 Cup sees Edinburgh College line up three cars on the grid at Knockhill Racing Circuit in Fife, in competition with other teams from across Scotland. Kyle Nisbet is one of the College's racing drivers.