01 November 2022
College launches free Breakfast Club for students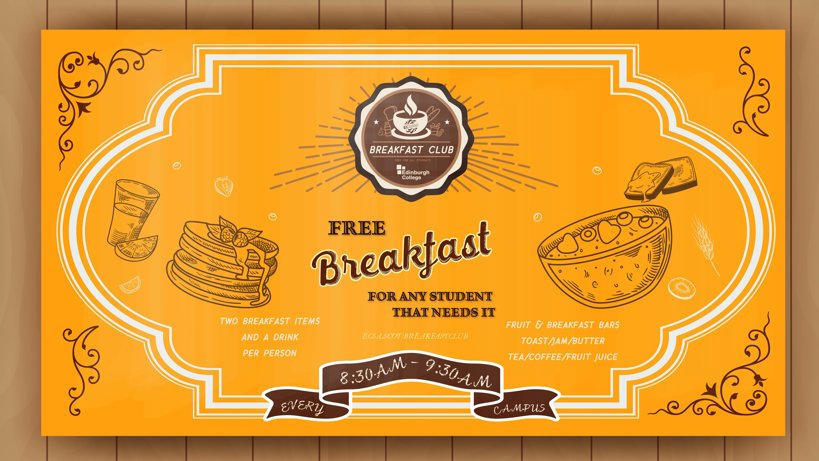 Edinburgh College Students' Association, in partnership with Edinburgh College, has launcheda Breakfast Club across the College's four campuses providing free breakfast offerings to students.
The Breakfast Club is open to all students from 8.30-9.30am, Tuesday – Thursday, at each of the College's four campuses during term time. 
The introduction of the Breakfast Club comes at a time when the cost of living is having a real impact on student finances across the country and food poverty is a growing concern. A recent National Union of Students in Scotland survey found that a third of students (35%) have considered dropping out of their course due to financial difficulties, with 25% unable to pay their rent in full on one or more occasion.
Through the Breakfast Club students can access a mixture of items including tea, coffee, fruit juice, breakfast bars, fruit, bagels and toast, all free of charge.
Now, more than ever, our students are experiencing increased financial pressures and anxiety. With the impact of the cost of living going up, we want to make sure that all of our students have access to a hot drink and a bite to eat at breakfast time to set them up for the day. We hope that the Breakfast Club will go someway in alleviating our students' money worries and will have a positive impact on their physical, mental and financial wellbeing. I'd like to thank the College staff, our Students' Association and our partners who were involved in setting this important initiative up. We are committed to supporting our students through the cost of living crisis and encourage them to speak to our Student Support teams to find out more about the services we can offer to help.
Edinburgh College Principal Audrey Cumberford
Creating and delivering a free breakfast service on campus for students is one of my top priorities for this year, having campaigned on it during my election. I am delighted that we have been able to work alongside staff from various parts of the College to make this a reality. Students are facing challenges on all fronts at the minute, not least financially. Breakfast Club allows us as the Students' Association to do something tangible to make students' lives that little bit easier. Studies show that students perform better academically when they have had breakfast and we not only want to help students achieve in class, but, hopefully, by having a place you can go for tea, toast and a chat, we can start to develop our campus community after three really disjointed years. I cannot thank College staff enough for their support to make this happen and I hope this collaboration continues to be the norm – working together to help students as much as we can.
Edinburgh College Students' Association President David Elder